The next-generation vaping culture keeps flourishing, and a growing number of marijuana users are on the search for the best cannabis vape concentrate on the market.
Yes, a quality vape concentrate is the key for a healthy and delightful vaping experience.
With this article, in combination with our previous vape pen guide, you'll find awesome information to help you make the smartest choice.
You can also check out CBD & THC vape pens on our menu.
Best Cannabis Vape Concentrates: Flavours and Potency
Let's dive right in and walk through a few of our heavy hitters in the concentrates category:

A 1 ml glass syringe loaded with 1 full gram of the highest-quality cannabis concentrate. Also available in Diamond Concentrates disposable vape pens.
Diamond Concentrates brings the green medication to the next level.
Diamond Concentrates is a seed-to-sale company providing top-grade concentrates all across Toronto, Vancouver, and Canada.
And yes, nothing can outperform local quality.
That's especially true when the entire extraction process is accomplished using in-house grown cannabis plants.
A great concentrate starts with picking the best cannabis genetics.
This is one of the secrets to producing magnificent, strain-specific, unapologetically flavorsome vape concentrates.
After successful harvesting, the plant material used for extraction is carefully selected and processed.
There are 2 major types of cannabis oil based on the plant material used, namely nug run and trim run.
Nug run stands for concentrated cannabis oil created from dried and cured marijuana flowers after trimming the leaves and stems.
Nug run methods make it possible to achieve high-grade, delicious vape concentrates.
Trim run concentrates are made by extracting the active cannabinoids and terpenes available in the fan leaves, sugar leaves, and stems of the cannabis plant.
However, it is in the cannabis flowers (aka buds) where the concentration of active cannabinoids and terpenes is the highest.
The result is a 91% THC-loaded pain-and-stress-free dose of happiness in a syringe.
The mouthwatering, natural blueberry flavor is achieved thanks to the high terpenes profile of the exotic, carefully selected Blueberry OG strain.
This hybrid strain combines the best of both worlds – 30% Sativa and 70%Indica, to provide a burst of energy on the onset, followed by heavenly relaxation as the effects of the high keep rising.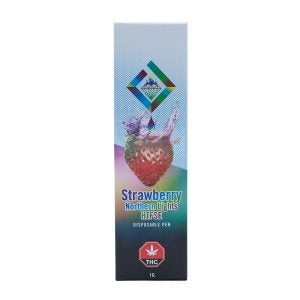 Another hidden gem for the connoisseurs would be Strawberry by Diamond Concentrates.
A juicy explosion of dancing, cannabis-laced strawberries tingles the palate with each puff.
The strawberry flavor is naturally achieved by using the highest-quality Strawberry Lights strain.
This is a balanced Indica-Sativa hybrid cross between Strawberry Cough and Northern Lights, hitting with waves of euphoria and uplift in the mood, eliminating depression.
The THC distillate contained within the 1 ml syringe features 91%THC potency.
The newbies will find that they only need a tiny puff to experience the full mind-and-body benefits of the green medication.
Meanwhile, the experienced connoisseurs will be happy to enjoy fantastic potency for their buck.
Apart from being 100% nug run, Diamond Concentrates are made with a sharp focus on purging the cannabis oil to perfection – no excuses, and no shortcuts.
All concentrates are then lab tested to ensure the consistency of the cannabinoids and terpenes profile.
Apart from 91% THC punch, Diamond Concentrates acknowledge the level of other essential cannabinoids present in their vape distillate, namely THCA, THCV, CBD, CBG, and CBN.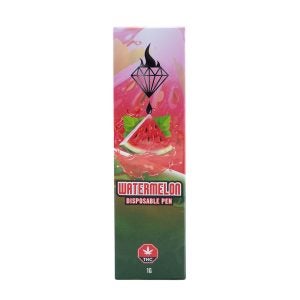 This vape concentrate kicks in with refreshing waves of watermelon deliciousness.
It is crafted by meticulously following the plant material cultivation, selection and extraction processes applied for creating Strawberry and Blueberry vape concentrates.
Note that the Diamond Concentrates line does not use any toxic solvents for extracting the active cannabinoids and terpenes.
Also, the concentrates are completely free of vegetable glycerin and propylene glycol, which are often used as thickening agents in low-quality cannabis oils.
The very base of the concentrate is 100% organic, with THC levels hitting 91%.
This vape distillate can work great for patients looking for quick and efficient relief to:
Muscle spasms,
Nausea,
Insomnia,
Stress,
Anxiety,
Mood disorders, among others.
In 1998, the Hebrew University of Jerusalem chemist Raphael Mechoulam proposed the entourage effect mechanism.
The entourage effect proposes that there are unique synergies between the different cannabis chemicals.
Moreover, these synergies provide extended benefits for the users, as the different active cannabinoids can further influence and complement each other.
You can picture it much like the effect of a whole orchestra vs. a single musician playing a melody.
Diamond concentrates are made with a mind to fully preserving and carefully testing the levels of all the active cannabinoids, apart from THC and CBD being the major players.
THCV has neuroprotective, anti-anxiety, antipsychotic, anti-inflammatory, sleep-promoting benefits.
Also, it helps with bone formation and bone health.
Although at low levels, the CBD present in this vape concentrate helps to enhance the entourage effect of the active cannabinoids.
Meanwhile, it assists in reducing anxiety, depression, acne, as well as benefiting heart health.
CBG (Cannabigerol) is known to slow the proliferation of cancer cells, reduce pain, inflammation, and nausea.
CBN (Cannabinol) is shown to work as a sedative and is great when it comes to sleep aid, among other health benefits it provides.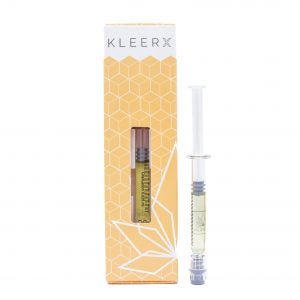 With a uniquely controlled production process, KleerX experts work with triple-checked, award-winning growers, and flowers.
The 7-step refinement ensures no unwanted compounds end up in the final product.
The resulting vape concentrates offer a sublime vaping experience, with a mild, delicious, and natural flavor.
Best of all, you can consume this distillate either by vaping or by oral methods of administration.
So, if you are into cooking with cannabis, you will love working with this product.
While it is often difficult to measure the levels of cannabinoids when making edibles with cannabutter, using the honey-like textured distillate allows precise and consistent dosing.
The THC level is lab tested, featuring 79.40% potency in a 1 ml syringe.
Super Lemon Haze strain is also a two-time Cannabis Cup winner.
80% Sativa to 20% Indica genetics make up the energetic, anti-fatigue, intense happiness and creativity-enhancing benefits.
With decent levels of CBD and CBN, Super Lemon Haze will delight your taste buds with sweet and tart, zesty notes for that awesome lemony zing.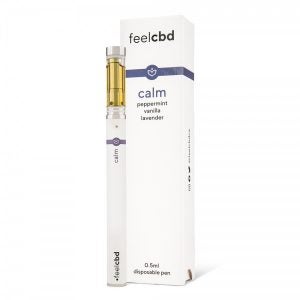 Looking for CBD Concentrates?
Currently, we have two CBD concentrates pens from FeelCBD and West Coast Smoke.
Both are 250 mg each and you can find all the flavours here.
With names such as Calm, Sleep, and Revive – you'll know what to expect from these CBD concentrates.
Why Should I Vape Instead of Smoke?
#1 – Vapour Contains Significantly Fewer Chemicals than Smoke
Numerous studies confirm that vaping may be a healthier alternative to smoking.
However, that's only true if users stick to high-quality vape pens and cannabis concentrates.
According to a study conducted by a team of University of Dundee researchers,
"long-term smokers who switched to vaping were halfway towards achieving the vascular health of a non-smoker within a month," as highlighted in an article published by New Scientist and Press Association.
When smoking a traditional cigarette or joint, a person inhales about 7 000 chemicals.

Public Health's England report estimated e-cigarettes as 95% less harmful than tobacco.
#2 – Vaping Can Help You Quit Smoking
Switching to vaping may help you quit smoking altogether.
Please, note that studies on this subject are not comprehensive enough, considering that vaping is a relatively new practice world-wide.
In some cases, starting to vape in order to stop smoking may lead to regular dual use.
Dual use of both vaping and traditional smoking is NOT the healthiest option.
#3 – Vaping Is More Cost-Effective than Smoking
While some cannabis veterans claim that vaping weed offers less potent effects as compared with smoking a good ol' joint, a 2018 study busts this myth.
The study shows that vaping cannabis produced much stronger mind-altering effects in infrequent cannabis users than when smoking the same amount of marijuana via a bong, blunt, or joint.
#4 – Vaping Gives You Better Control over Your Cannabis Intake and Experience
When you vape cannabis concentrates, you can easily manage the level of cannabinoids you get to inhale with each puff.
Vaping allows you to enjoy consistent puffs.
This way, you are much more confident in the amount of cannabis you need to experience the beneficial effects of the green medication within the desired extent.
#5 – Indulge in the Most Flavorsome Cannaride
Vaping cannabis concentrates allow you to enjoy an all naturally flavorsome feast for the senses, all thanks to the reintroduced terpenes.
Terpenes are tiny aromatic molecules produced by cannabis plants.
These aromatic compounds serve the function of protecting the plants from various pests, while also attracting pollinators.
Terpenes are abundant in many other medicinal herbs, such as Lavender, Rose, Chamomile, Peppermint.
Terpenes are invaluable as they work in synergy with the active cannabinoids, such as THC, CBD, and CBC, among others.
Together, terpenes and cannabinoids promote the entourage effect of the green medication.
#6 – Vape Concentrates Help You Consume Cannabis Discreetly & Conveniently
Vaping makes it possible to administer your medicine anytime, anywhere as needed throughout the day or night.
Also, by avoiding the telltale cannabis smoke, vape concentrates are much more discreet and inconspicuous.
Vape pens are effortlessly portable, and you can easily store them in your car, bag, or pocket.
#7 – Versatile Option to Adjust to Your Unique Needs
Neither tinctures nor capsules are as strain-specific as vape concentrates.
This means that users can easily adjust their ganja intake based on the type of effects they wish to experience.
It is as simple and easy as changing the cartridge to enjoy the benefits of Indica, Sativa, or hybrid cannabis strains.
#8 – The Quick Hitting Effects Provide Fast-Acting Relief
Head pharmacist Nelson Cuevas highlights that the effects of vaping cannabis concentrates offer a "90-second onset."
This can be especially beneficial to users trying to cope with:
Nausea,
Sharp shooting pains,
Muscle spasms and/or tension,
Mood disorders,
High levels of stress,
Lack of energy/ lethargy, and that's just to name a few.
Heads Up
Mind that the fast-acting effects of vaping tend to last less than the effects provided by other methods of cannabis inhalation or ingestion.
And while this may be a drawback to chronic pain sufferers, it may be a great asset to those who find it difficult to manage the overwhelming, prolonged high.
Additionally, patients dealing with chronic pain may opt for a two-pronged effect by choosing to vape cannabis in combination with other types of administration.
Doing so will offer the much-needed quick relief, plus the desired longer-lasting effects.
To Vape or Not to Vape? Know Your Medicine
Michael Blaha, director of Johns Hopkins Ciccarone Center for the Prevention of Heart Disease, shares valuable information regarding the outbreak of vaping-associated lung injuries and deaths.
He highlights that these cases "predominantly affect people who modify their vaping devices or use black market modified e-liquids."
Users should only opt for vaping devices and concentrates manufactured by reputable companies.
Local manufacturers are highly recommended, as it is easier to trace the status of the company.
Friends and family should not be your go-to sources of any form of vaping product or device.
Users should restrain from adding any substances that are not intended or recommended for use by the manufacturers.
Also, modifying the vaping device itself is a big NO-NO.
Above all, vape pens are created to work at precise temperatures. This ensures the concentrate is heated within the most beneficial and healthy levels.
Doing so provides maximum potency and delight for the users.
But moreover, it prevents the concentrate from getting heated to overly high temperatures.
Therefore, modifying the device or using a low-quality device can result in an increased risk of potential health dangers.
Depending on the quality of the concentrate, the active ingredients may get heated up more quickly or slowly.
Nonetheless, the absence or presence of different synthetic additives, is another crucial factor users must be aware of.
Thickening agents, such as propylene glycol and Vitamin E acetate, among others, are related to potential health harms.
Where Should I Get High-Quality Concentrates? Right Here!
Kootenay Botanicals shares a mission to help all bud buddies who cherish the ancient healing power of cannabis for medicinal and recreational users alike.
We select only the top products from the most reputable local companies, using our experience in the niche to inspire, grow, and contribute for a greener, better world.
To find out the finest selection and variety of Canadian vape concentrates online, just head over here.