Table of Contents
Sleep is one of the most important factors of a healthy lifestyle, so it comes as no surprise The National Sleep Foundation recommends an average of eight hours. However, millions of people are deprived of their precious hours of shuteye every night, whether it is due to insomnia or simply a lack of care and knowledge, this is a serious problem!
Did you know, one-third of Canadians sleep less than the recommended amount every night?
With this many people suffering from sleeping disorders, an abundance of cures and remedies have been tried and tested, one of these being marijuana.
Cannabis has been used for thousands of years in many cultures for its medicinal properties and as a sleep aid. It is common knowledge that smoking marijuana boasts relaxing and sedative properties, so it is clear how sparking a joint can help people drift off.
"Marijuana is an effective sleep aid because it restores a person's natural sleep cycle, which so often falls out of sync with our schedules in today's modern lifestyle" – Dr. Matt Roman, medical marijuana physician.
In this article, we will delve into the science behind how cannabis can help those who struggle to get a good night's rest and evaluate the best strains to tackle insomnia.
How Indica Helps With Insomnia?
Indica strains are most effective when treating insomnia due to their powerful sedative and full-body high. Unlike Sativa, which increases energy and creativity, Indica strains boast far more relaxing and soothing effects, perfect for those who struggle to drift off.
Research has also shown that Indica dominant strains contain higher levels of the terpene myrcene. This may be a reason behind Indica's infamous sedative and couch-locking effects.
Another reason for Indica strains demonstrating more relaxing properties may be due to their higher concentrations of CBD working in tandem with the THC.
Most Effective Indica Strains For Sleep
Here at Kootenay Botanicals, we stock only the highest quality cannabis products. We boast a vast selection of all types of flowers, edibles, concentrates, and any other product you may need.
However, this is an article about improving sleep, so let's breakdown our top strains so you can finally shut those eyes & fall into a much-needed sleep.
Sunset Sherbet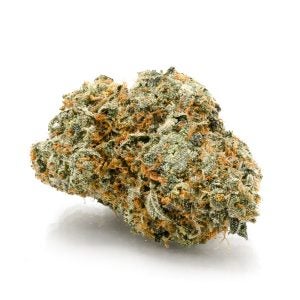 This Indica-dominant strain has been lab-tested at 19.5% THC and 0.5% CBN. The sweet-tasting bud emits fruity and citrus aromas while combining a slight cerebral uplift with relaxing full-body sedation. This makes the Sunset Sherbet strain an excellent choice for users who are suffering from insomnia or anxiety fuelled nightmares.
Do-Si-Pie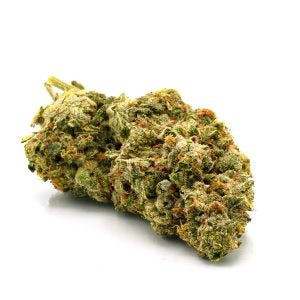 A unique Indica strain deriving from two legendary strains Do-Si-Dos and Velvet Pie, with 21% THC and 1% CBN. Emitting notes of pine and sweet fruits, with an underlying tone of diesel, the Do-Si-Pie strain delivers an extremely relaxing full-body buzz. Do-Si-Pie is used by many to treat headaches and fatigue, guaranteed to let you catch some z's.
CB Dream Cream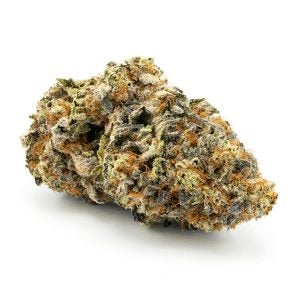 Slightly different from the first two strains, CB Dream Cream has much lower levels of THC, possessing a 1:1 ratio of CBD to THC. This strain is commonly grown for its medicinal properties, with subtle notes of pine, citrus, and mint gently soothe users into a state of relaxation. Due to the high CBD levels, CB Dream Cream is perfect for tackling anxiety-driven insomnia as it will combat the psychoactive THC.
Crunch Berry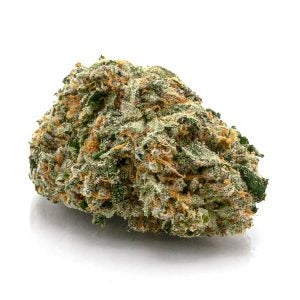 This mysterious strain has an unclear lineage, with its only known parent being the legendary OG Kush. Boasting THC levels of 20%, Crunch Berry sends consumers into a deep sedative state of relaxation, perfect for winding down after a stressful day at work and let you finally close those eyes.
Purple ChemDawg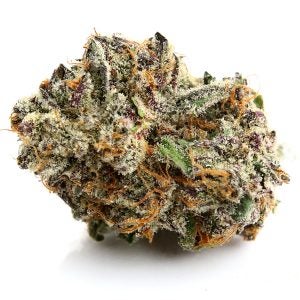 The buds of the Purple ChemDawg strain are vibrant lime green in colour and emit very unique aromas of gas and grape. After smoking, users will experience powerful relaxing effects over the entire body and will make falling asleep an incredibly easy task!
Ultra Pink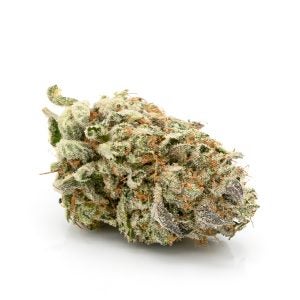 A hard-hitting Indica strain possessing a whopping 24% THC that releases incredibly pungent and thick smoke. A perfect strain for those who struggle to fall asleep due to its high THC level, the Ultra Pink strain will easily wash away any tensions or stress, allowing you to slide into a relaxed and sedated state.
Grease Monkey
One of our heaviest strains available, Grease Monkey is certainly not for novice smokers. This Indica goliath has THC levels ranging from 23-27% and elicits a creeping high of total euphoric relaxation. This is quickly followed by a sleepy effect, soothing both body and mind into a completely sedative state – you will undoubtedly struggle to stay awake.
Hidden Pastry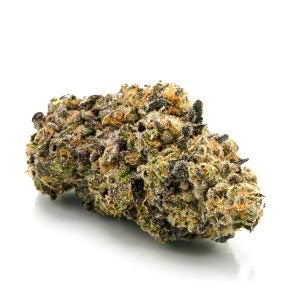 This aptly named bud has a complex mixture of aromas that blend together to emit a sweet pastry flavour and taste. Perfect for clearing stress headaches, the Hidden Pastry strain produces incredibly calming effects accompanied by a full-body relaxation that is sure to help you drift off to sleep.
How To Choose The Best Indica Strain For Yourself?
So, now you are familiar with our choices – how can you choose the best strain to help you sleep? We love to provide a customized style of purchasing that is unmatched by any online weed dispensary.
Everybody reacts to weed and different strains in a unique way. A certain strain could be one persons saving grace while simultaneously being another's anxiety-inducing nightmare.
We suggest trying the lowest THC levels, because all the strains inevitably have THC but that usually leads to a bit more energy than we're seeking right now.
It is always important to assess your personal tolerance levels when purchasing marijuana. If you are a novice smoker, you may want to steer clear of the hard-hitting strains such as Ultra Pink and Grease Monkey for the time being.
Additionally, if you are prone to cannabis-induced anxiety you should opt for a strain with a more balanced ratio of THC to CBD, such as CB Dream Cream. This is due to high levels of THC having the potential to increase heart rate and sporadic thoughts (for those who are predisposed or have low tolerance levels).
The Science Behind Cannabis & Sleep
Due to the stigma that has been forced on marijuana over the past century, research has been limited. However, a recent study conducted in Australia has shown individuals who suffered from sleeplessness saw a decrease of up to 36% in their Insomnia Severity Index (ISI) after smoking cannabis. Patients also reported a significant improvement in their quality of sleep and woke up well-rested.
This may be due to the fact that cannabis possesses numerous natural chemicals that have an effect on sleep. Cannabinoids and terpenes are the two main compounds that seem to play an important role when it comes to sleep.
Cannabinoids
The cannabis plant contains over one hundred cannabinoids, which are largely responsible for the many benefits of marijuana as they bind to receptors in the body's endocannabinoid system. Conditions such as depression, anxiety, and chronic pain all have been shown to decrease with the right strains. Many are also being studied to evaluate their effect on sleep and sleeping cycles.
If you are regularly smoking weed, you will be exposed to all the cannabinoids found naturally within the plant. However, as we learn more about the potential benefits of each compound, more and more companies are beginning to offer isolated CBD extracts of cannabinoids. This allows users to take advantage of the properties of each cannabinoid without any psychoactive effects.
CBD
Cannabidiol, or CBD, is a non-psychoactive cannabinoid that is prevalent within marijuana. It has been found to promote relaxation and can also drastically reduce inflammation and pain.
CBD works in conjunction with THC to elevate the relaxing and sedative effects felt after smoking marijuana.
There is also a remarkable amount of evidence from recent research that CBD can be used to treat anxiety as well as reduce daytime drowsiness and increase user's alertness. This is important in maintaining a natural sleep cycle, which may help reduce levels of insomnia and actually increase overall sleep amount.
THC
Tetrahydrocannabinol, THC, is the most well-known cannabinoid and is the main psychoactive component of cannabis. It has been shown to exhibit pain-reducing properties as well as sedative effects, both of which can have a hand in helping people fall asleep.
Research has shown that THC can alter sleep stages – time spent in REM (rapid-eye-movement) and slow-wave sleep in particular.
Dosages of THC have shown to reduce the time spent in REM, the light stage of sleeping in which we dream, which can be particularly beneficial to individuals suffering from PTSD-induced nightmares. On the other hand, THC can actually increase the time spent in sleep stage 3, or slow-wave sleep, which is the deepest state of sleep and is considered the most restorative stage.
Interestingly, after refraining from regular cannabis use, individuals will experience what is known as a REM rebound, in which they will have a burst of vivid dreaming.
Furthermore, there is emerging evidence to suggest that THC has the potential to improve breathing while asleep. This could allow the cannabinoid to be used to treat sleep apnea.
CBN
Cannabinol is not as well known as CBD or THC, yet research is beginning to uncover the mysteries surrounding this compound. Chemically, CBN is similar to CBD, meaning it demonstrates several of the same effects, such as pain relief, anti-inflammation, as well as improving sleep.
Preliminary research has indicated that CBN may be a powerful sedative. After experimenting on mice, scientists discovered that CBN can prolong time spent asleep and may even decrease the time it takes for individuals to fall asleep.
Unfortunately, the research into this cannabinoid is in its very early stages but there are promising signs suggesting that it may possess as many benefits as both THC and CBD!
Terpenes
Terpenes are another important molecule found in cannabis (and almost all plants) that lends its distinctive smell and taste. We are currently still figuring out the effect that terpenes have on both body and mind, but many scientists believe they enhance the effects felt from differing cannabinoids.
The following is a list of terpenes that may have a positive effect on sleep:
Limonene – A citrus-flavoured terpene that can reduce stress and anxiety and may even reduce insomnia.
Myrcene – One of the most common terpenes found in marijuana, it has been shown to possess mild sedative effects which can decrease time to fall asleep and improve overall sleep quality.
Caryophyllene – A terpene with incredible relaxing properties that has the potential to improve sleep.
Conclusion
Sleep deprivation is much more serious than many people believe. It has the potential to seriously impact your health, sociability, and many other aspects of your life in a negative way. Evidence suggests that 90% of people with insomnia also suffer from other health conditions such as heart disease, diabetes, or high blood pressure.
Indica-dominant strains are the most effective sleep aids due to their levels of certain cannabinoids and terpenes. These compounds help slow racing thoughts, relax your muscles, and help send you into a state of slumber.
The way in which you consume cannabis will also alter its effects. Edibles, for example, take much longer to take effect than smoking, but the results are much stronger and last far longer.
While everybody reacts differently to cannabis, here at Kootenay Botanicals, we are confident that we can you with that battle you've been having in bed. Browse through our collection of sleep-inducing cannabis strains! Good night!