While research into the use of marijuana has skyrocketed in recent years, there are still plenty of unknowns.
But the way cannabis can affect the physical body, muscles and mind are promising. While there is still plenty we don't quite know, there is quite a bit that has been uncovered in recent years that's promising – all thanks to this rising research.
Let's take a look at what we know about cannabis and its connection to muscle relaxation.
How Cannabis Helps With Muscles
Cannabidiol (CBD) oil is a popular alternative option for people looking to treat chronic pain and muscle soreness. There is an increasing amount of research suggesting that CBD and, cannabis in general, can be an effective muscle relaxant.
Muscle recovery and relaxation go hand in hand.
When it comes to cannabis, inflammation, pain relief, and muscle recovery is a hot topic. Not only is it a hot topic for sports enthusiasts, but it is also an important area of interest among researchers.
Numerous studies show both CBD and THCs ability to have an anti-inflammatory effect. According to the US Federal Government, cannabinoids are useful in the treatment of a wide number of oxidation associated diseases, such as age-related issues, and inflammatory, and autoimmune diseases.
In 2015, this clinical review posted the results of a study on the effects of marijuana on inflammation and pain. The review highlighted that there is supportive evidence for marijuana use for chronic pain.
Cannabis is a known anti-inflammatory.
When we use our muscles, train them, or strain them, inflammation after the workout can cause pain. As the cannabinoid action helps to reduce inflammation, your muscles can benefit from CBD and other cannabinoid's ability to reduce and delay muscle soreness, swelling, and pain.
When it comes to finding the ideal strain for use as a muscle relaxant, there are two compounds you should know about.
Research has shown that cannabis contains two specific terpenes that, through their anti-inflammatory action, can be effective muscle relaxants.
These two terpenes are myrcene and limonene. The former, also known as Beta-myrcene, is one of the most abundantly present terpenes across many cannabis strains. The latter, Delta-limonene, is commonly found in the citrus family as well.
Cannabinoids found in cannabis are what give the plant its effects. THC, CBD, and CBN are just three of the known compounds derived from the cannabis plant.
THC stands for tetrahydrocannabinol and is the psychoactive component found in cannabis. Most medical strains that help anxiety and seizures are low THC, high CBD strains.
CBD stands for cannabidiol and is a non-psychoactive cannabinoid. The effects of CBD on the human body are still being researched, but it may help with seizures. CBD may also impact anxiety, depression, and inflammation. Some medical strains high in THC are intended to address pain, nausea, and lack of appetite. These symptoms are all common in cancer patients recovering from their chemo treatments. High THC strains may be beneficial in these recovery cases.
Indica vs. Sativa vs. Hybrid For Muscle Relaxation
Cannabis is divided into two main classifications — Indica or Sativa. Some strains are a hybrid of the two, but all cannabis strains fall somewhere on a spectrum between Indica and Sativa.
Indica strains are known for their relaxing effects that can be felt in the body. They promote muscle relaxation and sleepiness, so they are usually preferred at night. Sativa strains have an uplifting and euphoric effect on mood and emotions. These are typically preferred for day-time use.
Choosing the best cannabis strain for muscle relaxation will depend on a few factors. We have already mentioned that terpenes play an important role in cannabis's anti-inflammatory effects.
The main differences between Indica and Sativa strains are physical characteristics. Some strains are Indica dominant, some are Sativa dominant, and others are more balanced hybrids.
Indica has characteristically shorter and broader leaves, while Sativa is skinnier plants that grow into taller trees.
Generally speaking, Indica strains tend to be more relaxing, while Sativa tends to be more stimulating.
All this will be dependent on the parent strains used and how they were combined.
Depending on the cannabinoid and terpene content, Indicas or Indica dominant hybrid strains tend to be the better option for muscle relaxation.
Best Cannabis Strains For Your Muscles
So, what are the best cannabis strains for muscle relaxation? Take a look at our top picks for muscle relaxation!
Honey Pot Kush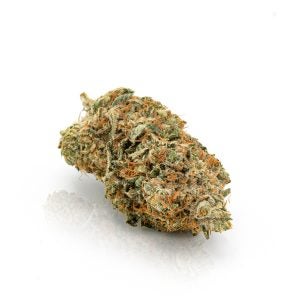 One of the best Indica dominant strains for relaxing tired and overworked muscles, Honey Pot Kush may not be one of the most famous, but it is one of the most effective.
As the strain name suggests, the Honey Pot Kush strain is created from its parents Kush and Honey Pot. The nugs are typically recognized by their vivid green backdrop with trichome coated dark pistils. As you might expect, the Honey Pot Kush smells like honey. This strain has a light honey aroma that is complemented with the spicy aroma of an earthy flavor. Then the kush flavours roll in, typically on the exhale, precisely as you may expect from Kush strains.
As for the effects, Honey Pot Kush delivers a quick cerebral rush, which steadily and gently descends into a relaxing body effect. The strain is known to deliver strong relaxation, and the higher the dose – the stronger the sedation. Honey Pot Kush is often used to support healthier mood swings, ease muscle spasms, cramps, and chronic pains.
Mendo Breath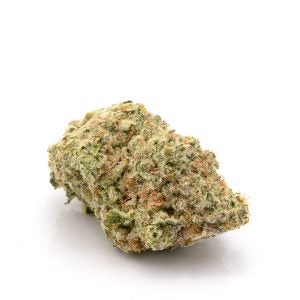 This indica dominant strain is a rare strain that was created by the breeders at Gage Green Genetics. Visually appealing, the Mendo Breath strain gets its good looks and charm from its parent strains OG Kush Breath and Mendo Montage.
The nugs are covered with fiery orange pistils and crystallized trichomes. The nugs themselves are a darker green color, similar to the color of mint.
As for the flavor, you can expect a treat! Mendo Breath has sweet hints of caramel, vanilla, and a hint of earthiness to ground the flavors. Mendo Breath offers deep body relaxation, but first comes the cerebral effects. After an initial burst of energy to the mind, the body begins to descend into a physical relaxation. When used in a high dose, the Mendo Breath is one of those strains that can bring on the characteristical "couch-lock" associated with Indica dominant strains.
Some people prefer Mendo Breath as their strain of choice when dealing with insomnia, headaches, chronic pain, and muscle tension.
The sweet flavor may lead you to think this strain is easy to handle, but don't let the sweet introduction trick you. This strain is a hard-hitting indica and has a large fanbase of evening users.
Mendo Breath has average THC levels of 19%, and this accounts for much of the initial cerebral rush, that ultimately descends into the body relaxing characteristics of most indica heavy strains.
Mendo Breath's sedative characteristics support overall tension release and are regularly used by medical marijuana patients to ease insomnia, pain, and muscle tension.
Do-Si-Pie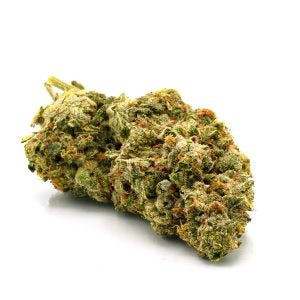 If you're looking for a long-lasting strain to keep your muscles feeling relaxed for longer, then Do-Si-Pie is a strain for you. Another Indica dominant strain, Do-Si-Pie is known to last longer than average highs.
The Do-Si-Pie strain has extraordinarily high THC levels that even regular cannabis users find potent. Not only does it pack a potent THC punch, but it is packaged in a dank skunky aroma that offers a balance between earthiness and sweet fermentation.
As strange as this strain may sound, you need to smell it for yourself. With a delicate balance of skunk and fruit, this strain takes you on a journey from the first whiff.
The Do-Si-Pie strain is said to stimulate cerebral activity and could help with a relaxed focus for ticking things off the to-do list. Afterward, Do-Si-Pie rewards with a deep physical relaxation that can be felt as the tension seeps out of the muscles.
Users enjoy this strain to relieve aches and pain that can be felt as headaches, muscle pain, body aches, and chronic pain.
El Jefe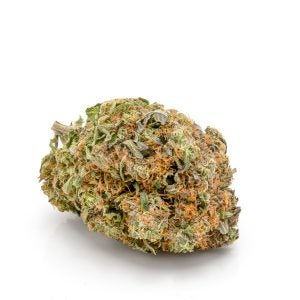 The El Jefe strain is another Indica dominant strain that dominates the market with its high THC levels. The El Jefe was created by crossing the Rare Dankness #1 and the Abusive OG.
Although comprised of some of the lesser-known strains, the El Jefe strain carries classic aromas that ring of quality. But El Jefe is not as commonly found as other strains, so you're lucky that we've got this dank herb for you!
What makes El Jefe so special?
With its potent effects and aroma, it's easy to feel and smell why this strain is considered one of the best cannabis strains for muscle pain.
The THC levels can average between 22% and 25% and is commonly referred to as "The Boss." Aside from taste and smell, the physical appearance of the El Jefe bud demands respect, too.
The El Jefe strain is physically characterized by bright orange pistils thickly coated with sticky trichomes, enveloping the dark emerald flower. Although the El Jefe strain has a pungent earthiness to its smell, these smells do not come close to how the strain tastes though. El Jefe has a flavour similar to rich pine and spicy lemon.
What makes this strain really respected in the community is the gentle way that the effects come on. The high is potent, but it is soothing and calming, best left for downtime after work and provides excellent couch-lock and relaxation for your muscles.
Blue Magoo Cookies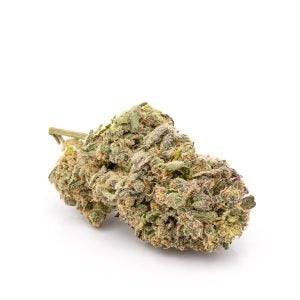 Last on our list is another Indica dominant hybrid, Blue Magoo Cookies. The Blue Magoo Cookies are a magic mix of genetics. The strain tests with an average of between 16% and 21% and starts with a soft cerebral stimulation that gently turns into full-body sedation.
The physical characteristics are no doubt inherited from its genetic heritage, and the Blueberry parent strain shows up in some phenotypes with blueish to purple hues. The leaves tend to stray to a yellow-tinted leaf in warmer climates, with the typical rusty-colored pistils that one would usually expect. The flowers can range in colour from one stem to another, and as such, it is a visually rewarding plant to grow.
The coloured flowers are coated in a rich blanket of the sticky trichomes we've come to know and love.
Blue Magoo gives away its heritage when the buds are cured, and they begin to seep with scents of Blueberry! A heavy piney musk smell also anchors down the Blueberry notes.
When the bud is smoked, some lighter notes of herbal berries are known to come through too.
Blue Magoo tends to have a quick onset, relaxing the body almost instantaneously.
It's well known for its muscle tension relieving properties and can help users feel more relaxed and easy-going. The strain also stimulates the mind and can inspire creative conversations. After the initial stimulation, Blue Magoo takes you on a nostalgic journey to full relaxation, where the end of the high is often the signal for sleep.
This strain is excellent for evening use since it helps melt away muscle pain and eventually drift off into a dreamy sleep.
How To Choose The Best Strain For Yourself?
Whether you want to opt for a strain that calms your aches, lulls you to sleep, or helps ease tension, there's a strain to suit your unique needs.
Although more research needs to be done, we currently understand that the Indica dominant cannabis strains are the most effective for relieving muscular tension. Which is what we've listed above.
The right one will depend on a variety of factors but if you can't quite decide, why not try the Honey Pot Kush strain for its sweetness & novice appeal.
The Do-Si-Pie would be great if you are a THC thrill seeker as well but looking to relax those muscles after.
If you're a cannabis newbie, steer clear of the strains described as 'potent' – such as the Do-Si-Pie and El Jefe strains. The rest would be perfect for you if you're a newbie.