Bruce Banner Overview
Bruce Banner might be best known as the alter-ego of comic book hero The Incredible Hulk, but maybe he wouldn't be such a stressed out ball of anger if he just had some of his namesake strain. This green monster also has hidden strength and features dense nugs that pack the power of very high THC content. It's a powerful strain whose effects come on quickly and strong and then tend to settle into a euphoric and creative buzz. The sativa effects of this strain are most evident and linger mostly in the head, but it may also provide body relaxation that make it an appropriate daytime bud for some. Dark Horse Genetics bred this strain from OG Kush and Strawberry Diesel, and its heritage can be found in its diesel aroma with sweet undertones.
Aromatics: Pine, Earthy, Conifer, Fuel
Effects: Body-High, Relaxed, Spacey, Sleepy
Medical: Chronic Pain, Depression, Fatigue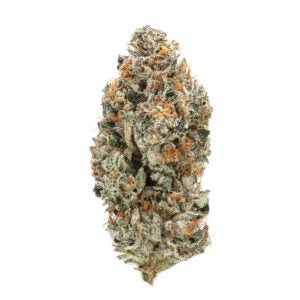 History & lineage
Bruce Banner actually comes in three specific variants, with Bruce Banner #3 being the most coveted of the three. Initially, 5 Bruce Banner strains existed, Bruce Banner #1, #2, #3, #4, and #5. Bruce Banner #2 and #4 were both quickly drop, with #1, #3, and #5 taking precedence. Phenotype #3 ranked first place in the Denver US Cannabis Cup, and is the most potent strain ever tested in the history of the High Times Cannabis Cups. Bruce Banner received a great amount of hype in 2009, right as medical cannabis started receiving a better reception in the mainstream.
Appearance
The bud has a heavily frosted appearance due to a thick layer of resinous glands. The leaves are colored a rich magenta hue, dancing vividly off the bright green buds and red hairs. The buds are frosted generously with large-headed trichomes. Bruce Banner tends to offer bigger yields than your typical OG Kush, making it a great strain choice for more experienced growers looking for an exotic strain which boasts bountiful yields. It's most popular in Colorado, Arizona, and Oregon, though it can be found elsewhere.
Flavour & Aromatics Of Bruce Banner
Bruce Banner buds offer a diesel aroma with sweet undertones. It's one that most marijuana users can get behind, with a lovely blend of sweet and kush tones. It's one that most marijuana users can get behind, with a lovely blend of sweet and kush tones.
The taste of the strain is a pungent citrus, and compared to the strain's smell, it's taste is considerably earthier and less sweet. Additionally, the taste buds can detect small glimpses of floral notes, making this cannabis strain special for those who want to be involved in the real  "cannaisseurs" tasting experience, rather than simply just the quality of the smoke.

Medical Properties & Uses Bruce Banner
MMJ users often try Bruce Banner weed to help with the symptoms of chronic stress and chronic pain disorders. Because of its body-numbing effects, a buzzing and relaxed state could replace all pent-up physical stress and discomfort, potentially bringing relief to the user.
The effects emerge swiftly and in strength, but the stone mellows into a creative euphoria, balancing out the punch of the initial stone. Bruce Banner will provide a relaxing body high accompanied with useful pain killing effects for users. This is a strain that many use to treat anxiety and stress levels, as well as alleviating the symptoms associated with ADD / ADHD and Bipolar disorders. Bruce Banner is also used to remedy migraines and alleviate pain associated with arthritis.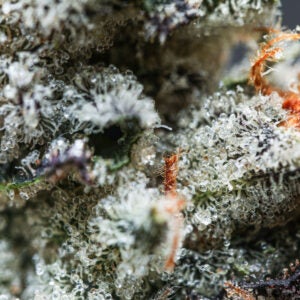 Bruce Banner Reviews
Where To Buy Bruce Banner

There's nothing better than some fresh Bruce Banner; the smell, the taste, it's what makes the experience so great. Check our selection of cannabis including organic & craft flowers. We offer a variety of high-quality flower products, including Indica, Sativa, and Hybrid strains, as well as pre-rolls. For the best of the best, choose our AAAA options.
Sources:
https://www.wikileaf.com/strain/bruce-banner/
https://wayofleaf.com/cannabis/strains/bruce-banner-marijuana-strain