Can weed cause gout?
There's no study yet that directly links weed and gout. On the contrary, studies even show that weed has many properties that can help alleviate gout symptoms.
So, how does weed relieve gout? What are the symptoms that weed can help control?
Before we get there, let's give you some background on how weed and gout relate.
What Is Gout?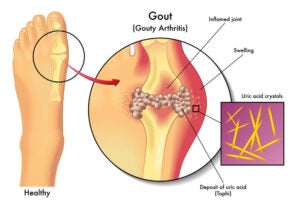 Gout is a type of arthritis caused by a high uric acid levels in the blood.
Uric acid is a normal byproduct of the body when it breaks down purines, a compound found in certain foods. It is eliminated by the kidneys through the process of urination.
In gout, the body has a hard time eliminating uric acid, so it gets deposited in the joints where urate crystals build up.
The accumulation of urate crystals irritates the joints, resulting in gout symptoms.
Symptoms Of Gout
Gout attacks often occur without warning and typically manifest in the middle of the night.
This is characterized by a sudden and intense pain in the joints (particularly the big toe) with swelling, tenderness, and redness.
The pain is oftentimes unbearable that even the weight of a light blanket can seem excruciating.
Of note, the big toe may be the most commonly affected joint, but gout can also affect the fingers, wrists, and elbows, as well as ankles and knees.
Lifestyle Factors That Worsen Gout
Consuming foods rich in purine and fructose increases the risk of developing gout. These include red meat as well seafood like tuna, anchovies, mussels, scallops, sugary beverages, molasses, and licorice, etc.
There are other factors, too, that worsen gout:
Male gender
Older people
Family history of gout
Chronic health problems like obesity, hypertension, diabetes, kidney problems, and congestive heart failure
Alcohol consumption
Smoking
Prevention, Medication, And Treatment For Gout
Lifestyle changes help reduce gout risks, so start drinking more fluid (at least two to four liters per day) and eating foods that contain less purine and fructose.
Medications such as nonsteroidal anti-inflammatory drugs, corticosteroids, and colchicine for pain and inflammation may also be given for gout attacks, while drugs like allopurinol and probenecid are prescribed to prevent complications.
These medications help control gout symptoms, but nowadays though, an increasing number of people are using weed for gout control.
Can Smoking Too Much Weed Cause Gout?
Some people associate smoking weed with gout, that the harmful byproducts of smoking clog the arteries and prevent proper blood flow, resulting in the accumulation of uric acid and causing gout.
But here's the thing:
As of this writing, no comprehensive study has been done yet on chronic cannabis use and gout development. There's no exact study that proves cannabis causes gout.
But everything should be taken in moderation though, including cannabis.
While consuming weed offers many therapeutic benefits to people with gout, one study has also shown that chronic and heavy cannabis use leads to increased blood chemistry levels, including uric acid.
Of note, the study stated that cannabis addiction affects blood chemistry levels, including uric acid, but it did not specifically say it causes gout.
What Are The Effects Of Weed On Gout?
The cannabinoids found in cannabis also interacts with our endocannabinoid system. This is one of the reasons why we feel some improvement in our gout symptoms when we consume weed.
In a way, the cannabinoids help our endocannabinoids activate the endocannabinoid system, helping it to function better in maintaining homeostasis within the body and controlling the symptoms of gout.
Now, weed offers many health benefits to patients suffering from gout.
Decreases Joint Pain
The cannabinoid receptor type 1 is responsible for pain control. When the cannabinoids bind to this receptor, they "tell" the cell to stop releasing chemicals that worsen pain and start reabsorbing them back into the cells.
In addition to this, the cannabinoids also work on other receptors that help control pain. These include the serotonin, adenosine, and vanilloid receptors.
Cannabinoids have strong pain-killing effects. They can even help control pain not responding very well to conventional and even prescription painkillers.
Reduces Swelling And Inflammation
High uric acid levels increase the risk of developing urate crystals, and these crystals tend to accumulate in the joints.
The buildup of urate crystals irritates the structures within the joint, triggering inflammation and worsening pain.
Now, cannabinoids have anti-inflammation properties. They activate the endocannabinoid system (specifically the cannabinoid receptor type 2), helping it to regulate immune response.
They "tell" the immune cells to stop releasing chemicals that attract more pro-inflammatory cells to the area. Inhibiting this signal results in reduced swelling.
In addition to this, the cannabinoids also trigger the cell death of abnormal immune cells. Once these abnormal immune cells are under control, inflammation is reduced.
Of note, inflammation may be our body's first line of defense against irritants, but this process becomes a problem when it gets out of control.
Instead of getting rid of the irritants, it worsens inflammation and pain and decreases joint mobility.
Improves Joint Movements
Pain and inflammation can significantly limit joint movements and impact the quality of life.
The pain experienced by people with gouty arthritis can be pretty excruciating that even the touch of a light cloth elicits pain.
With the cannabinoids helping to reduce pain and inflammation, the affected joint would be able to move freely without too much pain.
Improves Sleep
Gout attacks typically occur at night. It affects your rest and prevents you from getting a good night's sleep. Gout attacks also make it harder for you to go back to sleep.
The reason why gout attacks usually happen at night has something to do with the body's temperature. The drop in the body's temperature, coupled with nighttime dehydration, speeds up the formation of urate crystals.
Now, consuming weed before bedtime helps you have a better night. The cannabinoids' analgesic and anti-inflammatory effects help you have a pain-free, relaxing sleep.
Additionally, cannabinoids like THC, CBD, and CBN also have relaxing and sedating effects on the body. In high doses, they can even help you fall asleep faster, better, and longer.
Improves Mood
Studies show that people suffering from gout have a higher risk of developing anxiety and depression. The risk is higher in gout sufferers who don't use anti-gout medications.
Weed, in addition to its effects on pain, inflammation, and sleep, also has therapeutic properties that can help address anxiety and depression.
Cannabinoids like CBD help calm nerves when they interact with the cannabinoid receptor type 1, and they also help increase dopamine levels in the brain, resulting in a better mood.
These cannabinoids also interact with other receptors responsible for controlling mood and emotions as well.
How To Choose Cannabis Products For Gout
Want to try cannabis to treat gout?
Then consider these things when choosing cannabis products for your health concerns.
Different Types Of Cannabis Products
Inhalable cannabis products like flowers and vapes as well as sublinguals like oils and tinctures deliver faster onset of effects. The cannabinoids immediately enter the bloodstream and produce their beneficial effects.
These types of cannabis products are best for acute gout attacks and can immediately help control the symptoms.
Edibles, on the other hand, take about 30 minutes to one hour before you feel any effects. This is because the cannabinoids have to pass through several organs (stomach, liver, etc.) first before joining the bloodstream.
This type of cannabis product is best for chronic conditions. The cannabinoids stay longer in the system, so their effects are prolonged, compared to inhalable and sublingual products.
CBD Isolates vs Broad-Spectrum CBD vs Full-Spectrum CBD Products
If you're hesitant to try cannabis products because of their THC content, then try CBD ones.
CBD, compared to THC, isn't psychoactive, so you don't have to worry about THC's side effects like increased anxiety and paranoia.
When buying CBD for gout, you'll encounter these terms – CBD isolates, broad-spectrum CBD, and full-spectrum CBD.
They all contain high levels of CBD. Their only difference lies in the other ingredients.
CBD isolates, of course, contain only pure CBD.
Broad-spectrum and full-spectrum CBD, on the other hand, contain additional cannabinoids and terpenes. Terpenes are compounds that give weed its unique flavour and aroma. They also enhance the cannabinoids' effects.
Broad-spectrum CBD contains no traces of THC, while full-spectrum CBD has some THC in it.
Which is better among the three?
It depends on your preferences, but for more severe gout symptoms though, we recommend trying full-spectrum CBD to enjoy the entourage effect.
The entourage effect is a phenomenon associated with cannabis wherein all the cannabinoids and terpenes synergistically work together in relieving symptoms and maintaining health.
The THC in full-spectrum CBD products makes it more effective.
How To Use Cannabis For Gout
If you're new to cannabis and would like to take it for your gout symptoms, then we recommend starting with a lower dose.
For example, you chose CBD honey oil, with a dosing instruction to take one full dropper per day.
Instead of taking one full dropper as recommended, you can start with one-fourth or one-half of the dropper. This gives you some room to adjust your dose accordingly.
If you experienced some side effects, then reduce the dose. If you didn't feel any improvement in your gout symptoms, then increase the dose.
Just be patient and consistent. Listen to your body and assess your reaction to cannabis.
You'll soon find a dose that will work best for your gout symptoms.
Final Thoughts – How To Alieve Gout Pain
Can weed cause gout?
There's no study yet that directly links weed and gout development. But many studies show cannabis has properties that can address gout symptoms.
It eases pain and inflammation when the cannabinoids interact with the endocannabinoid system and other receptors.
Cannabis also helps improve sleep problems, anxiety, and depression associated with gout.
You'll find cannabis products in every dispensary, but if you're after premium-quality weed, more brand options, varying potencies, and different forms of cannabis products, then visit our online cannabis shop.
We offer the best cannabis products produced by some of the most reputable brands in the country.
So, browse through our categories, select the items you need, and start your order.
In one to two business days, you'll receive your package.
But if you send your payment before our cutoff time of noon, and you're in Vancouver, then you can take advantage of our same-day delivery.
Ready to place your order? We'd love to help you fix your pain with any of our CBD products.
Extra Thoughts: The Endocannabinoid System & Gout
The endocannabinoid system is important in gout management. The system is made up of three main parts:
The cannabinoid receptors (type 1 and 2)
The endocannabinoids (cannabinoids naturally produced on demand by our cells)
The enzymes that degrade the endocannabinoids
Cannabinoid receptor type 1 is found all over the body but has a very high concentration in the central nervous system (brain and spinal cord).
This receptor is involved in regulating many physiological responses. It helps modulate pain, fear, stress, anxiety, emotions, and mood, and it also helps control appetite, memory, learning, motor, and sensory functions, pleasure, and reward.
Cannabinoid receptor type 2, on the other hand, is mostly located in the immune system. It plays an important role in controlling the immune response.
Noxious stimulus such as pain, stress, infection, diseases, etc. creates an imbalance in the body's chemical levels, resulting in symptoms.
In gout's case, the urate crystals irritate the structures found in the joint, resulting in pain, swelling, heat, etc.
To bring balance or homeostasis back, our cells release endocannabinoids. These endocannabinoids then bind to the cannabinoid receptors found on the cells.
The cannabinoid receptors, in turn, trigger chemical changes in the cells that stabilize or normalize the chemical imbalance, reducing the symptoms.
Unfortunately, our cells release endocannabinoids only on demand, and once the endocannabinoids have been released, the enzymes quickly break them down for reabsorption back into the cell.
The effects of the endocannabinoids are short-lived.