Wondering if you can buy dabs online in Canada?
The quick answer is yes, and it's also pretty easy to buy dabs on the internet.
Just choose the products you need, add them to your virtual cart, and then click the checkout button!
In a day or two, the products will be delivered right to your doorstep.
Ordering dabs online in Canada is this easy!
But before getting started though, we thought it would be great to be mindful of the following tips we've prepared for you.
These tips can help protect you from bogus manufacturers offering substandard products.
Included in this article, too, are the commonly asked questions on dabs, where to find the best dabs, and what the best dabs are in Canada.
Things To Consider In Buying Dabs Online
The great thing about the internet is the vast selection. You'll find a wide variety of dabs online from our store — including different brands and varying potencies.
While it's tempting to buy the first product you see, as a consumer, you have to know how to choose your dabs wisely, especially when buying online.
Below are the factors to consider when buying dabs online and offline.
The Appearance
Dabs are a type of cannabis concentrate where the cannabinoids are usually extracted using butane. The solvent is then removed through the process of evaporation, leaving behind a sticky oil.
The consistency differs though, depending on the solvent and extraction process used (butane, alcohol, carbon dioxide, heat and pressure, etc.)
If it's in liquid form, the appearance is usually that of a thick, viscous, sticky oil with a colour that ranges from a dark golden honey to a deep amber.
If it's in solid form, it can resemble an amber glass (shatter), brown sugar (crumble), sticky, amber crystals (wax), among others.
When choosing dabs based on their appearance, stay away from dabs that contain greenish and blackish hues. This could mean leftover plant materials and/or the presence of contaminants.
The Texture
Again, the texture varies depending on the type of solvent and process used to extract the cannabinoids.
The texture can range anywhere from a sticky oil to coarse and crumbly. It can also be malleable like dough or fragile and easily shatter upon touch. It can be hard and slick like glass or soft and flexible like gel.
Keep in mind that you'll get different textures of dabs and that's ok.
Flavours and Aromas
Terpenes give the different cannabis strains their unique flavour and aroma.
So, when choosing dabs, choose one based on the strain used since that'll give you the expected dab flavour profile.
Strains with sweet and fruity aroma and flavour include Blue Cake, Sunset Sherbert, and Wedding Cake, while strains with lemony and citrusy notes include Super Lemon Haze, Purple Lemon Haze, and Mendo Breath.
The Potency
Dabs are more potent and much stronger than flowers. They're even stronger than edibles.
According to some laboratory reports, dabs typically contain 80% to 90% of THC, definitely more powerful than flowers that contain the highest THC levels of 25% to 30%. So, when buying dabs, be sure to check the THC potency of the product.
If you're new to dabbing, you should start with a very small amount at first and then wait about an hour to assess your reaction.
It's always better to start with a lower dose than suffer the side effects of taking too much THC at once.
The Manufacturer
Always buy dabs made by trusted brands.
At Kootenay Botanicals, we go through a rigorous process to ensure the manufacturers are producing a quality, safe and potent product.
Which brings us to our next part, let's highlight a few dabs for you!
What Are The Best Dabs In Canada?
Canada is known for our cannabis product quality and there's no doubt here with the following dabs below.
They are potent, so care should be taken when you use them, especially if you're new to dabs.
1. Seven Star — Budder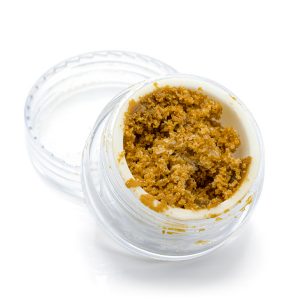 A product of Seven Star, this budder comes in 1 gram package and made from these potent strains:
AK – 65% Sativa and 35% Indica
Hempstar – 65% Sativa and 35% Indica
Sour Diesel – 90% Sativa and 10% Indica
God – 80% Indica and 20% Sativa
Pink Kush – 90% Indica and 10% Sativa
THC Snow – 60% Indica and 40% Sativa
Rockstar – 50% Indica and 50% Sativa
Supernova – 75% Indica and 25% Sativa
Bubba Kush –80% Indica and 20% Sativa
These THC-rich dabs also contain a high amount of terpenes, allowing you to enjoy the full flavours and aromas of the strains.
Enjoy these ones on your dab rig, mix some in your joint, or use with your bong — whatever method you use, you're sure to enjoy this premium dab.
2. High Voltage Extracts — Live Resin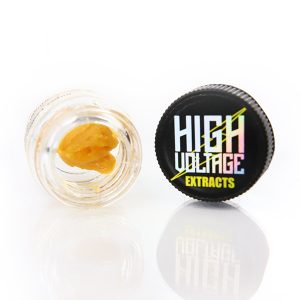 High Voltage Extracts' live resin clearly belongs on our list with its potent THC level of 95% and high terpene content.
If you're in need of a boost in energy and mood, then you'll definitely love these Sativa strains — Ortega, Super Lemon Haze, and Trainwreck.
However, if you want powerful relaxing and uplifting effects, then be sure to try these Indica strains — Papaya Punch, Pineapple Chunk Shiskaberry, Four Star General, Wasabi, Grease Monkey, and Tom Ford Pink Kush.
Or do you simply want a well-balanced effect?
If you do, then these Hybrids are a good choice — Critique, Ice Cream, and Orange Valley OG.
We've got plenty of selection!
3. High Voltage Extracts — Sauce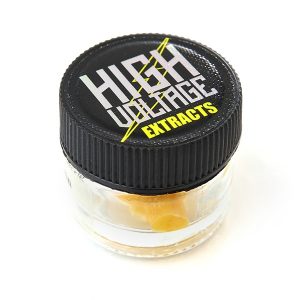 This High Voltage Extracts — Sauce is definitely a premium-grade cannabis concentrate with its 95% THC.
With the preservation of all other cannabinoids and terpenes, this dab truly captures the essence of the strains used for this product.
For a more energizing effect, we recommend the Sativa strains — Great White Shark, Megalodon, and Critique
For a more laid back and relaxing effect, you'll definitely love these Indica ones — Hash Plant, Hindu Kush, Papaya Punch, Romulan, Shiskaberry, and Violator Kush.
4. KleerX — Diamonds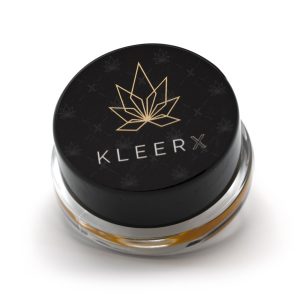 Crafted to produce a clean high with potent effects, KleerX's diamonds can be considered a work of art. This dab boasts of potent cannabinoid levels and a very rich terpene profile, preserving the true aromas and flavours of the strains.
This product comes in two Indica strains — Afghani and Tuna Kush.
Both produce powerful relaxing and euphoric effects. They also induce sleepiness, which makes them the best dabs for insomniacs.
5. Diamond — Live Resin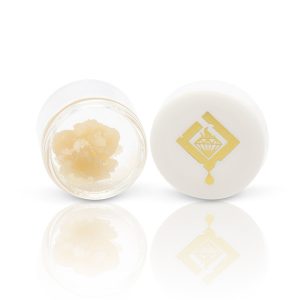 Diamond's live resin is one product that you should definitely try. It contains a rich amount of cannabinoids and terpenes, perfect for people who simply want to have fun or relax. Of course, this product also works very well for pain, stress, and depression.
It comes in two Indica strains — Death Bubba and Monster Cookies.
Death Bubba produces a potent body high that leaves your muscle completely relaxed, while Monster Cookies is famous for its sleep-inducing effects.
6. Royalty Rosin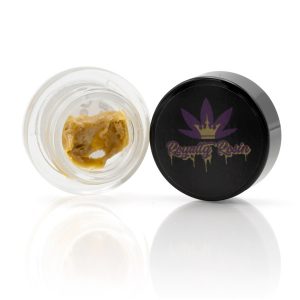 Royalty Rosin's rosin is made from organic, freshly frozen, live buds using the bubble hash method. As such, this solventless dab is famous for its clean high, potency, and rich aroma and flavour, which perfectly capture the strain's essence.
You can choose among these different strains:
Indica strains — Mendo Breath, Wedding Cake, Pine Tar, Sunset Sherbert, and Rockstar Tuna
Sativa strains — Tuna Kush and Sherbert Cookies
Hybrid strains — Sherb n' Poison
7. KleerX – Live Resin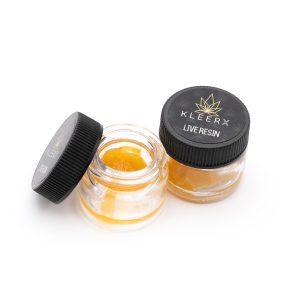 KleerX's live resin is another popular cannabis concentrate that has captured the hearts of many consumers. Strains offered include Indica Northern Lights, Nebula, and Pink Kush. It's also available in MAC 1, a potent Hybrid known for its powerful relaxing and uplifting properties.
The cannabinoids are extracted from premium-grade flowers, so you're assured of their potency, aroma, and flavours too.
Buy Your Dabs From Us Today
Purchasing your dabs from Kootenay Botanicals gives you more perks. We offer weekly freebies, a $10 signup bonus, a referral program, and a lucrative loyalty program where you earn points each time you buy from us.
The more points you accumulate, the more cash you earn that you can use as big discounts on your future orders.
Of course, we also offer you a safe platform where you can buy your weed online safely. We value our customer's privacy and will always protect their personal information.
The products we've listed above are only a few from our larger collection.
If you want to know more, just visit our store and browse through the selection. You may also send us a message if you have questions.
Once you've found the cannabis concentrates you'd love to try, just click the items, choose the quantity you want to order, and add them to your virtual cart.
If you send your payment before noon or 12 PM PST and are in the Vancouver. B.C area, we will process your order and ship them to you immediately. We have plenty of customers in the Vancouver area looking for dabs too, so you're in good hands.
You'll receive the items on the same day, between 4 PM and 9 PM. So, don't forget to select the "Same-Day Delivery" option when you checkout your virtual cart.
But don't worry if you didn't make the cutoff time. We'll still process your order as soon as we can, so you can receive the items on the next business day.
We also provide national Canada-wide shipping too, so don't worry if you're not in Vancouver.
Ready to place your order?
Choose the dabs you want and place your order now!
Frequently Asked Questions About Dabbing
Here are a few questions on dabbing that many inexperienced dabbers ask us.
Knowing them can help you avoid unpleasant side effects and, at the same time, choose a good product.
Which Extracts Can Be Dabbed?
Different solvents and extraction methods create different types of dabs or cannabis extracts. The most common dabs include shatter, wax, sugar wax, rosin, live resin, crumble, budder, taffy, crystalline, distillate, and THC diamonds.
You can use any of these dabs or cannabis extracts on your dab rig and enjoy their potent effects.
What you can't use on your dab rig though are oils, tinctures, or any alcohol-based cannabis extracts. They quickly evaporate on the heated dab nail, leaving behind sooty, burnt oil.
How Does Dabbing Work?
You'd need a dab rig to fully enjoy dabs.
A dab rig is usually made up of three parts. You have the glass piece and the nail, and you also have to have a torch lighter.
You first have to heat the nail using the torch lighter until the nail glows red. Once it starts glowing red, remove the lighter and let the nail cool for about 30 seconds.
You'll know you have the right temperature when you cup your hand about an inch above the heated nail. The heat will radiate warmly off the nail, but it should not be too hot.
When the temperature's perfect, add a small amount of dab on the heated nail using a dabber and cover it with the carb cap. Inhale the vapors and enjoy the effects.
Again, dabs are potent.
If you're new to this type of cannabis concentrate, always start with a low dose and go slowly as possible. You don't want to ruin the experience by taking too much too soon.
Dabbing vs Smoking — What's The Difference?
Dabbing is definitely not the same as smoking.
In smoking, you place the ground weed in a joint and roll it evenly to produce an even burn. You then light up the joint and inhale the smoke created by both weed and paper.
Dabbing, on the other hand, makes use of a dab rig where dabs are heated on the nail. The vapor it creates is then inhaled through the mouthpiece.
Which is safer?
According to experts, dabbing is safer than smoking since you'd only be inhaling the vapor and not the smoke caused by the combustion of weed and paper.