The short answer is yes; you can now buy weed candy online in Canada.
In October 2019, Canada legalized cannabis edibles, topicals, weed extracts, and vapes. This gives you access to safe and legal weed candies, which you can purchase from your local dispensary or order online.
Buying weed candies online is easy and very convenient. But as a consumer, there are several things that you have to consider though.
In this guide, we'll help you choose the best weed candies online and find something that suits your taste buds.
Is It Safe To Buy Weed Candies Online?
Buying weed candies online is convenient, easy, safe, and can be done in the comforts of your own home. With just a click of a button, you're given lots of options to choose from. In just a day or two, your package will be delivered straight to your doorstep. For those of you in Vancouver, Canada – we can deliver on the same day too.
Can You Purchase Weed Candies Online In Canada?
You can now purchase weed candies online in Canada, but you have to be extra careful in choosing a good online cannabis shop.
Legit and legal online weed shops only sell edibles and other cannabis products to residents of legal age. So before buying cannabis products, check your province's legal age for recreational cannabis first. We also recommend that you read up on your province's cannabis laws to avoid legal problems.
Most online weed shops also ask for proof of identity and age. So you'll need to submit a copy of your valid government-issued ID as proof. The shipping address you register should also match the address found in your valid ID.
What To Consider In Buying Online
Over the past years, purchasing weed online has grown in popularity. While this gives you more access to weed, not all of them though are reputable and legit.
As a consumer, you have to know the factors to consider in buying weed online, especially when choosing a good provider.
Safety And Security
So, how will you know if the online weed shop is providing a safe and secure platform for their consumers?
Below are the things to look for in an online weed shop:
Look for the locked padlock icon located on the left side of the website's address bar or URL.
See if the site's URL starts with HTTPS.
If you see these, then it means that the online weed shop has SSL encryption installed. Your private information is safe, secure, and protected when data is transferred during transactions.
As you can see, Kootenay Botanicals is a secure place for you to purchase your cannabis products too and we're proud of that security.
Weed Candy Delivery
Now you know how to check if the online weed shop is protecting its consumers. The next step is to take a look at their weed candy delivery system.
Choose an online weed shop that:
Has transparent shipping fees and no hidden costs.
Delivers vacuum-seals and lidded items to protect them against contaminants.
Packages your items in discreet and nondescript boxes.
Has friendly and ready-to-help customer support.
Offers same-day delivery.
Kootenay Botanicals checks all those boxes and we offer same-day delivery to Vancouver.
What Weed Candies Can Order Online? Here's Our Best Sellers!
We've put together a collection of brands that are known for their potency, quality, and consistency.
Here's a sneak peek of our bestsellers:
Mota's Jellies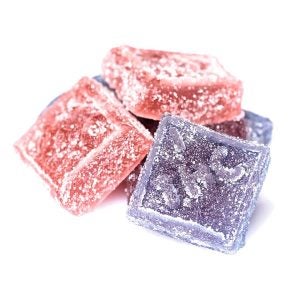 One package of Mota's Jellies contains a total of 120 mg of THC. It comes in seven delicious flavours – cherry, watermelon, strawberry kiwi, green apple, root beer, mango, and orange. You can also choose between Indica and Sativa jellies.
Although these jellies were created for high-tolerance patients, they also work wonderfully well for those who have low tolerance to THC. The jellies can easily be split into smaller pieces easily for lower doses.
Mota's Jellies help manage pain, inflammation, insomnia, stress, anxiety, depression, and nausea. It also helps with appetite loss.
CBDYou's Vegan CBD Wine Gummies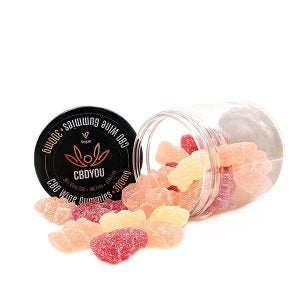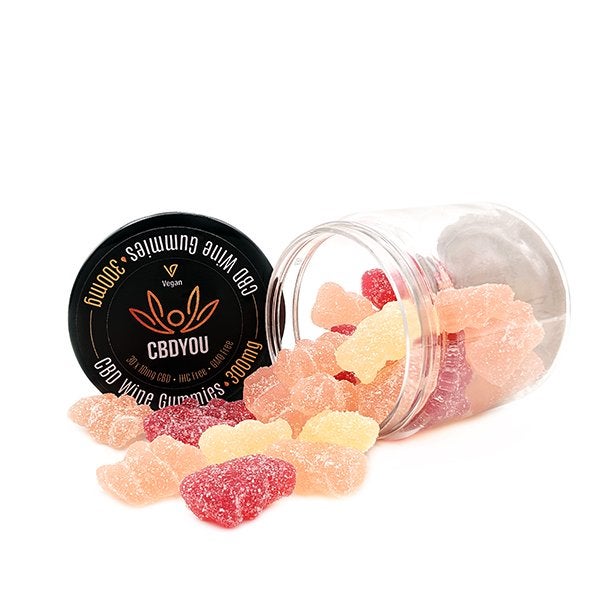 If you can't tolerate THC, then CBDYou's Vegan CBD Wine Gummies is for you. These gummies come in four fruity flavours – peach, apple, pear, and grape. You can also choose between two strengths — 150-mg and 300-mg CBD gummies. The 150-mg CBD bottle contains 30 pieces of 5-mg CBD gummies, while the 300-mg CBD gummies contain 30 pieces of 10-mg CBD gummies.
These delicious treats are perfect for daily use. The 5-mg ones deliver enough CBD to help maintain your normal health, while the 10-mg gummies are a good help for mild to moderate health concerns.
Dose's Wine Gummies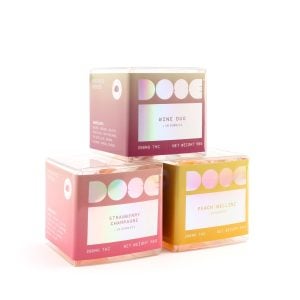 Wine and a little THC? This is what you're going to get with Dose's Wine Gummies. An all-time favorite of many of our customers, one bottle contains 20 20-mg THC gummies, giving you a total of 400-mg THC in each container. It comes in two delectable flavours — peach bellini and wine duo.
These gummies are also perfect for those who suffer from joint pain such as arthritis. These also work well for people with chronic pain, inflammation, insomnia, and post-traumatic stress disorder. Dose's Wine Gummies also helps with nausea and appetite loss.
Twisted Extract's CBD Jelly Bombs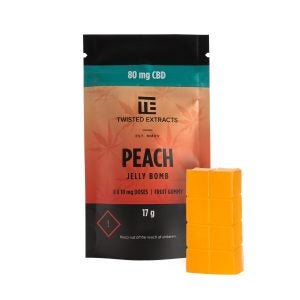 Don't want THC? Then here's what you need — Twisted Extract's CBD Jelly Bombs. One packet contains eight pieces of 10-mg pure CBD jellies, giving you a total of 80-mg of CBD per packet. Flavours include peach and pineapple.
These CBD jelly bombs are best used daily for chronic pain and inflammation. It also helps control anxiety and stress since CBD has known anti-stress properties. It helps you feel calmer and more relaxed.
Twisted Extract's Cara-Melts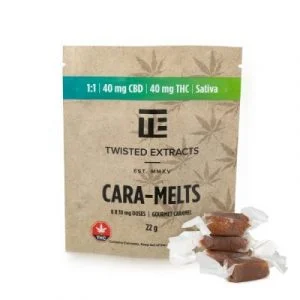 Twisted Extract's Cara-Melts is definitely one of our bestsellers. It has all the delicious flavours of caramel — buttery, milky, creamy, and lusciously sweet. What we love about their Cara-Melts is that you're given two strengths. You can choose between their 80-mg THC package and 40-mg CBD/40-mg THC ones. One package contains eight mouthwatering treats.
Both strengths work well in relieving symptoms, but if you want to benefit from the entourage effect, then you'll definitely love their 40:40mg Cara-Melts. It has both CBD and THC, and these two cannabinoids will work together in improving your health concerns.
Mota's CBD Fruit Jellies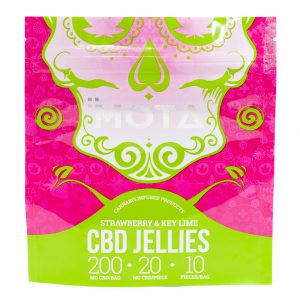 Another must-try weed candy is Mota's CBD Fruit Jellies. Perfect for CBD lovers, each jelly contains 20-mg of pure CBD extract, giving you a total of 200-mg CBD per bottle with ten jellies in all. It comes in two refreshing flavours — key lime and strawberry.
These jellies are a good alternative for those who don't like THC in their weed candy. It delivers potent health benefits, minus the psychoactive effects of THC. You can use these jellies for pain as well as inflammation. You can also use them daily to help you cope with stress and anxiety.
Precautions In Using Weed Candies
Consuming weed candies is different from smoking weed.
The effects of weed candies can take anywhere between 30 minutes to an hour, compared to smoking weed which can take effect after a few minutes. This is because the candy has to pass through your gastrointestinal system and liver before they enter the bloodstream. So if you don't feel any effects at first, please be patient. You'll soon benefit from the weed candy!
How To Order Weed Candies Online From Kootenay Botanicals
Are you ready to order weed candies online from us? If so, then here are a few reminders.
Do's And Don'ts
Recreational weed may be legal in Canada, but it doesn't mean that you can consume weed in public places. To always be on the safe side, do check your province's cannabis laws before you buy and consume weed.
Additionally, when buying weed candy online, do provide them with your correct details.
In Vancouver, the legal age to buy, consume, possess, and grow weed is 19 years old. While it's okay to consume weed outside your own residence, it's still illegal to consume weed in public places like schools, beaches, bus stops, and areas where children usually gather and play.
It's also illegal to consume weed inside vehicles, boats, and public transportation.
Ordering Process
We are one of the most trusted online weed shops in Canada. To ensure our consumer's safety, security, privacy, and protection, our website uses 2048-bit SSL encryption as well as PCI DSS. These protect you from identity theft and make sure that all your transactions with us are secure.
To order weed candy online from us, simply select the weed candy you want to purchase, add it to your cart, and fill in the shipping and payment details.
Shipping Process
We make sure that your items are vacuum-sealed and discreetly packaged before we ship them out. The vacuum seal preserves their potency and quality when in transit, and the nondescript packaging protects your privacy.
Within a day or two business days, the package will be delivered to your address. So make sure that your shipping address matches the address on your valid ID to avoid delays and problems.
Since you'll be receiving weed candy, there's the risk of the candies melting during shipping. So before opening your package, we suggest keeping them in the fridge for about five hours.
If there are problems with shipping, please don't hesitate to contact our customer support.
Same-Day Shipping In Vancouver
We ship nationwide, but if you live in Vancouver, you can enjoy our same-day shipping, provided that you send payment before 12 noon PST. Otherwise, we'll send your package on the next business day.
Shipping Fee
We have a flat shipping rate of $10. This fee will automatically be added to your orders upon checkout.
Free Shipping On Orders At Or Above $200
If your order reached $200 or above, then we will shoulder your shipping fee. For orders at or above $200, you get to enjoy our free shipping.
It's fast and convenient to buy weed candy online and Kootenay Botanicals offers only the best cannabis products made by top brands from Vancouver and British Columbian producers.
So if you want to add medicated treats to your life, then visit our shop of Cannabis candies and place your orders today – our team is ready to support you!