The cannabis industry is in the middle of a digital revolution. Are you down[loading] – cannabis and crypto?
If you're new to cryptocurrency and the world of digital funds, the terms 'NFT' and 'blockchain' might sound like typos. In a world where everything – including currency – is quickly moving online, NFT Cannabis art, or CBD NFT, is digitizing the evolution of cannabis and the way we buy.
Here's the lowdown on the newest way to invest in art, cannabis companies, and what it means for the future of the cannabis industries in Canada and the U.S.
What is an NFT?
NFT stands for Non-fungible token. Purchasing an NFT is like buying a unit of digital data that is stored online on blockchain platforms. NFTs can represent either tangible or intangible items and objects. The NFT's blockchain status ensures that you're buying something one-of-a-kind. 
Essentially, an NFT is a unique digital asset composed of lines of code stored in a blockchain platform!
In the world of digital art-buying, NFTs are used to represent digital files such as 
Unique Images

Digital Art

Graphics

Videos

and Audio. 
NFT Ownership
Digital files can be copied, shared, and saved – but the blockchain ensures that there's only one rightful recorded owner of your purchased NFT. Ownership of the original asset is proved with a certificate or "receipt". Owning an NFT gives the buyer a cryptographic record of their property, meaning your NFT is unique and all yours!
NFT Cannabis Art
What's weed-related art?
More and more artists are turning to NFTs to sell products since the uniqueness of the digital file can be verified through blockchain status. This gives buyers and traders the peace of mind that they're paying for something that isn't interchangeable.
NFT Cannabis Art takes the form of digital images or items plugging strains and brands. You'll see imagery that is identifiable with the brand's marketing, but unique to the specific image.
With collectible art and cards, consumers can purchase ownership over their favourite strains! The NFT Cannabis Crypto system is interactive, giving buyers the opportunity to cultivate, grow, and create their strains based on their unique NFT see purchases.
Jason Mchugh, CEO and founder of Califari, told Forbes how important it is for cannabis consumers to feel a sense of "ownership" over their favourite strains: "NFTs create a unique opportunity for us to offer that ownership to a fanbase that we know from experience is always looking for new and exciting ways to connect with like-minded individuals. This partnership with Merida ensures that we and our fans and supporters will always stay on the cutting-edge when it comes to the exciting worlds of cannabis, art, and tech."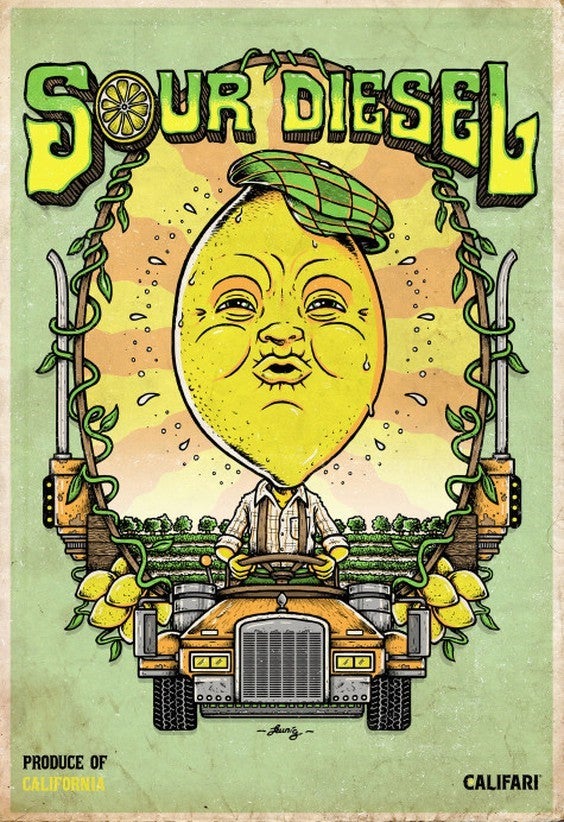 Buying and Trading Abstract NFTs for Real Dollars
A big question that comes up is how brands convinced consumers to pay "real" cash for assets that exist only online!
Owners of NFTs can trade their digital objects across platforms and secondary markets – making them a smart and interactive investment opportunity for those looking to grow their portfolios in a fun way.
You may not be able to eat it or smoke it – but thanks to security and blockchain regulations, your cannabis NFT crypto is as real as the dollars in your digital bank account.
For example, Twitter CEO Jack Dorsey's first Tweet sold as an NFT for $3 million! In 2020, a Miami art collector purchased a digital video asset for USD67,000, reselling it a year later for USD6.6 million.
Crypto Drops by Ghost Drops
Recently, the well-known cannabis brand Ghost Drops launched a new NFT platform for cannabis crypto, appropriately called Crypto Drops. The establishment of the new platform marked a monumental moment in history for the revolution of digital cannabis NFT system sales and trading.
What can you BUY from Ghost Drops/Crypto Drops?
On the Crypto Drops platform, users can purchase themed Cannabis NFT art of high-recognizable legacy strains. The iconography of cartoons and illustrations isn't compliant with advertising guidelines but can be sold as individual commodities. So, instead of using the art for packaging and advertising, it will be available as unique art pieces for fans of the strains.
To make cannabis crypto art possible on a new platform, Ghost Drops partnered with QNTMPAY, an online digital banking platform that functions worldwide. This means that going forward, you'll be able to purchase Cannabis Art NFTs without the use of cryptocurrency. You can get started on your NFT Cannabis journey with nothing but a Mastercard, Visa, or Apple pay.
Growing and Seeding with Gamified Investing
In the cannabis industry, there's been a long-standing race for creating and perfecting the ideal strains. There are so many brands and growers to choose from, it's almost like a game! Now, we can take part in the race to the best strain.
Investing in the operations of legacy brands like Ghost Drops allows us to reap the rewards of the fast-growing industry.
The platform allows enthusiasts of particular strains (or cannabis in general) to immortalize their seed and strain creations as NFTs. After growing and cultivating their creations, users can sell and trade their NFTs at auction.
The cannabis art NFT marketplace is decentralized and based on the economy of cannabis growth and purchase volume. The process of buying, growing, and trading cannabis crypto becomes like a game – letting you nurture your plants, creating unique digital strains. The best part is that it's easy to get started, and you own the rights to your creation! Until you decide to trade or sell, that is.
"Ghost Drops has been a cultural icon in Canadian cannabis. Now, we're about to revolutionize banking, NFTs and crypto in this space. And for cannabis connoisseurs, collectors and gamers, I can't wait for them to experience the new digital cannabis frontier we're pioneering with Crypto Drops." – Gene Bernaudo, CEO of Ghost drops
Where to buy NFT Cannabis Art
In the growing world of NFT for cannabis companies, there are more and more places to get your hands on your own unique NFT strain or NFT art.
Crypto Drops – by Ghost Drops
Buy, cultivate, and sell unique digital art related to consumer's favourite strains and brands under the Ghost Drops umbrella. Crypto drops allow consumers to buy, sell, collect and grow cannabis NFTs online. You can buy:
Digital Breeder Packs
Virtual Plants
Weed-themed NFT Art
The only downside to the Ghost Drops platform is that the brand is so sought-after in the consumer market, that there's a waitlist!
Lava Coin – by Peakz
Purchase a "bag of cannabis" that exists exclusively online and is linked to blockchain technology for authenticity. Users of the upscale cannabis brand through Lava Chain in California also gain access to real-life products via the brand's physical shops.
PotPunks
Collectible cannabis characters sold through Weed Pixel Art on the blockchain.
Califari – with Merida Capital Holdings
Five one-of-a-kind Genesis cards were released on April 20th, 2021 featuring cannabis strains with unique art designs. The initial card release consisted of the following strains:
Grand Daddy Purple by artist Ron English

Northern Lights by Simon Haiduk

OG Kush by Jesse Hernandez

Pineapple Express by KAM

Sour Diesel by Matt Leunig
Califari sees the NFT art as a new way for cannabis enthusiasts to celebrate plants and the new, post-pandemic world that's letting go of taboos related to cannabis use.
Fire & Flower Holdings Corp
The cannabis company partnered with artist Amr Elkouedy and consultancy Angry Butterfly to produce and sell NFTs in the form of digital art pieces that feature billowing, multi-coloured smoke.
Is it Art or Ads?
Some critics of the new investment genre see the cannabis art NFTs as less art, more "regulated ads". Given that the art is directly correlated to specific strains and brands, you can see why some would share this critique!
The cannabis industry has to deal and comply with all kinds of issues related to marketing, labelling, and advertising. There are laws surrounding how the industry can promote and talk about cannabis growing, selling, and consumption.
If cannabis NFTs are meant to be "art", it may run into trouble when the depiction is used to increase sales of the brand or strain! Companies in Canada and the U.S. will have to comply with state-by-state advertising laws on content and consumer-audience regulations.
The History and Future of the Digital Cannabis Industry
Still cloudy on the NFT cannabis system? There's a lot to take in with this new wave of digital investing and virtual growing. It's moving fast with more brands getting on the NFT cannabis art train.
Are more Cannabis Strain NFTs on the way? In the near future, artwork based on some of your favourite cannabis strains could be available in digital art form to purchase, grow, cultivate, trade, and sell.
The shifting of the cannabis industry into the world of NFTs means a lot of different things for different consumers, retailers, and independent creators.
The world is going digital, and the cannabis-consuming demographic is along for the virtual ride.
Sources: