Have you been wondering whether it's safe to feed your dog CBD products? Or you have heard conflicting opinions and rumours about CBD use in pets? This article breaks down all you need to know about CBD usage in pet food, particularly dogs, and the top Canadian products should you decide to treat your dogs with CBD.
First, What Is CBD?
Cannabidiol, popularly known as CBD, is a chemical compound that is found in marijuana plants. It's a non-psychoactive agent that is commonly used for pain relief and other natural health concerns such as anxiety. Being non-psychoactive, CBD does not get you high or prompt your brain to produce dopamine. This quality makes it appealing to pharmaceuticals as an alternative to psychoactive pain-relieving drugs. CBD is gaining huge momentum in the health sector as scientists are of the increasing belief that it may help in the treatment of medical conditions, as well as helping to relieve pain and anxiety.
Looking For The Purest Dog-Friendly CBD Oil In Canada?
If your answer to the above question is yes, you should know that there are basically two variants of CBD oil products for your dog. These are treats and dietary oils. If you're looking to get your dog to ingest CBD in a pure form that guarantees efficacy, purchasing treats or dietary oils might be your best option.
Treats For Your Dog
These come in the form of normal dog treats such as biscuits, the only difference being the CBD additive. To ensure you're getting a good CBD based treatment for your dog, it's important to read the label and make sure that the product actually contains CBD and isn't just "hemp-based". This is because if a product lacks the required CBD content, it will be ineffective and won't give you the desired effects.
Dietary Oils For Your Dog
Dietary oils as the name implies are CBD oil extracts that are applied directly into your dog's food. There are different dietary oils on the market and while shopping you should watch out for a few things, such as the modes of extraction, category of the spectrum (be it full or broad) and where the oil is grown.
There are two modes of extraction, the C02 extraction and the solvent extraction. It's advisable to go for C02 extract-based oils as they contain higher levels of CBD which is more beneficial to your dog. You should also make sure that the oil is full-spectrum as this sort of product has more terpenes and cannabinoids that add to the medicinal benefits of the oil.
When faced with many options, it's not uncommon for dog owners to be confused as to what products to get. In fact, many don't even want the trouble of going through different product labels and sorting. To make it easier for you and ensure your dog gets optimal treatment, some wonderful products will be recommended to you below.
Benefits Of CBD Oil For Dogs
CBD Oil Is Not Only For Humans
While most of the research carried out on CBD is geared towards human use and its effects on human bodies. CBD oil isn't only beneficial to humans but to animals as well. This is because the marijuana plant has a lot of medicinal properties which improve both human and animal wellbeing. Pets may also benefit from CBD use if they are suffering from anxiety, joint weakness or reduced mobility or chronic pain. CBD works to reverse the abnormal pain or weakness that your dog suffers, unlike sedative medication that only helps to cloud the pain in drowsiness.
Helps With Chronic Pain
If your dog is going through painful conditions like inflammations and impaired mobility, CBD oil may help increase comfort and general health conditions. It also helps to reduce the frequency of epileptic seizures when taken with other seizure medication.
Helps With Anxiety
Just like in humans, CBD oil helps to reduce anxiety and is more advantageous than other anxiety medications as it doesn't cause drowsiness or headaches. CBD also helps to do away with the addictive feeling that comes with anti-anxiety drugs.
Helps With Joint Pain
If your dog is experiencing joint pain or osteoarthritis, CBD oil may help to ease the pain and ultimately improve your dog's condition and mobility.
Sometimes, your dog may suffer from external health issues such as hyperkeratosis or chapped nose and paws. You should consider getting a Nose and Paw balm to effectively treat this issue.
How To Administer CBD To Dogs
Normally, dogs do not like taking anything they aren't used to, so getting your dog to take CBD might be tricky. The desire to circumvent this scenario has given rise to different CBD products that make it easier for you to administer CBD to your dog. These products may come in the form of oils or treats. Regardless of the form of CBD product you purchase, the following are some of the necessary things to know before administering CBD to your dog.
What Type Of Oil Do I Need For My Dog?
As easy as CBD oils are to come by, it's essential to purchase the right type of CBD oil for your dog to achieve the desired results. The first thing to watch out for when buying a CBD oil for your dog is whether it's hemp-based or infused. This will help you to ensure that the product you're buying contains an adequate amount of CBD. This information can be found on the product's label and tell you how much CBD a product contains. You should also watch out for the extraction process used in manufacturing the product. C02 extracted oils contain a higher level of CBD concentrates and are more beneficial to your dog.
How Much CBD Oil Should I Give To My Dog?
Now that you've got the right product, the next question is that of dosage. While CBD isn't psychoactive or as dangerous as THC, giving your dog the wrong dosage could undermine its health and general wellbeing. Administering the wrong dosage may cause drowsiness, weakness and sometimes vomiting all of which distort the desired benefits of the CBD oil.
When administering CBD Oil, the custom is to give one drop per 10lb of your dog's weight. Thus, if your dog weighs 50lbs you administer 5 drops of CBD oil once a day. If there are no notable improvements over a 7-day period, you may increase the dosage to twice daily. If you'd like to add CBD supplements to your dog's food with a controlled dosage and application, you should get the Canna 9 pet tincture which not only addresses health issues like anxiety and joint pains but also rehydrates and improves your dog's skin.
Mix It With A Treat
Although it may be applied directly under your dog's tongue, it's advisable to mix CBD oil in a treat to make the administration of dosage easier. Mixing CBD oil with a treat makes it easier to give your dog CBD oil since it's contained in their normal treats. If you've not been feeding your dog treats, you may consider getting doggy biscuits that contain CBD. These biscuits have different sizes and dosages which can be found on the product page that specifies the size and weight of the dog they can be administered to. They also save you the stress of calculating dosage and mixing with your dog's food as CBD is already infused in these tasty biscuits. This is the simplest way of feeding your dog CBD.
Find An Appropriate CBD Product
Choosing to administer or treat your dog with a CBD product is an easy step. More caution and information is required when deciding on what product to buy. As earlier stated, you need to make sure that the product you're buying actually contains CBD and isn't just labelled as hemp-based. You should read the product details page to ensure that the product is full-spectrum, that is containing CBD and other medicinal cannabinoids like CBC and CBG as well as terpenes like limonene and beta-pinene. All of these compounds work together for your dog's health as the presence of these other cannabinoids helps to boost the efficacy of the CBD oil.
Another important thing to look out for is the extraction method used in manufacturing the CBD product. There are basically two types of extraction methods; C02 extraction and Solvent extraction. The latter is usually done with propane or other petroleum products, which causes it to leave product residues that may be harmful to your dog. CO2 extraction entails the use of carbon dioxide to pressurize and break down the hemp plant, releasing the oil. This process is expensive but assures the best and purest form of CBD.
You may also be torn between forcing CBD oil directly into your dog's mouth or putting it in their food. It's advisable to add CBD to dog food as trying to apply it directly into your dog's mouth may be strenuous. If you choose this option, however, try as much as possible to apply it under the tongue. You should also endeavour to mix well when adding CBD oil to your dog's food in order to avoid raising suspicions of a strange smell.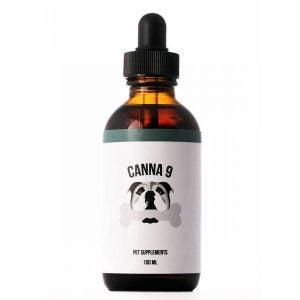 Where Can You Buy CBD For Dogs Online In Canada?
You can purchase CBD products for your dogs in the pet section of our store.
Going out to stores can be stressful particularly when you don't have a specific product in mind. This makes purchasing CBD for dogs online a viable option. This will afford you time and convenience to check out the properties and components that make up each product. You can also check our customer reviews too.
Frequently Asked Questions
How Does CBD Affect Dogs?
Just like with humans and medication, it's absolutely normal for your dog to react to CBD products. These reactions may be positive or negative depending on various factors, making it imperative to watch your dog closely after administering a CBD product. For instance, if your dog starts to react more calmly in situations that usually caused hysteria ie. witnessing fireworks, or becomes more agile despite suffering from arthritis or mobility issues, then the effect of CBD is positive. On the other hand, if you notice lethargic behaviour, vomiting or unusual panting, your dog may be suffering from excessive dosage or toxicity. You should visit a vet doctor near you as soon as possible for assistance.
Can I Use CBD Oil For Humans To Give To My Pet?
Yes, you can. CBD oil for humans and animals go through the same manufacturing procedures, meaning you can administer CBD oil for humans to your dog. However, you should know that animals and humans cannot ingest the same dosage. Therefore, you should give your dog less than the dosage written in the product label. Similarly, you should avoid administering human CBD oil to your dog if the THC content of the oil is above 0.3%. To avoid complications, you should only administer THC-free CBD oil to your dog. It's also best to avoid giving CBD oil that contains sugar or other flavouring additives to your dog. You should consider getting Dog Tinctures as they come in different CBD concentrations, are pure and specially designed for dog consumption.
What Are The Side Effects Of CBD?
All medicines have side effects and CBD is no different. Not to worry though, there are no major side effects associated with CBD usage. The following are some of the most common side effects associated with CBD usage in dogs; drowsiness, nausea, lethargic movements, panic reactions and impaired cognitive behaviour. While all of these may look scary, they rarely occur as long as you stick to the right dosage and refrain from using oils with high THC content. If you notice any of the side effects listed above, you should stop administering CBD and visit your veterinarian.