CBD Gummies taste as delicious as they sound, they're also one of our favorite treats. Coming from a person who suffers from chronic back pain, CBD gummies have been a go-to product for me. Not only are they tasty, but the product itself is quite discreet. The only way to know that the product contains CBD is through the packaging.
All the products that Kootenay Botanicals carries have the dosage and label displayed clearly on the packaging. We only sell brands that do this, considering it is essential to understand the dosage in the gummies and what is inside of them.
Regardless if you are a seasoned CBD gummy connoisseur taking one for the first time, please note that it's vital that you read the labels carefully. One of the best advantages of Kootenay Botanicals is the fact that we carry different brands and flavors of CBD gummies.
We carry a wide variety of different brands of CBD gummies. From CBDYou, MOTA, and CBD Move, we strive to work with brands that align with our company values.
Our company value ensures providing transparent service to our clients, making their overall experience and product as good as we could make it. We bring this up quite frequently when discussing edibles, considering as it's far different than smoking cannabis. We generated a list as to what our favorite products currently are, and decided to answer some frequently asked questions!
When you enter the edibles section on the Kootenay Botanicals website, you're going to notice a lot of different types of edibles. This blog only focuses on CBD gummies that we have. Many of the gummies have the option of getting a THC or CBD version; we do advise you to be cautious while purchasing!
What is the real difference between the CBD gummies and the THC gummies?
For those of you trying edibles for the first time and new to the industry, CBD and THC are quite different. CBD is generally used to treat seizures, pain, inflammation, as well as anxiety and depression. CBD also binds very weakly to the cannabinoid receptors in the brain, while THC binds very well.
One of the most popular questions we receive is: Can CBD gummies make you high?
Considering that we previously mentioned that CBD binds quite weakly to the CB1 receptors, there is no psychoactive effect. CBD gummies have no actual psychoactive properties.
In simpler terms, no, they will not get you high. The primary purposes of using CBD for most people is to recover, medicate, or to relax. Considering that CBD gets derived from hemp, it almost wholly avoids THC (THC is the chemical that is responsible for the effects of becoming high).
Before you purchase the product, you're also probably wondering: Are there any health benefits of ingesting CBD Gummies?
CBD in itself is known to help relieve anxiety, depression, pain, inflammation, and helps improve sleep. The FDA even approved that a CBD product (Epidolex) treats epilepsy.
Many people do report that the CBD gummies do report a benefit of their symptoms after using CBD gummies. Our product CBDYou is all vegan and made with pure CBD isolate. They use hemp-extract CBD isolate, which is a natural alternative to pain medications and recovery supplements!
CBD gummies are very common in the market, and we want to make sure you know what you're getting. We've come up with a top-three list of CBD products we love and can not live without.
1. CBDYOU – CBD Gummies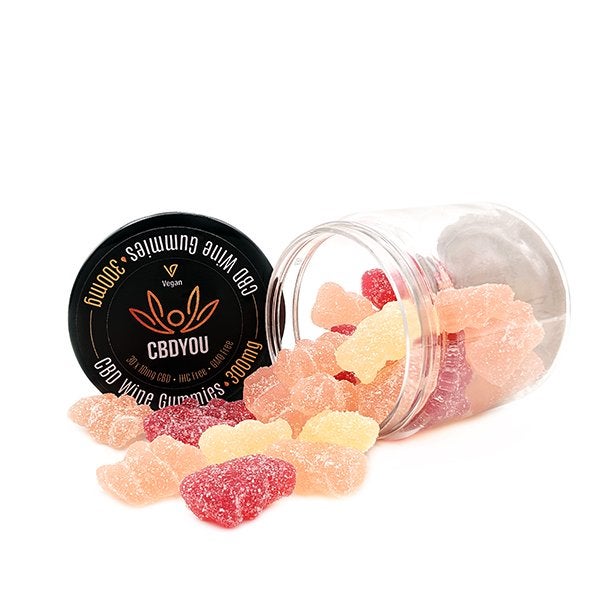 Starting us off at number one is CBDYou. CBDYou carries Vegan CBD wine gummies and sour gummies. It's tough for us to chose as to which flavor is better because we find these CBD gummies to be a guilt-free treat. They both are GMO-free and made with only quality ingredients.
Not only do they taste as delicious as they sound, but one of the reasons we love the brand is because of the transparency. The packages are labeled clearly, which you will immediately notice that they state THC free, and inside are 30x 10mg CBD gummies.
For those of you new to trying CBD gummies, we recommend sticking to one gummy (10mg) and once comfortable ingesting more.
2. CBD Move – CBD gummies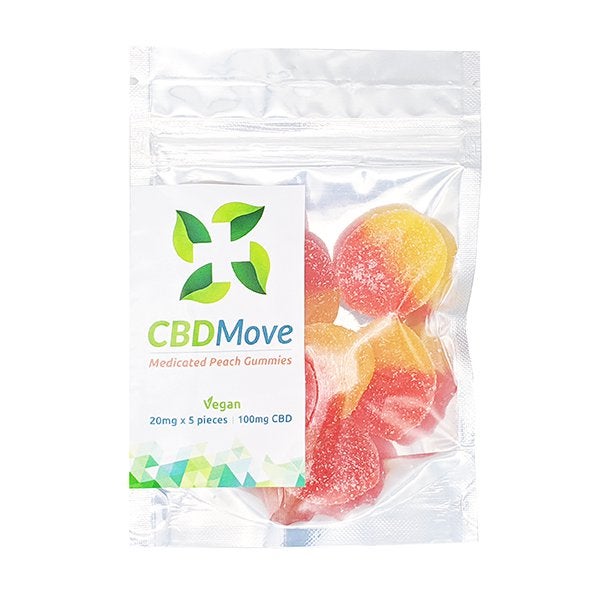 Another brand we hear personally love and hear great reviews from is CBD Move. CBD Move is quite popular and has the element of being discreet. CBD Move focuses on alleviating pain, inflammation, and anxiety. The company has been a very firm believer in the power that CBD has in a person's healing and recovery, both physically and mentally. Inside the package, you will find 25mg x 12 pieces, in two different flavors.
We carry both Medicated Peach CBD gummies as well as Sour Watermelon Slices; both are mouth-watering. Once you've decided on which flavor you're going to go with, do note that we carry both 100mg and 300mg!
If you choose to go the route of buying the 300mg and are not a daily user of CBD gummies, make sure to keep it in a cool, dry place. The products do not have to be refrigerated!
3. Twisted Extracts – Jelly Bomb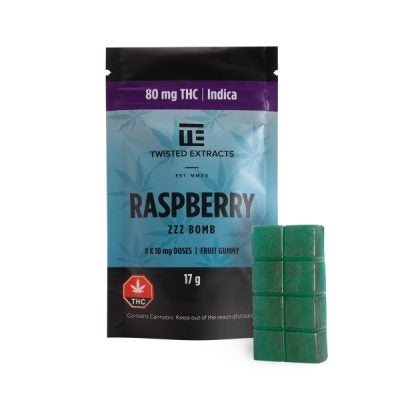 Last, but not least, one of our favorite products would have to be the Twisted Extracts – Jelly Bomb! Jelly Bombs are known to be a fan favorite, considering that they are delicious, fruity, and the dosage is quite simple. The Jelly Bombs, are known to be a premium cannabis edible product, infused with 80mg of CBD.
Once again, for those of you are building your tolerance up to CBD products, we advise that you cut the Jelly Bomb into eighths. By cutting it into eighths, it will guarantee that you're going to be taking around 10mg.
We recommend the Twisted Extracts if you suffer from joint problems or arthritis. Twisted Extract, is very diverse and could be used for anyone wanting to experience what a CBD gummy truly is.
Regardless of which one of the three CBD gummies you chose to purchase, we do encourage you to be smart with what you're doing while using the product. We do not recommend operating heavy machinery or driving after consuming CBD gummies!