Research has shown that CBD has tremendous benefits not only for professional athletes but also regular people who enjoy sports and being active in general. People use CBD for many different reasons, regardless of athletic ability or physical activity, including boosting the immune system, reducing pain and inflammation, lowering stress, speeding up recovery, and promoting muscle growth. 
The winter season may be halfway over already, but here in beautiful British Columbia, the winters are long. We still have another 2-3 months before the mountains close.   
Anybody who loves the snow and winter sports knows that sore muscles and a few bumps and bruises come with the territory. But we all wish the recovery time didn't take so long, and if you're like us, you've often wondered if there's a better way.  
That's why we asked a few pro skiers, mountain bikers, and snowboarders about their passion and how they incorporated CBD into their adrenaline-fueled lifestyles and reaped its many benefits.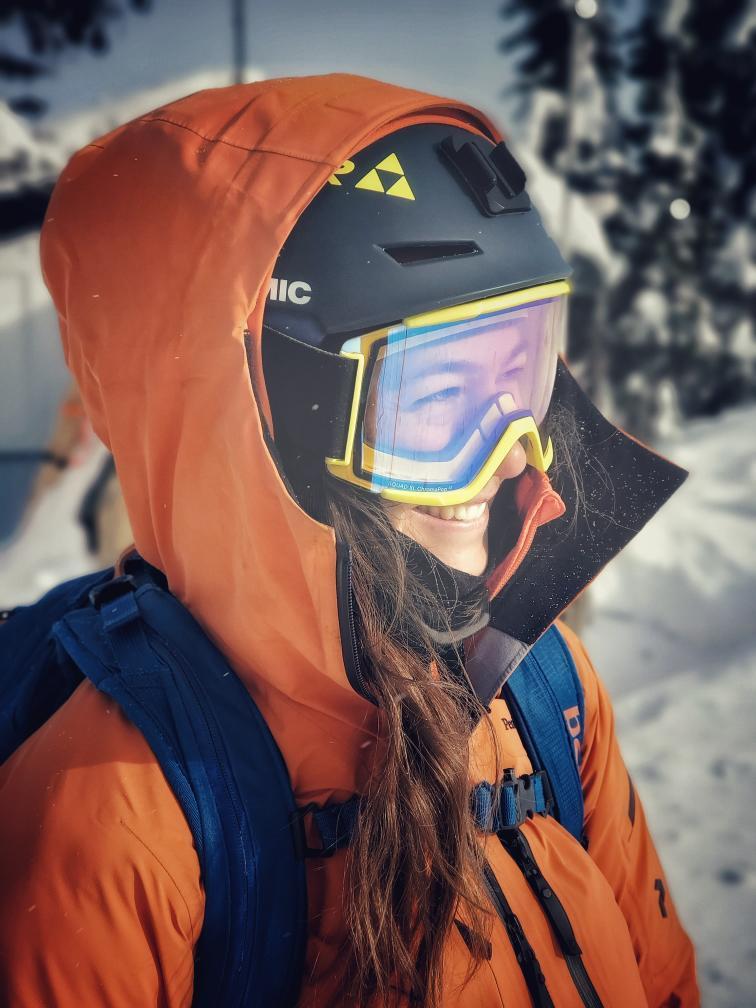 Chandrima is a professional skier and mountain biker.   
KB: You've been a pro skier for years. How did you first get involved in skiing?  
Chandrima: I have been a skier for as long as I can remember. I started skiing when I was about three years old. It's always been a passion of mine, and in the last five or so years, I've been able to ski at a competitive level and have had the support of several sponsors.

I actually started my "pro" career fairly late, having done my first competition ever when I was around 24 years old. Since then, I keep feeling stronger and gain more opportunities and experience every year.  
KB: We're all about lightweight gear. What does it mean for you as a pro skier?   
Chandrima: In the backcountry, it is important to have lightweight gear so that it doesn't hold you back. However, as a professional skier, I also find that sometimes slightly heavier equipment is ok if it means better functionality and reliability. But there's a delicate balance between being lightweight and robust enough.  
What is your typical backcountry setup? Do you carry any unique items that you'd like to share?  
I carry all the essential backcountry items, of course! That includes a beacon, shovel, probe, saw, emergency layers, and food. As for my ski setup, I have a lightweight pair for longer days, and I have a heavier set of skis that I use for shorter laps and/or filming as well.  
I always also carry a lightweight rescue toboggan so that if anyone in my party gets injured, we have a way of getting them out of the backcountry safely.  
How did you find out about the benefits of CBD?   
CBD has really helped me get a night of good, restful sleep, especially before those big days where I might feel a bit anxious the night before. As well, I find CBD has helped with a quicker recovery from sore joints.  
I found out through word of mouth from other athletes and seeing advertisements for the benefits of CBD.  
How has CBD helped your ski routine?   
Again, getting a good night's sleep has really helped my ski routine, as well as using topical lotions after a big day of skiing so that I can keep going the next day.  
How are you consuming? How do you use it on the go?  
I usually use it at home after skiing as part of my recovery process.  
I mostly use topicals, but recently I have started using tinctures and trying out the benefits of CBD edibles as well.  
How has CBD helped with your joint pain, particularly in your knees and shin?  
Skiing is especially hard on the knees, and having CBD to help with recovery has helped me significantly.    
How popular is CBD, and cannabis in general, on the mountain, in your opinion?  
I believe a lot of people use CBD and cannabis on and off the mountains to help with general soreness, injuries, as well as small amounts recreationally to increase creativity.  
Do you think legalization has affected the way you and your peers view cannabis? Whether it's trying it for the first time or just being more open about using it, what has your experience been?  
I definitely believe that legalization has decreased the stigma and made cannabis more accessible and more acceptable. Different people use it in different ways, and I think it is important to know how it can help or affect you personally and to use it responsibly in the mountain environment.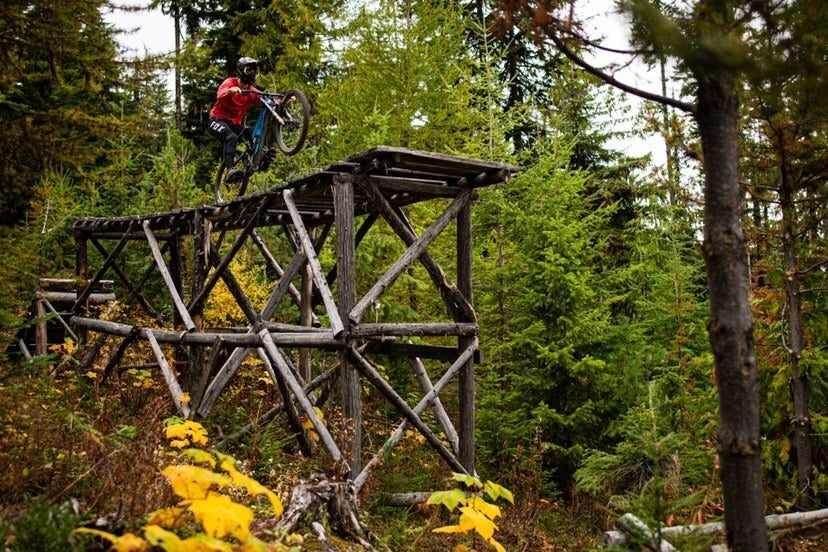 Russ is a professional mountain biker.   
KB: How did you first get involved in mountain biking (mtb for short)?  
Russ: I first got involved in mountain biking in the freeride discipline. "Freeride mountain biking" is a discipline of mountain biking similar to freeride or freestyle skiing where you're not racing against a clock, but rather riding in a creative and stylish way on the most gnarly terrain you can find, throwing in jumps and tricks wherever possible.  
Freeride mtb usually requires you to build a trail or jumps to ride that way, but occasionally you can find untouched natural slopes and ride them more like you're skiing. But this was just beginning, especially in my hometown of Nelson, where the limits were being pushed, and the sport was rapidly progressing.  
KB: We're all about lightweight gear. What does it mean for you as a pro biker?  
Russ: I'm personally not as concerned with lightweight gear, and I'll always choose durability over lighter gear.  
How has CBD helped your mtb routine?   
CBD has helped a ton with my routine, which is getting better all the time. My recovery routine started with some simple stretching and has evolved into everything from yoga to hot baths-cold showers, always ending with some CBD rubs/balms to help the aches and inflammation.  
How often do you use CBD? What other CBD products do you use?  
I use CBD about once a day: right now, I'm using Daily Remedy – The Painkiller, and I love it.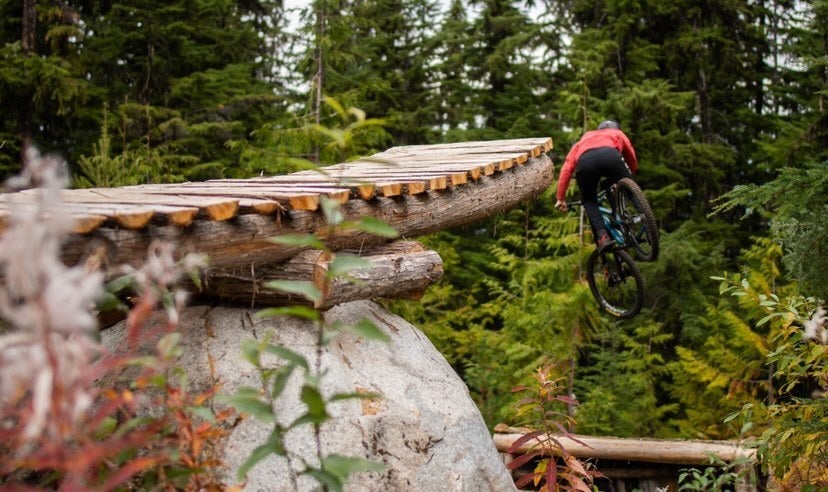 How did you find out about the benefits of CBD?  
I first heard about the benefits of CBD on the Joe Rogan Experience podcast, where I learned how many UFC fighters and martial artists use CBD to help recover and reduce inflammation.  
How popular is CBD, and cannabis in general, on the mountain, in your opinion?  
I think CBD is gaining popularity in my general circle, while cannabis, in general, has always been popular with my friends and other outdoor enthusiasts in my area.  
Do you think legalization has affected the way you and your peers view cannabis? Whether it's trying it for the first time or just being more open about using it, what has your experience been?  
I don't think legalization has changed many people's attitudes around Nelson and the Kootenays. It's always been a mainstream part of the culture; no one viewed it as a negative or dangerous substance when it was illegal. Legalization has definitely made these products more readily available, which is great.  
3.
Sophie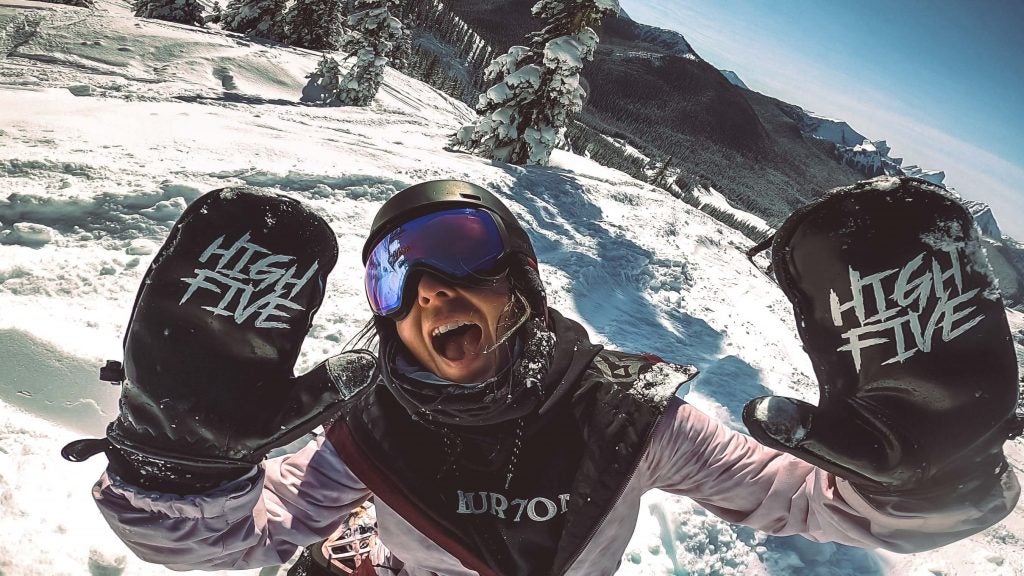 Sophie is a snowboarder who works and lives in Manning Park, BC.   
KB: Can you tell us a bit about yourself?  
Sophie: My name is Sophie, I'm 30 years old, and I was born in New Zealand. I moved to Australia with my family when I was a teenager, but I missed the mountains, lakes and scenery of NZ, which led me to a bigger version… Canada! I have been living here in BC for just over 12 months now.  
KB: How did you get involved in snowboarding?  
Sophie: I am actually quite new to the game. I love skateboarding and surfing, but it's not as easy to go snowboarding in Australia. I went a couple of times back home, but I am only in my second season here in Canada and loving it.  
Can you tell us more about the Manning Park Resort? What it's like to be working and living there?  
The resort is in Manning Provincial Park, located just over 2hrs east of Vancouver. I work in the rental and ticket office during the winter and boat rentals during the summer, which offers a pretty great lifestyle!   
It has felt very isolating during Covid, but that has created stronger friendships between all of the people who live onsite here (which is all of us). Many of us are far away from home right now, and it isn't easy to get back either, so we are trying to make the most of our time here.   
On our days off, we snowboard, snowshoe, Nordic ski, canoe, hike, and explore every part of our incredible backyard!  
What kind of boarding are you into? Do you prefer the terrain park, or are you all about speed and going downhill?  
I am still exploring and learning at the moment, but I have definitely found a love for carving powder! I usually take my time; I stop and sit for a while to take in the views around me, then I carve my way back down and try to take it all in every time.   
Being in such a beautiful place like BC for the first time as a 30-year-old is like being a kid and seeing things for the first time again— you've got to enjoy the moment. Snowboarding is that for me.  
Does your body ever feel different when you've spent the day at the terrain park versus shredding the slopes?  
If I am throwing myself on, over, or off any obstacle, it definitely hurts more the next day! I usually have upper body muscle pain after those days, and my legs are always pretty burnt out after a big day of riding powder.  
How does CBD help in those cases?  
I have tried the CBD capsules, a CBD vape and just got the CBD pain relief balm, all of which have been awesome. They help settle pain, and the vape comes along with me when I snowboard, which helps relax my muscles during my riding. It also helps my mentality when I'm out there because I'm less nervous, so more likely to try new things.  
How often do you use CBD?  
Most days I ride, as I have found a huge difference in it helping me settle nerves and ease pain post-rides. I also use it when I have any anxiety in everyday life, and it has been amazing for that.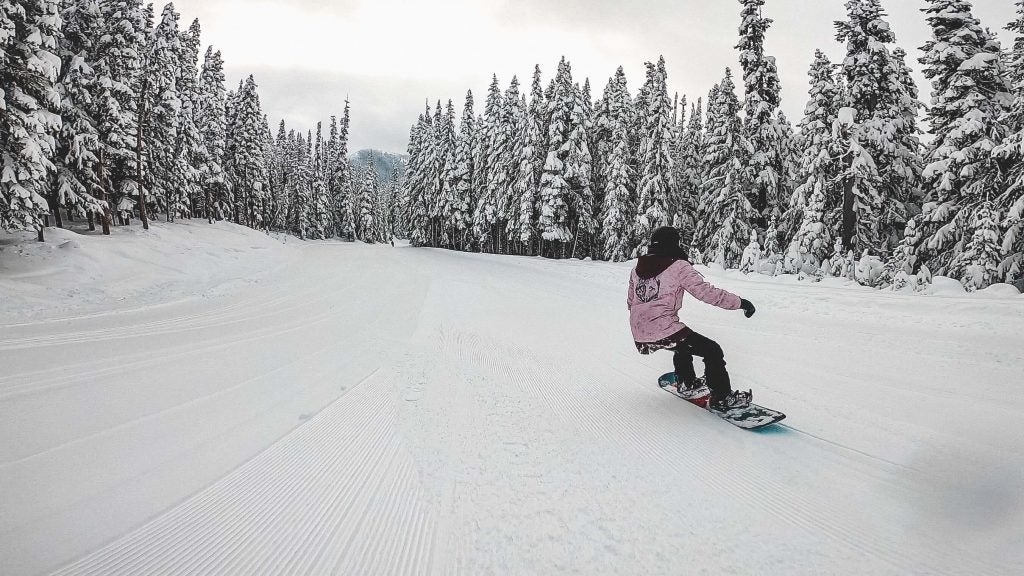 How did you find out about the benefits of CBD?  
I had only heard a little bit about it back in Australia, but anything to do with cannabis is still taboo there. When I got to Canada, I pretty much met people straight away who used CBD for their mental health, which interested me, so I researched and talked to the people who used it and found out it had a lot of great benefits, so it was a no-brainer for me to try it as I prefer more natural products.  
Has legalization made you more comfortable with exploring cannabis? Why or why not?  
As it is still illegal back home, it felt very strange for me to walk into a building that looked like an Apple store but sold cannabis. It took a while for me to feel ok with it, but I started seeing how professional the industry is becoming, and that old stigma isn't surrounding it as much anymore. A lot of it is based on the health benefits of cannabis.  
How popular is CBD, and cannabis in general, on the mountain, in your opinion?  
CBD and cannabis are quite popular here for the same reasons I use it. We are very isolated, our closest town is 70km away, and all of us are away from home, so we have a pretty tight-knit community. Still, living and working in a place like this, away from your usual support system, can take its toll on your mental health.   
We look out for each other very well, but I know CBD and cannabis products help many people as well. Plus, we all shred hard (or bail a lot), so it helps with pain for sure!  
Do you think legalization has affected the way you and your peers view cannabis? Whether it's trying it for the first time or just being more open about using it, what has your experience been?  
It has been a really different experience for me because my friends are in a country where it is illegal, but it has changed my views on it coming from there to a place where it is legal and readily available. Honestly, I wasn't sure about promoting anything on my Instagram because I'm worried about what people will think. Still, after experiencing the benefits of it, I want people to know what it can do!  
I told my parents that I use CBD, and they are very supportive because they're aware of the benefits, and I think educating people is the best way to change their views on cannabis.  
CBD on the Slopes
As you can see, CBD has had a big impact on these pro skiers, snowboarders, and mountain bikers. Not only does CBD help their bodies recover more quickly from a day on the slopes by reducing inflammation, soreness, and pain; CBD also helps them relax, get a better night's rest, and it even aids in calming their nerves, especially before a big jump.
Some, like Russ, would argue that cannabis has always been a part of the mountain culture, even back when it was still illegal, so it wasn't a big stretch for him to use CBD at all. Others, like Sophie, are still getting used to the idea of legalization, since cannabis is still very much illegal where she's from, but she's been cautiously trying cannabis and CBD and seeing amazing results.
No matter your experience or comfort level with CBD or cannabis in general— if you're in Canada, it's legal so you don't have to worry!
There's such a huge range of CBD products that there's something for everyone, including topicals (such as creams, balms, and skin salves), tinctures, edibles, oils, vapes and more, our CBD menu has it all.
So why not incorporate CBD into your life? Even if you're not a professional athlete, you can still benefit from CBD no matter how you stay active, and it can be an integral addition to your cool-down routine. CBD has had such a positive effect on so many people's lives, so why not find what all the fuss is about today.