CBD has become one of the go-to products for muscle and joint pains. Not only can CBD effectively control pain, but its effects last long as well. CBD, compared to over-the-counter pain medicines, is also safer and very well tolerated by users.
Nowadays, you have many options when it comes to CBD pain cream in Canada. But, unfortunately, not all of them are of good quality.
As a consumer, you have to be wiser when choosing a CBD product and today we'll go through a few factors and products we enjoy!
What Are The Best CBD Creams For Pain?
The popularity of CBD has prompted an increase in the number of CBD brands, but not all CBD creams are created equal though. So, you have to be wiser and more discerning when choosing the right product for you.
Here, we'll give you a list of the cannabis-infused skin creams that we trust.
All CBD creams listed here meet our criteria. They're made by some of the industry's best brands. These brands follow good industry standards in creating their products, and moreover, our team has tried these products ourselves and found them very effective and safe.
1. Dose's Daily Remedy — The Painkiller CBD Relief Cream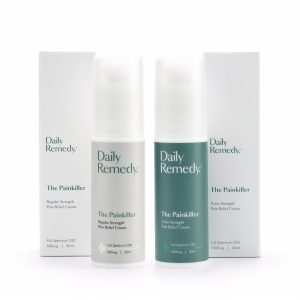 Aptly named, Dose's The Painkiller CBD Relief Cream is made with full-spectrum CBD and other painkilling ingredients like eucalyptus, peppermint, chamomile, aloe vera, juniper berry, lavender, wintergreen, Japanese green tea, orange oil, among others. These ingredients are also known to reduce inflammation.
This CBD cream comes in two strengths – 500 mg and 1000 mg of full-spectrum CBD in 30 ml bottles.
What we loved best about this CBD cream is that it's specifically formulated to provide quick relief from pain. Simply apply a generous amount over the painful area and massage it into the skin. In just a short while, you'll start feeling its soothing relief wash away your aches and pains.
2. Miss Envy's Buddha Buddah Pain Cream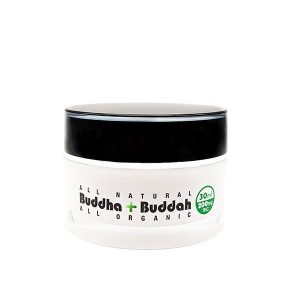 Buddha Buddah is made with organic, all-natural, non-GMO cannabis extract. One 30 ml jar contains 200 g of THC as well as jojoba oil, coconut oil, castor oil, shea butter, and other essential oils.
This especially-formulated body cream works very well for painful muscles and joints. Using it also helps reduce chronic swelling associated with arthritic joints. Its THC content delivers potent painkilling and anti-inflammatory effects, and we found that applying it onto painful muscles also helps relieve cramps and spasms as well.
Buddha Buddah is not just for pain and swelling though. It also works very well for skin problems like acne, psoriasis, eczema, and even dermatitis.
Don't worry about the THC content. It's just enough to give you relief but not enough to get you high.
3. Mota's Green Cream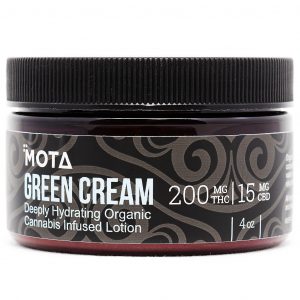 Created by one of the most trusted brands in the industry, Mota's Green Cream organic cannabis-infused lotion is a favourite of many. It comes in two sizes — four-ounce bottle with 200 mg THC and 15 mg CBD as well as eight-ounce bottle with 400 mg THC and 30 mg CBD.
Other ingredients found in this cannabis-infused cream include organic coconut oil, coco butter, and shea butter. It also has aloe vera, Champa, lemon, grape seed oil neroli essential oil, and vegetable wax.
We've tried many CBD creams in the market, and so far, this is one product that we've enjoyed the most. It provided immediate, potent, and soothing pain relief from a bad sunburn, and after using it a while, we also noticed an improvement in dry skin.
Mota's Green Cream also helps with sensitive, irritated skin as well as eczema. The cream also works wonders for painful muscle cramps.
Things To Consider In Choosing Your CBD Cream
Not all CBD products are created equal. The rising popularity of CBD has also prompted the increase in the number of bogus CBD companies offering substandard CBD products.
With hundreds of brands to choose from, how then will you know that you have a premium-quality CBD cream?
Potency
When choosing a good CBD cream, the potency should matter especially since CBD doesn't easily pass through the skin. It'll take about half an hour before the skin cells completely absorb CBD and you start feeling its benefits.
So, for CBD creams, choose those that contain a high amount of CBD. The higher the CBD content, the more potent the product, and the better it can alleviate your joint and muscle aches and pains.
The CBD Source
You'll also encounter terms like hemp-derived CBD, cannabis-derived CBD, CBD isolates, broad-spectrum CBD, and full-spectrum CBD when shopping for CBD creams.
Now, all these are basically the same in that they contain a rich amount of CBD.
They only differ in the CBD source – whether it came from hemp which has a low THC content or cannabis which has a high THC content.
They also differ in the cannabinoid and terpene content. Creams that contain CBD isolates only have CBD in them, while creams that contain broad-spectrum CBD and full-spectrum CBD have additional cannabinoids and terpenes. The only difference between these two is that broad-spectrum CBD doesn't have any traces of THC, while full-spectrum CBD creams have THC in them.
Which is better though?
CBD isolate and broad-spectrum CBD creams already help, but if you want to benefit more, then choose full-spectrum CBD creams. Its THC content makes the cream more potent and effective in relieving your body aches and pains.
Ingredients
You should also consider the ingredients found in the CBD cream.
So, in addition to the cream containing full-spectrum CBD, you should also choose products that contain other pain-killing ingredients as well.
Ingredients like peppermint, eucalyptus, lavender, chamomile, jojoba and castor oils, and aloe vera make the product stronger since these have painkilling and anti-inflammatory effects as well.
Price
The cost of the CBD creams also says a lot about the products, especially since many CBD brands are offering potent products in very cheap ranges.
But cheap doesn't necessarily mean excellent quality though. Remember, trusted CBD manufacturers invest money in state-of-the-art equipment and premium-quality raw materials. So, CBD brands offering very cheap products may be cutting some corners, sacrificing quality for profit.
Expensive doesn't also mean it's the best CBD cream in the market. So, before you buy an expensive CBD cream, learn more about the product, look at its ingredients, and read reviews.
Of note, you'll already find lots of good CBD creams with prices ranging between $20 and $60.
Side Effects
CBD creams typically don't produce any adverse side effects since they're only applied to the skin and are not ingested. They're not absorbed into the bloodstream, so full-body side effects are pretty rare.
You can safely reapply CBD cream as needed, as long as you follow the packaging instructions.
However, if you're allergic to hemp or cannabis (which you should know beforehand), you might develop skin rashes and hives. You should also watch out for dizziness and some changes in bowel habits.
Precautions
CBD creams are generally safe and well-tolerated. But like most topicals though, you shouldn't apply CBD cream on broken skin like wounds and lacerations. It could cause skin irritation that could worsen the problem.
Also, if you're taking any medications, you should consult with your doctor first before using any type of CBD products, including CBD topicals and creams. CBD is known to interact with other drugs and can potentially increase or decrease their efficacy.
Before applying CBD cream, be sure to properly wash the area with soap and clean water. Once done, dry the area thoroughly. This helps the skin cells absorb CBD better.
How Effective Is CBD Cream For Pain?
To better understand how effective CBD cream is for pain, you first have to understand the role of the endocannabinoid system in controlling pain.
The endocannabinoid system is found all over the body, including the skin. Its main role is to make sure there's a balance between the different chemicals produced by the cells. Any disruption in their levels can result in symptoms such as pain and swelling.
To get rid of the pain, the endocannabinoid system prompts the cells into reabsorbing the pain-generating chemicals. It also "tells" the immune cells to stop producing pro-inflammatory chemicals that worsen the swelling or attack the healthy, normal cells (such as in the cases of psoriasis and rheumatoid arthritis).
But this beneficial effect is short-lived though. The endocannabinoids that activate the endocannabinoid system are easily degraded by enzymes.
Moreover, chronic health problems also negatively impact the endocannabinoid system, weakening it and preventing it from functioning properly.
A weakened and dysfunctional endocannabinoid system won't be able to control pain and swelling effectively.
Now, CBD and the other cannabinoids (including THC) also stimulate the endocannabinoid system. They help the endocannabinoids activate more endocannabinoid systems, and they also help the endocannabinoids stay longer in the body to produce more beneficial effects.
Let's say for example that you have a joint problem like arthritis or an autoimmune skin disease like psoriasis. These health problems not only cause pain and swelling but also significantly impact your way of life.
When you apply CBD cream over the problematic areas, the skin cells readily absorb CBD, and CBD, in turn, stimulates the endocannabinoid system, pushing it to function better in relieving pain, discomfort, and swelling.
CBD is effective against chronic pain, according to one study. It stimulates not only the endocannabinoid system but other analgesic mechanisms as well in reducing pain. CBD helps with rheumatoid arthritis, nerve pain, muscle spasms, and painful muscle cramps.
Applying it over the painful areas relaxes the muscles and reduces pain associated with cramps and spasms.
What Are The Benefits Of CBD To Your Skin?
CBD isn't just effective for joint and muscle aches and pains. It can also regulate skin inflammation which can help people suffering from acne and psoriasis, two skin conditions worsened by inflammation.
CBD also maintains normal skin hydration. This effect helps control dryness and skin itching. It also soothes the skin and lessens skin irritation, making it perfect for people with sensitive skin.
CBD functions as a powerful antioxidant as well. This effect helps delay the aging process and, according to some users, also prevents skin wrinkles.
CBD also has antibacterial and antifungal effects, and applying a few drops of CBD oil may be helpful in reducing and controlling skin infection.
These creams work best for localized skin, joint, and muscle problems. They help relieve medical conditions such as low back pain, stiff neck, frozen shoulder, muscle pain, and arthritic joints. It can also help with skin problems such as acne, eczema, psoriasis, and rosacea.
CBD really is a great new discovery & natural innovation!
How To Order The Best CBD Pain Cream In Canada
Don't let pain get in the way of you enjoying life. There are many CBD pain creams, but only a few stand out and work well.
Those we listed above are some of the best made by the most trusted brands in the industry.
Once you've made your selection, then simply add it to your virtual cart!
If you reside in Vancouver, you also get to enjoy our same-day delivery.
So, if you run out of cannabis-infused pain cream, for example, then just make payment before noon and we'll immediately ship the product to you. Before the day ends, you'll receive the product.
If you missed the cut-off time (12 PM), don't worry. You'll receive them the very next day.
Got any questions about our creams, then please don't hesitate to send us a message. We have a very responsive team that's always ready and available to serve you!