Table of Contents
Are you looking for dabs that can be delivered to you in Vancouver? You've come to the right place. We have a large amount of Cannabis and Dab selections for any taste bud and also include same-day delivery.
But first, you might be curious about how they work? Dabbing is one of the most efficient delivery methods for high potency extracts and high potency effects. If you're looking for a high flavour profile, strong effects and quality, then dabs are the way to go.
What is Dabbing?
These concentrated extracts are climbing in popularity amongst the cannabis community.
Dabs are also referred to as amber, wax, budder, shatter, or honeycomb. Whatever you call them, buds are intensely concentrated extracts of the cannabis plant. These concentrations are from the marijuana plant and are typically high in the cannabinoid THC. Most hash oils are made using butane oil in order to extract the oils, but other solvents like carbon dioxide are also sometimes used.
But what's in a name? Why are there so many different names for dabs? Well, their terms will be determined by their consistency:
Crumble – dried oil that has a crumbling texture, similar to honeycomb

Shatter – much like the name suggests, this type of concentrate is brittle and shatters quite easily.                                 

BHO (butane hash oil) – this type of hash is an oil made from extracting cannabinoids using a solvent and is similar to a thicker honey.

Budder – the concentrate has the consistency of cake batter. 

Keef – this is complete trichomes which has resulted from fresh flower having been ground and sifted

Bubble Hash – this type of hash has a paste-like consistency.

Rosin – this concentrate is the result of cannabis being pressed and squeezed using heat and pressure.

Sugar/Crystalline – this concentrate is crystalline in form, and is the isolated cannabinoids in their pure form. 
Dabs such as cannabis wax are typically heated with a nail on a dab rig, and the smoke is then inhaled through the rig. Although dabs as a delivery method have been around for a decade already, the 'dab culture' only began kicking off in recent years. This is most likely due to the fact that advanced research and development have brought us advancements in extraction methods.
What we are seeing now is surging interest in Cannabis concentrates, not only for their 'newness' but for their high potency and quality.
How Dabbing Works?
There are many different ways to consume marijuana, and we are certainly spoilt for choice. Although marijuana is slowly shedding its somewhat tainted reputation, dabbing remains slightly controversial. However, this could be penned to simple miseducation – so let's fix that.
Despite the fancy equipment, dabbing marijuana is really quite simple.
Okay, so when you place hash on a joint, it is similar to the concept of dabbing, where cannabis concentrates are heated on a hot surface (only minor amounts of a time) and inhaled. Although they are similar though, dabbing means that you are getting only the pure effect and flavor.
Firstly, cannabis concentrate needs to be created. This is one of the most critical steps – and knowing how cannabis concentrate or dab oil is made is crucial. It would be best if you were sure your product is pure and free from any potentially harmful chemicals. But more on that in a little bit.
For cannabis concentrates, the essential oils need to be extracted from the plant (these are usually found in the trichomes on the plants' leaves). The extraction is generally done with the aid of a solvent agent such as CO2, propane, filtration screens (a mechanical mechanism), and butane. The THC content is typically high in concentrations such as these, but the exact percentage can range between 50 % and 95%. This is usually dependent on two factors; the quality of the dab and the type of extraction method that has been used.
The concentrate is then placed on a hot surface, usually a nail. As the concentrate is heated, it begins to bubble and lets off a highly flavourful vapor, which is usually inhaled through a pipe made of glass. If this sounds similar to a typical bong, then that is because it is quite similar, but not the same.
Dab concentrations are free from plant matter and are one of the purest forms of cannabis compounds, namely terpenes and cannabinoids.
What's a "Dab Rig"?
Dab rigs come in all shapes and sizes, colors, and creations. More often than not, they are glass with a nail and a pipe. The best dab setup includes a few essential parts, including a torch (think creme brulee in a restaurant), a nail (usually made of quartz or metal), and the dabber (a tool that will hold the concentrate).
What Are The Top Dabs From British Columbian Producers?
British Columbia is arguably one of the greatest gifts to the marijuana industry. It can be said with confidence that some of the best Cannabis, and possibly even cannabis products, come from British Columbia.
Let's take a look at the top dabs from British Columbian producers.
High Voltage Extracts – Live Resin & Sauce
British Columbia offers some of the world's premium Cannabis concentrates. Many people are looking for quality when it comes to cannabis extractions – simply because a quality product means a safe product. High Voltage Extracts brings the marijuana market precisely that.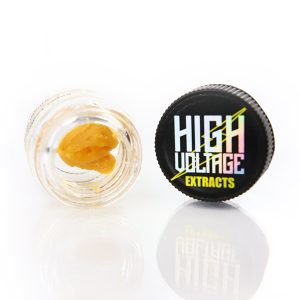 Live Resin (1g) from High Voltage Extracts is a premium cannabis extraction that comes from British Columbia. The 1g live resin from High Voltage has consistent reviews boasting its high flavor profile and excellent effects. The resin is 95% THC and contains all the naturally occurring terpenes- which is precisely why the High Voltage is known to be one of the most delicious extractions in the marijuana market.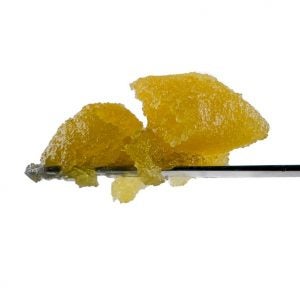 The High Voltage Sauce is also another great product. These terp sauces contain 20-30% Terpenes, 50% cannabinoids, and 20-30% trichome cannabis biomolecules. The HTFSE (high terpene full spectrum extract) is a concentrate that is highly refined and contains pure terpenes from the cannabis plant. Products made with HTFSE can be known as Full Spectrum Terp Sauce or other interesting product names.
KleerX – Diamond Extract
KleerX is a craft cannabis brand that epitomizes the spirit of Vancouver cannabis culture. Emphasis is placed on quality, and the Diamonds product from KleerX offers consistent quality that adheres to the industry's highest standards.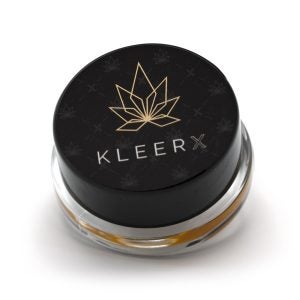 Diamond extracts are among the most potent concentrates and offer terpene profiles that can surpass the 20% mark. But terpenes are not the only golden hallmark of these products. The Diamonds product contains exceptional profiles of sterols, cannabinoids, terpenes, and phenolic amides, making the product the next addition for every cannabis connoisseur. Known as high cannabinoid full spectrum extract (HCFSE), the product offers a complex cannabinoid and terpene profile that engulfs all the senses, ticking all the right boxes. Available to those in many nearby cities like West Vancouver.
In an industry that continues to swell with an influx of cannabis brands and products, KleerX is a company dedicated to keeping the craft status of Cannabis alive.
Diamond – Live Resin
Offering some of Canada's best premium, Diamond Concentrates have in-house grown products, and you simply can't go wrong with the Diamond Concentrate's Live Resin.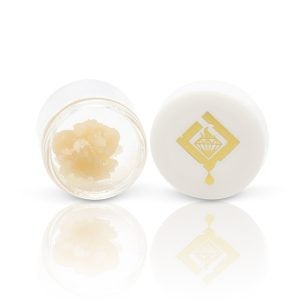 The best thing that we love about this company is that all their products are seed to sale. This means that the master crafters do everything from the genetics to the cultivating and harvesting, then down to the extraction and product creation over at Diamond Concentrates. Available to those in many nearby cities like North Vancouver.
Their focus is on stringent quality control measures and is the ideal choice for anyone looking for exceptional Cannabis concentrates,
Royalty Rosin – Rosin
This extract is loved by those looking for a solvent-free extract. The extraction process allows the product to retain a fuller flavour profile. Royalty Rosin's Rosin is made using bubble hash, and no purging in the process is required.

Kleer X- Live Resin
Another excellent product from local BC cannabis producers KleerX, their Live Resin product option is a craft cannabis extract that is a must-have addition to any cannabis enthusiast's shelf.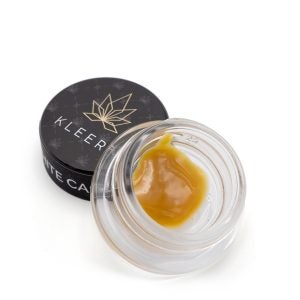 Live resin is becoming a more popular product among users, but why?
First of all, It's named live resin because it is initially harvested from the freshest, or' most alive' part of the marijuana plant – in other words, live resin is not made from the dried bud but from the fresh cannabis flower.
The fresh marijuana flower has to be harvested, then it needs to be frozen at subcritical temperatures both before and during the extraction process. This drying and curing process is in contrast to the more typical extraction techniques. It is only used to create the live resin, which offers a fuller terpene and flavonoid profile, primarily because the original chemical concentrates are maintained. With this original terpene and cannabinoid spectrum, thanks to this type of extraction, Live Resin is a popular choice amongst the local B.C. cannabis community. Available to those in many nearby cities like Burnaby.
How To Order?
Wondering how to order your premium dab product today? Its as easy as one, two, three:
First off, select your favourite dab from the options above. We have hunted down the best dabs on offer so that you don't have to. Quality is essential here, and we've made sure your dab is sourced from a local Vancouver or B.C. company.
 Secondly, simply add the dab of your choice to your shopping cart. Just press 'add to cart.' It's really that easy.
And thirdly, the boring part. Fill out the order details and provide the necessary information. The best part is if you are a Vancouver resident and order in time, then you might even be able to have same-day delivery of Cannabis in Vancouver.
Let us know if you have any questions and enjoy dabbing!