As consumers start switching to healthier ways of enjoying THC and CBD, we've seen the popularity of edible gummies pick up.
Edibles, compared to smokable cannabis, are safer and don't harm the lungs. The effects also last longer, making it perfect for people with chronic health problems.
If you're interested in trying edible gummies in Vancouver, then let us introduce you to our best selection right now. These are from some of the top and most trusted cannabis brands in B.C., so you're always assured of their quality, potency, as well as safety.
CBD Gummies vs THC Gummies — What Are The Differences?
When shopping for edible gummies, you'll see CBD and THC gummies.
The two are similar in that they both produce therapeutic as well as medicinal effects. Both can help relieve symptoms, and both can also help maintain normal health and wellbeing.
But their similarities end here though.
CBD gummies are non-psychoactive and non-intoxicating since CBD isn't a cannabinoid that gets people high. Consuming CBD gummies won't get you stoned nor would they trigger psychedelic and mind-altering effects.
THC gummies, on the other hand, can be pretty psychoactive. But how potent the edible is will depend on its THC level or amount. The higher the THC content, the more potent its psychoactive and intoxicating effects get.
So, which product is better?
It depends on your preferences, really. If you don't like THC and its effects, then choose CBD-rich gummies. If you're after getting a little high, then THC gummies are perfect for you.
The main thing to remember when consuming edible gummies is to start low and go slow, especially when taking THC gummies.
It takes a while for the effects of edibles to kick in, so we recommend starting with a smaller dose and assessing your reaction before consuming just a little bit more if you didn't feel any effects.
The Best Edible Gummies Available In Vancouver
The list of edibles isn't in any particular order but keep in mind that the THC levels progressively get higher near the end! So feel free to browse around first.
1. Boost Edibles THC Gummies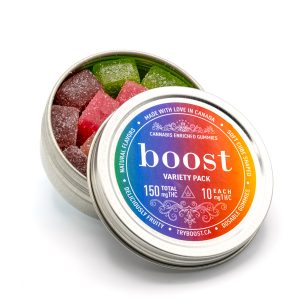 One of the tastiest & fruitiest gummies in the market, Boost Edibles THC Gummies comes in two potencies — 150 mg THC and 300 mg THC. Each package contains 15 pieces, giving you 10 mg THC and 20 mg THC each gummy.
They come in a variety of flavours including strawberry, raspberry, sour lemon, cherry, blue raspberry, sour watermelon, sour green apple, or a combination of the different flavours in one package.
2. Ganja THC Gummy Bears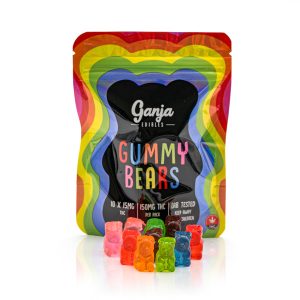 One package of Ganja THC Gummy Bears contains 10 15-mg THC gummy bears, giving you a total of 150 mg per package. These are handcrafted artisanal gummies made with premium-grade THC. It also contains terpenes found in the flowers, lending their taste, potency, and beneficial effects to the gummies.
Ganja isn't just known for their delicious cannabis treats, but they're also popular for their consistent quality.
3. MOTA THC Vegan Gummy Bears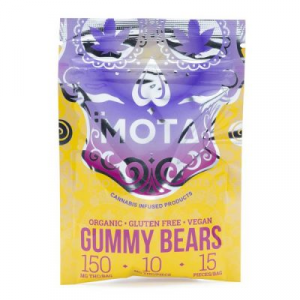 Mota has always been one of the leading brands in Canada, so you're backed by the brand's name and always assured of top cannabis products. One bag of their vegan, organic, gluten-free, THC gummies contains 15 pieces of 10 mg THC gummy bears.
The gummies don't contain any animal derivatives but are flavoured with all-organic, plant-based, natural flavourings.
4. DOSE THC Wine Gummies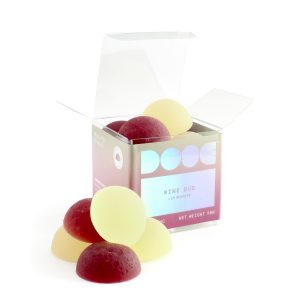 Need a little wine? Then you'll definitely love the wine-flavoured gummies of DOSE. Their wine gummies come in two delicious flavours — Strawberry Champagne and Peach Bellini. One 300 mg container has 10 pieces of gummies at 30 mg THC each, making it one of the potent edibles in the market.
Their unique taste is definitely a treat to your senses!
5. MOTA Vegan, Gluten-Free, Organic Wheels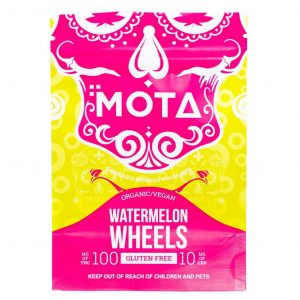 Here's another brand perfect for vegans. MOTA's Organic Wheels are gluten-free and vegan-friendly; meaning, it doesn't contain any animal derivatives. One package contains a total of 100 mg THC and 10 mg CBD, with each treat containing 10 mg of THC and 1 mg of CBD. The edibles are watermelon-flavoured, giving you a refreshing taste.
These gummies are famous for their euphoric and relaxing effects.
6. DOSE THC Gummies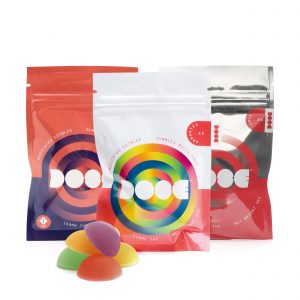 Looking for more potent gummies? Then check out DOSE's THC gummies. One package contains a total of 150 mg THC, with each gummy containing 30 mg THC. Their gluten-free gummies come in six natural flavours — kiwi, pineapple, mango, blackcurrant, raspberry, and tangerine.
Their natural, fruity flavours will lend a refreshing and relaxing boost to your day!
7. Canndy Edibles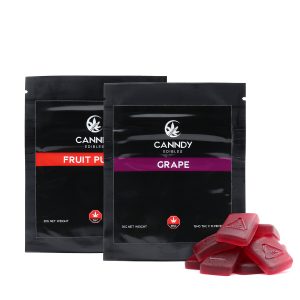 If you're after the right balance of effects, then Canndy Edibles' Gummies are what you need. It comes in two refreshing flavours – grapes and fruit punch. One 150 mg THC package contains 10 pieces of gummies, giving you 15 mg THC each gummy.
These bite-sized goodies are perfect for daily use, but if the dosage is a bit high for you, then you can always cut the gummies in half for a lower dose.
8. Medicated Gummies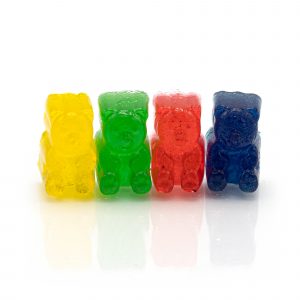 These Medicated Gummies are formulated using full-spectrum cannabis shatter. They come in three different extremely potent strengths — 40 mg THC per gummy worm, 6.25 mg THC per sour bear, and 100 mg THC per sour worm.
These gummies are crafted by a passionate team of chefs, who are also cannabis advocates.
9. SeC Gummies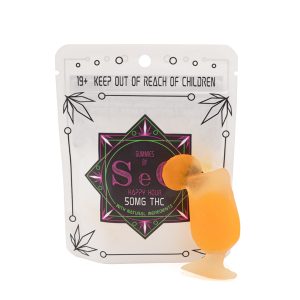 SeC's gummies are one of the top favourites of many consumers. You can choose among their CBD:THC, CBD, and THC gummies, which come in varying strengths. You have 5 mg, 10 mg, 50 mg, 100 mg, 150 mg, 400 mg, and even 800 mg THC gummies. They also offer 25 mg CBD gummies and 25 mg 1:1 THC:CBD gummies.
Of note, the THC distillate used in these gummies is solvent-free.
10. Ganja Edibles Ganja Leaf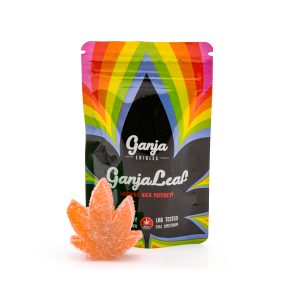 Ganja Edibles offer potent gummies at 500 mg, 750 mg, 1000 mg, and 1250 mg THC each gummy. Jam-packed with essential terpenes, these edibles are one of the most potent and flavourful cannabis treats on the market.
These are pretty strong edibles and not for the faint of heart. So, if you're new to THC edibles, you might want to take it slow with these ones.
11. CBD Move's CBD Gummies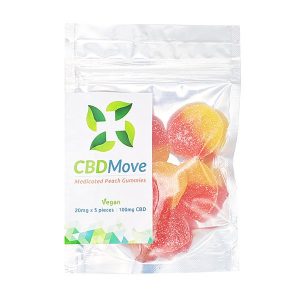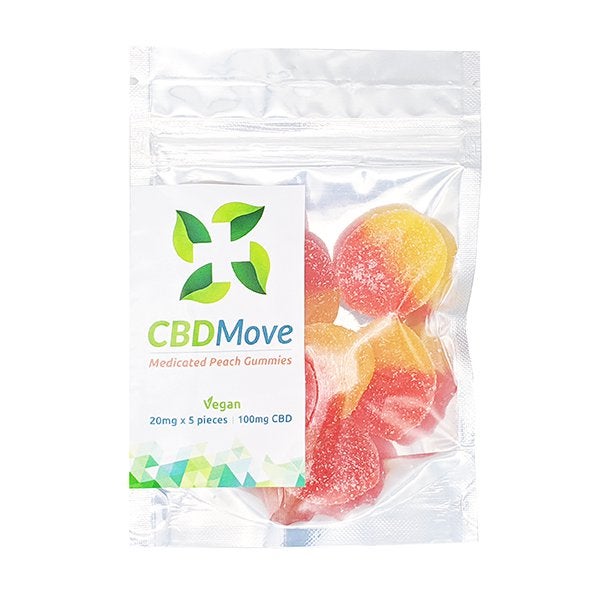 If you're after the soothing effects of CBD, then CBD Move is exactly what you need. They come in two potencies — 100 mg and 300 mg CBD. The gummies also come in three delicious, fruity flavours — Mint Leaves, Sour Watermelons, and Vegan Peaches.
These CBD gummies are nonpsychoactive, so if you can't tolerate THC, then these gummies are perfect for you since they won't get you high.
12. Medicated Sour Gummy Block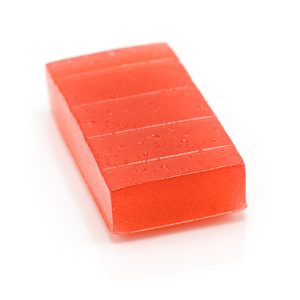 Made with premium-grade, full-spectrum cannabis shatter, one Medicated Sour Gummy Block contains a total of 250 mg THC. You can split the block up into smaller doses, and it will last you for several days.
Of note, this gummy block may contain some peanuts as well as other nut products, so if you're allergic to nuts, this may not be the best choice for you.
13. MOTA Sour Squares THC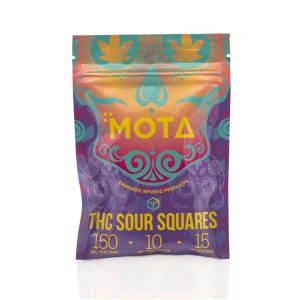 For easy dosing, MOTA's THC Sour Squares is definitely a must-try. Each container has 15 pieces of 10 mg THC per sour square, giving you a total of 150 mg THC per package.
These sour squares are famous for their uplifting, relaxing, and mood-boosting effects. Plus you'll get that jaw-clenching sour taste!
They're also known to ease anxiety.
14. MOTA Gummies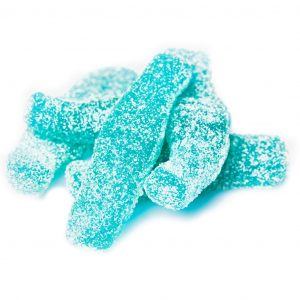 One package of these MOTA gummies contains a total of 100 mg THC and 20 mg CBD. It comes in several flavours — blue raspberry, cola, and sour watermelons. You can also choose between Indica and Sativa.
If you're after a little boost in energy, then choose Sativa for its energizing effects. If you simply want to relax and unwind, then Indica's always the best option.
Again, all the products we listed are from our trusted brands, and their CBD and THC is sourced from all-natural, organically-grown cannabis.
Frequently Asked Questions About Edible Gummies
Now, all the gummies produce medicinal as well as therapeutic effects. They can all help improve sleep problems, reduce pain and inflammation, or improve appetite. The THC content is also just right to boost mood and produce euphoric effects. These gummies also help with anxiety, stress, depression, and even nausea.
But you have to know something – consuming edibles is very different from smoking weed.
Below are commonly asked questions about cannabis edibles.
1. How Long Does It Take For The Gummy's Effects To Kick In?
Compared to smokable forms, gummies take some time before you can start feeling its effects.
When you smoke weed, the cannabinoids go directly into the bloodstream, so the effects are pretty immediate.
This isn't the case with cannabis edibles. With edibles, the cannabinoids have to pass through several organs – the stomach and the liver — before they join the bloodstream.
Depending on your metabolism and other factors, the onset of effects can be felt anywhere between thirty minutes and even an hour and a half.
So, when consuming edibles, we always advise users to start low and go slow. You have to wait for about 30 minutes to an hour before you take another dose. This way, you can avoid any negative THC side effects.
The effects of cannabis edibles also last longer compared to smokable forms. In some people, the effects can last anywhere from six to eight hours, making it perfect for patients suffering from chronic health problems.
Again, how long the effects kick in and how long they last depend on your metabolism, body weight, and whether you took the edibles on a full or empty stomach.
2. How Do You Store Edible Gummies Properly?
Like most foods, cannabis edibles also go bad after a while, so we recommend consuming edibles within two weeks of opening the package.
However, you can also preserve their quality and freshness by storing them the right way:
For hard candies, chocolates, and caramels, you should keep them in an airtight container and stored in a cool, dry place. This prevents the candies from absorbing too much moisture, making them soft and sticky.
For soft gummies, you also need to keep them inside airtight containers and kept in a cool, dry place. This will lock the moisture in and prevent the candies from losing their water content.
Of note, see to it that they're stored in a dark location. This helps preserve their potency since sunlight can easily and quickly degrade the cannabinoids, making them lose their potency.
How To Order Edible Gummies In Vancouver?
Cannabis edibles and gummies may not deliver the fastest onset of effects, but among the different types of cannabis products, their effects last the longest since the cannabinoids get to circulate longer in the body.
If you're ready to get your hands on some delicious cannabis-infused treats, then select one of the premium-grade edibles above OR check out more edibles here.
Once you've chosen the products, add them to your virtual cart and hit checkout.
If you haven't created an account with us yet, then do so now and get a free $10 as a signup bonus.
Should you send your payment before noon PST, then rest assured you're going to receive your parcel the very same day.
Just don't forget to choose "Same-Day Delivery" when you place your order and check out. Please note, this option is available only to those who reside in Vancouver.
For any questions about the products or concerns regarding your account or shipping process, please feel free to get in touch with us.
Our friendly and helpful staff is always ready to assist you.