When it comes to marijuana strains, there are the crowd favorites and then there are the exotic strains.
When you say crowd favorites, you know you'll easily find the strains in the market. They are, after all, the in-demand strains, so most weed shops have them in their catalogue to meet the demand.
Exotic marijuana strains, on the other hand, are rarer to find. You won't easily find these exotic marijuana strains in the market, especially if they're a new type of genetics.
In addition to exotic marijuana strains being rare to find or of new genetics, what are the other factors that make a strain exotic?
What Makes A Strain Exotic?
Just the thought of smoking "exotic weed" already makes your mouth water and your fingers itch to light it up. You're eager for the first puff, knowing it won't disappoint your cravings.
This is how attractive exotic marijuana strains can be.
Because they're rare, everybody wants to have one. The fact that not all weed shops carry exotic strains makes them all the more desirable. But what else is involved?
The Strain's Background
It all starts with the genetics of the strain, of course.
The crowd favorites we commonly see in weed shops now? Some of them started out as exotic marijuana strains as well.
The more growers replicate and successfully grow them, the more they become available in the market until they became household names.
Now, exotic weed strains are typically created by expert breeders. These strains are usually the newest types of strains in the market. As such, they're not as readily available as the common ones, so it'll be a bit harder to get your hands on these exotic strains.
Expert breeders know what strain genetics are the most stable, produce very high trichome yields, and offer the best flavours, aromas, and even effects.
They know which strains thrive well in all types of environments, may it be outdoor or indoor. They also know which strains flourish in different soils as well as grow mediums.
It takes years to become experts in this field, and their expertise has allowed them to produce the most stable exotic weed by crossing different strains with excellent genetics.
Appearance
There's also a big difference in appearance between common strains and exotic marijuana.
For one, the bud looks like it's been rolled in a thick coating of trichomes. The dense trichome layer covering the bud already gives you an idea of how aromatic and flavorful it will be.
The bud itself also boasts of bright, vivid colours. Compared to the buds you see in many weed shops, the colour of an exotic weed strain appears more intense and luminous.
Aroma And Flavour
Just looking at the rich layer of trichomes covering the bud is already a feast for the senses.
One quick whiff of the bud will already let you know that what you have is not some ordinary weed. Exotic weed has an aromatic scent and is pretty strong, giving you a glimpse of how good it'll taste.
You also know how robust its flavours will be just by looking at its trichomes and inhaling its aroma. Its rich terpene profile adds layers that fully complement each terpene's unique flavour.
THC Percentage
The THC percentage of exotic marijuana strains also matter. The higher the THC content, the more potent the weed.
But exotic weed strains are more than just their THC percentage though.
Some exotic weeds only have about 15% to 20% THC, but they pack a powerful punch.
So, when choosing exotic weed strains, focus not just on their THC content but on their terpene profile as well.
Terpenes also add to the whole experience of enjoying exotic weed.
Effects
The stable genetics of the exotic cannabis strain, coupled with its unique cannabinoid and terpene profile, contribute to its overall effects.
The smoke is smooth and creamy, and the physical and mental high is not just potent but has a balance between them.
The mental high produces a powerful uplifting effect that calms the mind and uplifts the soul, while the physical high offers an energizing yet relaxing effect.
The Best Exotic Strains In Canada
It's hard to find exotic marijuana strains, but luckily we know how much our customers appreciate wide inventory, so we've got them in store for you (at least at the time of this writing!)
1. El Muerte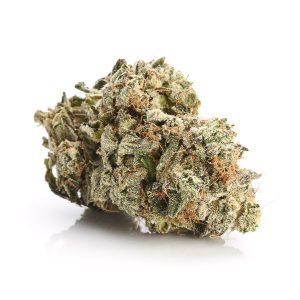 Type: Indica-dominant at 70% Indica and 30% Sativa
Origin: Bubba Kush x Death Star
THC Content: 25% to 30%
Background: Also called "The Death," this is one very potent exotic weed whose origins can be traced back here in British Columbia, Canada. Some say it's a cross between Bubba Kush and Death Star, but there are also those who say this exotic bud is a cross between Death Bubba and an unknown Indica strain.
Whatever its true lineage is, El Muerte captivated the cannabis market since its introduction in the early 2000s.
Appearance: The bud is dense and dark green in colour with reddish-orange hairs. Silvery white trichomes cover the bud in a thick layer of goodness.
Flavours and Aroma: Sweet and skunky with robust earthy and fruity notes. You'll also get some hints of diesel aroma.
Effects: This is a fast and hard-hitting bud that initially boosts your energy. You feel uplifted and so ready to conquer your stress. As the energy boost gently fades away, you'll feel its Indica roots kick in.
Your mind feels a little heavy and relaxed. You'll also feel the body high creep in as your muscles relax. Pretty soon, you'll feel a little sedated, your eyelids getting a little bit heavy as sleepiness wash over you.
The sedating mellowness is enough to lull you to sleep and give you a deep and restful slumber.
These El Muerte effects make it a good bud if you're after deep relaxation and restful sleep. As such, this exotic marijuana strain may be the best choice for nighttime use. It fully relaxes both your mind and body.
2. El Jefe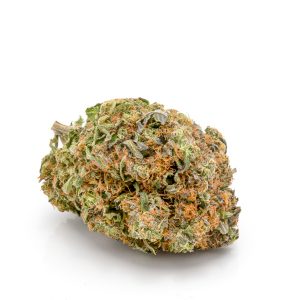 Type: Indica-dominant at 70% Indica and 30% Sativa
Origin: Abusive OG x Rare Dankness #1
THC Content: 22% to 25%
Background: El Jefe truly is "The Boss" of exotic marijuana strains. Created by Rare Dankness Seeds, El Jefe is made by crossing two potent Indica strains, Rare Dankness #1 and Abusive OG.
With exemplary parent strains like these, El Jefe inherited only the best genetics. It's a sought-after bud not only for its potent effects but for its unique flavour and aroma as well.
Appearance: A large, round, dense bud with a vibrant, dark green colour. Bright orange hairs and a thick layer of trichomes cover this aromatic bud.
Flavours and Aroma: Earthy aroma with a hint of hash. It tastes sweet and spicy with robust notes of pine and citrusy fruits like lemon.
Effects: El Jefe produces one of the most soothing highs that quickly relieves stress and anxiety.
At first toke, you'll feel a rush of calming happiness wash over your mind, taking away any anxiety, stress, or fear you may have. This is gently followed by the body high, its peaceful and calming effect washing over you from your head down to the tips of your feet.
You'll also start feeling a little numb as its analgesic effects kick pain to the curb. Pretty soon, the numbness will put you in a state of relaxing sedation. You'll think it's couch lock, but it's just deep relaxation taking over your mind and body.
With its relaxing and analgesic effects, El Jefe is a good exotic weed for alertness because of its medium strength.
3. Death Bubba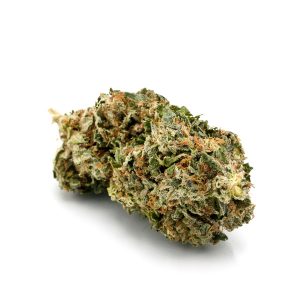 Type: Indica-dominant at 70% Indica and 30% Sativa
Origin: Bubba Kush
THC Content: 25% to 27%
Background: Some say Death Bubba is a descendant of the Bubba Kush strain, a very potent Indica. Others also say that Death Bubba was created by Vancouver's Sea and Sky, crossing two potent Indica parents — Death Star and Bubba Kush.
Whatever its lineage is, Death Bubba remains one of the most popular exotic strains in the market right now. It's a favorite of many cannabis connoisseurs for its exemplary properties and potent therapeutic effects.
Appearance: Medium-sized bud with a dark forest green colouring. Vibrant reddish hairs wrap around the trichome-rich bud.
Flavours and Aroma: Sweet, earthy, woody, and piney aroma and flavour with strong notes of lemon, lime, and spices. You'll also get whiffs of floral tones.
Effects: Death Bubba is an extremely strong exotic strain with high THC levels. It's not unusual for this strain to knock you out, especially if you're a novice to potent weed.
Upon inhalation, you'll immediately feel a rush of euphoria clearing your mind and driving away stress and anxiety. This leaves you feeling extremely uplifted, your mood instantly lightening and improving.
As the euphoria washes over you, a wave of energy will give you an extra boost, motivating you and improving your focus.
But this energizing effect won't last long though. Its Indica lineage will soon make itself known.
It'll start with a little tingling relaxation that spreads from the core of your body to your limbs. As it washes over you, you'll feel all your muscles relaxing, your limbs getting heavy. You'll feel as if you're being cocooned inside a warm blanket, the sedating and relaxing effects enough to make you want to sleep.
Death Bubba is one of the best strains to use at night if you're after some rest and relaxation. It's also a good choice if you're suffering from insomnia.
4. Peyote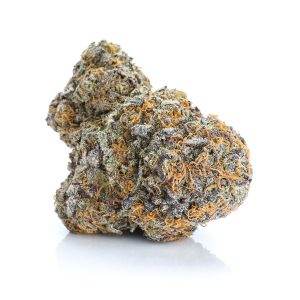 Type: Indica-dominant at 70% Indica and 30% Sativa
Origin: Backcross of Bubba Kush
THC Content: 18% to 28%
Background: Some believe this exotic strain is a backcross of Bubba Kush. A favorite of Indica lovers, this strain has all the classic effects of an Indica strain and is famous for its potent relaxing high.
Appearance: Large, round bud with a lime green colouring and a smattering of deep purple hues. Bright ginger hairs wrap around the bud, and a dense layer of frosty trichomes covers it.
Flavours and Aroma: Dank and earthy with a delicious blending of sour, citrus fruits, creamy vanilla, and coffee. You'll also get some hints of floral and diesel notes.
Effects: The effects of Peyote are just as amazing as its unique blend of flavour and aroma.
The body high hits hard and fast. You'll immediately feel the warm rush of relaxation wash over your body, leaving your limbs feeling fully and completely relaxed. Its body high also comes with a potent analgesic effect that eases your pain and discomfort.
Its mental high soon follows, and you'll hopefully feel like extreme happiness has taken over your life.
All these effects culminate in deep relaxations, with the sense of extreme peacefulness helping you to sleep too.
Peyote is a good nighttime strain. It preps your mind and body for a deep, pain-free, relaxing sleep.
Add Your Favourite Strains Now!
Itching to get your hands on these exotic marijuana strains?
Add any of the products above to your virtual cart and we'll rush the delivery over to you.
Alternatively, you can browse through our wider collection of cannabis strains and try a little taster.
When you've made your selection, be sure to choose the same-day shipping option to receive the items on the very same day (if you're in Vancouver – we ship nationally in Canada too!)
So, place your order now and enjoy our exotic strains today.