Similar to cigarette smoke, getting weed smell out of car cloth seats can be pretty hard.
The aroma of stale cannabis smoke clings to the fabric, the scent so stubborn that a simple vacuuming won't be able to thoroughly get rid of it.
Yes, you can spray it with an air freshener to eliminate its unique scent, but that's just a band-aid solution to the problem.
To know how to get weed smell out of car cloth seats, then follow these simple steps.
What Causes Weed Smell To Linger?
There are many factors that cause weed smell to linger.
The terpene content, for one, plays a big role. The higher the terpene content of the strain, the more aromatic it is and the more their scents saturate the car.
How strong the scent is also depends on the aroma of the terpenes. Strains that give off lighter, fruity, and flowery scents are not that distinct, compared to strains that produce potent dank, pungent, and skunky aromas.
The potency, frequency, and duration of use also make the smell of weed linger. After all, the more weed you smoke and the longer you smoke weed inside the vehicle, then the more its scent will linger. It will also be harder to get the smell out.
The size of the area and its ventilation also matter. The scent of weed easily permeates small areas, especially if there's poor ventilation.
Moreover, car cloth seat covers like polyester and nylon absorb scents, make it harder for you to eliminate its scent.
How to Prevent Car Cloth Seats From Absorbing Weed Smell
You can prevent your car cloth seats from absorbing weed smell by not smoking inside the car in the first place.
Remember, although recreation weed is legalized in Canada, you can't smoke weed or consume cannabis products inside vehicles, especially when driving.
If you're going to transport any type of cannabis product, it should be in its original packaging, and its seal should be unbroken.
Should you transport an opened cannabis packaging with its seal broken, then the item should be placed inside the trunk of the vehicle or anywhere where it can't be reached by anyone inside the car.
The only exception is if the vehicle also serves as your home, an example of which is a motorhome, RV, or camper. However, it's only permissible if the vehicle isn't moving and has a bedroom and kitchen.
But let's say you've already done the deed and smoked some weed inside your vehicle, then the best thing to do is to open all windows.
Better air circulation will help force out the smell of weed and prevent it from permeating the vehicle and clinging to the surfaces.
Tips On How To Get Weed Smell Out Of Car Cloth Seats
If opening the car windows isn't enough to get the weed smell out of car cloth seats, then it's time to roll up your sleeves and get your hands dirty.
Below are five common ways of eradicating the smell of weed from your car seat covers.
Using Air Fresheners To Mask Weed Odour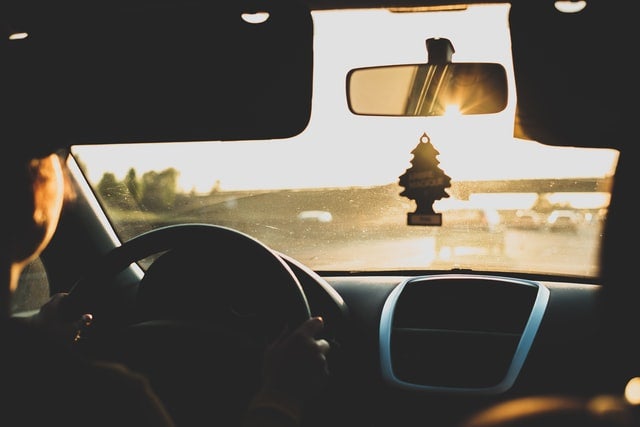 There are many products that you can use to mask the odour of weed.
For one, you can light some incense sticks inside the vehicle. Introducing scents that are more potent will help mask the odour of weed. Popular incense fragrances that you can use include woody and earthy ones with robust notes of herbs and spices.
In addition to incense sticks, you can also use dangling air fresheners, which come in many fragrances. You can choose fresh, lemony ones or piney air fresheners. Their clean, invigorating scent will not only mask the smell of weed but also refresh the car's interior.
You can even make your own air freshener using essential oils that have woody and earthy notes like sandalwood, pine, balsam, cedar, cinnamon, cypress, and juniper.
All you need to do is to fill a small jar halfway through with baking soda and then add a few drops (about 10 to 20 drops each) of your favorite essential oils. You can even add some lavender and eucalyptus essential oils to the mix. They will lend their floral and menthol aroma to your homemade air freshener.
Once done, simply put the lid back on and poke some holes in it to release the scent.
Using Air or Odour Neutralizers
Air or odour neutralizers work by absorbing odours and eliminating them.
The scent molecules from weed bind to the chemicals found in the odour neutralizer. In a way, the neutralizer captures the scent molecules and prevents them from binding to the olfactory receptors in our noses.
You'll find many odour neutralizer products in your local grocery store, but you can also make your own. You'll get to save some money this way since the ingredients are readily available at home.
You'll need a spray bottle, a cup of hydrogen peroxide, a tablespoon of baking soda, and half a teaspoon of dishwashing liquid.
Pour hydrogen peroxide into the spray bottle and add the dishwashing liquid. With a funnel, add in the baking soda. Put the spray head back on the bottle and gently swish the mixture around.
Once done, spray the inside of the vehicle, especially the seat covers. You may need to do this two to three times a day until the weed odour is completely eliminated.
Of note, you can also use a cup and a half of distilled water, a tablespoon of baking soda, and a tablespoon of lemon juice.
Using Upholstery Cleaning Devices
If masking the scent of weed or using odour neutralizers isn't enough, then give your car seat cloth covers a thorough cleaning.
Smoke contains many particles and chemicals that are easily absorbed by porous materials like fabric, carpet, and foam cushions, and vacuuming alone isn't enough to totally get rid of their scents.
If you can remove your car cloth seat covers, then remove them and give them a good washing. Soap and water will get rid of the grime, while fabric conditioner will make it smell fresher.
If you can't remove the seat cover, then you can invest in a carpet shampooer or upholstery foam cleaner. This method can be pretty expensive since the products are a bit pricey. It's also time-consuming as well since you'll need to give the car seats and carpets a thorough scrubbing using a soft bristle brush. You'll also need a wet/dry vacuum cleaner to suck up the liquids.
If you don't have a powerful vacuum cleaner, then you have to let the car seats dry for more than 24 hours or risk the car seats developing mold and mildew, which is more noxious than the smell of weed.
Using A Sploof
Another way to reduce the odour of weed is to use a sploof. A sploof, simply put, is a device you use to filter weed smoke, and exhaling into it traps some of its odour molecules.
You can make a homemade sploof, and all you need is any cylindrical object like the cardboard tube of a tissue roll or a plastic bottle with both ends cut off. You'll also need rubber bands and filtering material.
For the filtering material, you can use dryer sheets or activated charcoal and stuff them into the cardboard tube or plastic roll.
Of note, don't pack the filtering material too tightly inside the cylinder. You want your sploof to have enough room for good airflow.
Now, wrap one end of the sploof with a dryer sheet (which is folded into a square) and secure it with a rubber band to keep it in place.
To use the sploof, simply blow or exhale the smoke into the uncovered end. The filtering material will act as a smoke filter and catch the weed molecules, preventing them from clinging to the car seat covers.
Change the sploof when the filters get dirty.
Using Activated Charcoal And Baking Soda
You can also sprinkle a mixture of activated charcoal and baking soda over your car cloth seats and let it stay there for about a couple of hours.
The mixture will absorb the weed molecules on the surfaces and in the air, neutralizing them. The combination of activated charcoal and baking soda also absorbs moisture, eliminating the odour of mould and mildew, if these are present in the vehicle.
After two hours, vacuum thoroughly to remove traces of the mixture.
Using Ozone Generators
If all of these methods fail, then you can try ozone generators. Ozone generators remove weed molecules by oxidizing the harmful molecules and chemicals floating in the air.
Ozone is composed of three oxygen atoms. Oxygen, which is found in the air we breathe, uses two of those oxygen atoms. The third oxygen atom binds with the molecules floating in the air. It changes the molecule's chemical composition and neutralizes it.
Ozone generators don't just eliminate odours though. They're also used to kill pathogens such as bacteria, spores, mold, mildew, virus, fungus, etc.
Vaping vs Smoking — Which Produces The Least Amount Of Odour?
Smoking weed is fun, but if the scent of weed clinging to all surfaces of your car is stressing you out, then maybe it's time to switch to vaping.
Vaping, compared to smoking weed, produces less odour since you're not burning paper and dried leaves.
Instead, you're only creating vapors that easily evaporate and disappear into the air.
Vape pens are typically odourless, and if they do produce some scent, the odour is much lighter and smells better than weed smoke.
More importantly, vapors quickly dissipate into the air and don't leave behind an unpleasant smokey smell.
How To Choose Vape Pens and Vape Oils
Vape pens are pretty straightforward to use. You only have to press the button to turn on the device and heat the coil. The heated coil will then heat up the vape oil or dry herb, creating vapors that you inhale through the mouthpiece.
Most vape pens have simple features. But there are fancier ones, too, that allow you to adjust the temperature or program your desired temperature.
Some vape pens can only be used for vape oils or vape juices, while the fancier ones can be used for vape oils as well as dry herbs.
Choosing the type of vape pen to use should be easy and will depend on your preferences and budget.
But when it comes to vape oils though, you should be picky.
Only buy vape oils and vape juices made by trusted cannabis brands. Check if the product used organically-grown, pesticide-free cannabis, and look for its certificate of analysis as well.
Reputable brands will always send samples of their products to trusted and certified laboratory facilities where the safety, quality, and potency of their products will be checked.
Finally, choose vape oils based on how you want the experience to go.
Are you after a boost in energy that invigorates and uplifts? Then choose vape oils made from Sativa-dominant strains.
Some of the best Sativa-dominant vape oils we offer are: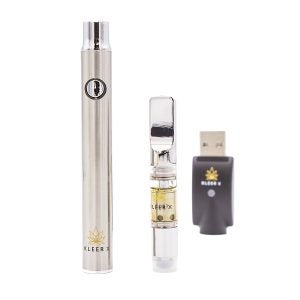 Or are you after weed's relaxing and sedating effects? If you are, then choose Indica-dominant ones.
You'll find these Indica-dominant vape oils in our online cannabis shop:
Final Thoughts — How To Get Weed Smell Out Of Car Cloth Seats
How to get weed smell out of car cloth seats is relatively easy. Just follow the tips we've shared with you.
But if you want to avoid having weed stick to your car cloth covers, then maybe it's time to switch to vapes.
Vaping doesn't produce strong odours but delivers the same potent effects.
If you're looking for the best cannabis vape products, then check out the link. We carry the best vape brands manufactured by Canada's top producers, and we make sure that the products in our collection are all laboratory tested.
Choose among premium vape oils made from some of the best Sativa and Indica strains in the market.