Grease Monkey Overview
Looking for a sweet and earthy hybrid marijuana strain that can help relieve stress, chronic pain, and nausea? Look no further than Grease Monkey strain from Exotic Genetix. Created by crossing GG4 with Cookies and Cream, Grease Monkey delivers a deep body buzz that will have you feeling relaxed and lazy in no time. But don't worry, this strain won't put you to sleep unless you want it to. So whether you're looking to ease your pain or simply relax after a long day, Grease Monkey is the perfect choice.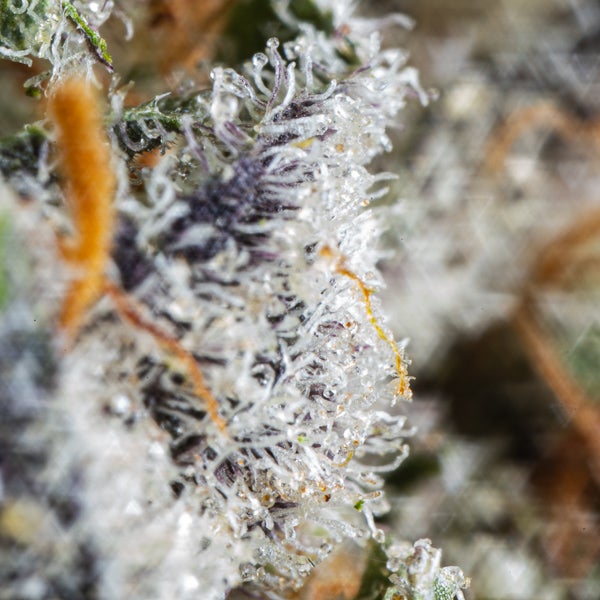 History & lineage
Born of the now-famous Cookies and Cream strain crossed with the equally beloved Gorilla Glue #4, Grease Monkey lives up to expectations and more. Flavorwise, many fans describe it as a near-perfect cross of its parents' genetics, fusing the rich vanilla-scented sweetness of the Cookies and Cream strain with the diesel intensity of Gorilla Glue #4.
Appearance
Exotic Genetix has made seeds of Grease Monkey available online for those who wish to grow it themselves. It can be successfully cultivated indoors or out, although outdoor growing environments should maintain constant humidity and daytime temperatures between 72 and 80 degrees Fahrenheit.
Plants can grow tall, but can be kept at a manageable height if growers trim and prune branches early on in the vegetative stage. Grease Monkey flowers within 8 to 9 weeks when grown indoors and offers a high yield of flowers. This can also be a very stinky grow and those looking to keep their operations under wraps should invest in odor control measures like exhaust fans.
Flavour & Aromatics Of The Grease Monkey Strain
When it comes to taste, Greasy Monkey does not disappoint. The initial hit is sour and diesel-like, but this quickly gives way to a more complex flavor profile with hints of chocolate, coffee, and even floral undertones. With each rich inhale comes flavors of nutty vanilla and sweet skunky diesel. The aroma is just as delicious with an earthy pungency accented by sugary skunky diesel and a touch of vanilla.
Medical Properties & Uses Grease Monkey
As you'd expect, Grease Monkey packs a hefty dose of psychoactive THC: As much as 27% according to some sources. But that's not all this hybrid weed has going for it: While CBD is a present if relatively minor player at roughly 1%, Grease Monkey also contains the cannabinoid cannabigerol, otherwise known as CBG. The Grease Monkey high is a creeper, building up behind the eyes before suddenly taking hold. You'll suddenly feel a slam to the head of euphoric relaxation that lulls you into a mental state of calm and haze. This effect will quickly become sleepy, easing both mind and body into a completely sedated state that's calming and relaxing.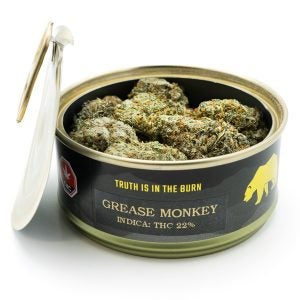 Grease Monkey Reviews
Where To Buy Grease Monkey

There's nothing better than some fresh Grease Monkey; the smell, the taste, it's what makes the experience so great. Check our selection of cannabis including organic & craft flowers. We offer a variety of high-quality flower products, including Indica, Sativa, and Hybrid strains, as well as pre-rolls. For the best of the best, choose our AAAA options.
Sources:
https://greensiderec.com/grease-monkey-hybrid-strain-review/
https://www.wikileaf.com/strain/grease-monkey/
https://www.allbud.com/marijuana-strains/indica-dominant-hybrid/grease-monkey
https://www.leafly.ca/strains/grease-monkey