If you're a cannabis enthusiast that's interested in using a high-quality concentrate, you may have come across 'hash.' Hash is a popular concentrate that involves the collection and compression of kief or resin. While the quality and strength of hash can vary, it is often considered an extremely potent form of cannabis.
In this guide, we'll be taking a closer look at 'hash' and how to make it. If you've ever wanted to learn more about this unique concentrate and how to manufacture it, this guide is the perfect resource.
What is Hash Made From?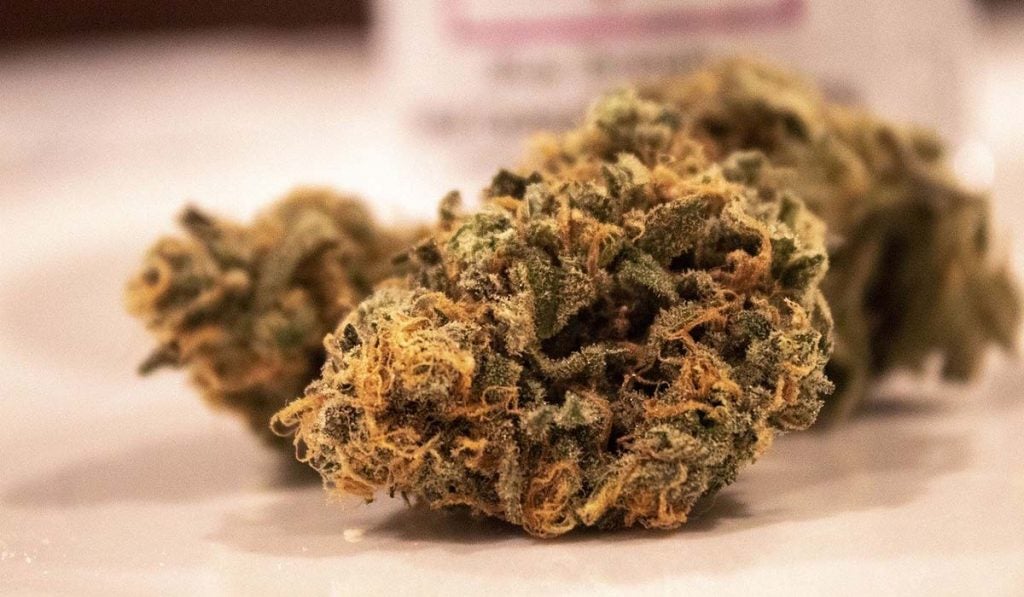 Hash, sometimes referred to as hashish, is primarily made from kief. For those of you that are new to cannabis, 'kief' is a slang term that refers to the crystal-like plant material found on cannabis trichomes.
As with many natural plants, cannabis trichomes prevent herbivores from consuming the cannabis plant. These trichomes contain a high number of cannabinoids and terpenes, which provide a potent high to those who smoke or consume it. The mind-altering impact of the trichomes protects the plant from animal consumption.
Trichomes have a large amount of THC, which makes it the perfect substance for anyone that wants a strong cannabis product. The kief located on the trichomes is easy to compress to make hash.
As it doesn't include any of the cannabis flowers, it's much denser than traditional cannabis – it also has much higher concentrations of THC. In some cases, you can get hash that has a THC concentration of over 50% — this is much higher than the 2-10% you find in most cannabis plants.
While there are different types of hash, most products consist of compressed kief. While hash is much stronger than traditional cannabis, you can still find other concentrates that are even more powerful. For example, shatter sometimes contains over 90% THC. You can learn more about shatter and how to make it here.
How to Make Hash – Step by Step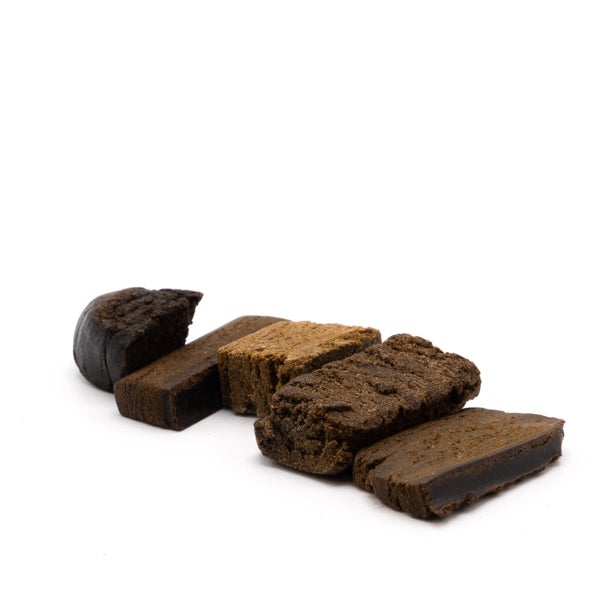 If you're wondering how to make hashish, you'll be pleased to know that its manufacturing process is accessible to almost anyone. All you need is the right materials, and you'll be able to make high-quality hash in the comfort of your own home.
So, how is hash made? By following the step-by-step process outlined in this portion of our guide, you'll be ready to smoke premium hash in no time.
1. Purchase a Silkscreen
We're going to take a look at how to make hash from kief. For this hash producing method, you'll need access to a silkscreen.
The finer the silkscreen, the higher quality your hash will be. This silkscreen will be responsible for separating the kief from the bud – it needs to be able to block the plant's flower from entering the kief.
2. Dry the Marijuana Buds
Next, make sure that the cannabis buds that you're using are completely dry. Dry buds make it easier to separate the kief from the plant. The best way to do this is to put the cannabis in a freezer.
You only need to place your buds in the freezer for a few hours for this to work.
3. Rub Buds Against Silkscreen
After a few hours in the freezer, your buds are dry enough to separate the trichomes from the plant. To do this, start rubbing the bud against the silkscreen – make sure to do this gently.
4. Place Kief in Frost-Free Freezer
It's best to place the resulting kief in a frost-free freezer to ensure that it remains dry. If you have one available, a food dehydrator set to a low setting is also an option.
5.  Purchase Parchment Paper or Cellophane and Package Kief
For this hash making method, you'll need parchment paper or cellophane to package 3-5 grams of kief. While it might sound like you can substitute a plastic bag during this step, don't – the kief will stick to it and prevent the hash from forming correctly.
Next, place your 3-5 grams of kief in the parchment paper or cellophane and wrap it 3-4 times to make a sturdy package. Use tape to ensure that the package doesn't come undone.
6. Place Kief Package in Your Shoe and Start Walking
After packaging your kief, place it in the heel of your shoe. While any shoe will work, the harder the sole, the better. For the best results, you should walk around for an hour to fully compress the kief. If you're planning on going to the grocery store or walking your dog, this is an excellent time to begin compressing your kief.
After an hour of walking, take the package out, remove the parchment paper or cellophane, and begin enjoying your hash. Keep in mind that this type of hash will be quite brittle. It won't have the glossy texture that you find in other types of hashish. Either way, it's still incredibly potent.
Other Ways to Make Hash
If the above method doesn't sound feasible for you, there are plenty of other hash-making techniques available to cannabis users. While the core requirements remain the same, some of these methods might sound more suitable for your budget or resources.
1. Hand Rolling: How to Make Hashish with No Machinery
Hand rolling is the easiest and most cost-effective way to make hash. If you're someone who has picked or trimmed cannabis in the past, you've probably noticed that dark resin builds up on your fingers. If you rub this resin together, it will form hash.
While you will need to handle a large amount of cannabis to build up enough resin to make hash, it's the perfect way to make a concentrate if you don't want to waste money on other materials.
We recommend that you only use this production method if you're making hash for yourself. When you make hash by hand rolling, your skin's oil and contaminants will end up in the hash. If you plan on sharing your hash with other smokers, hand-rolling isn't a hygienic option.
You can also hand-roll hash by first using a silkscreen to separate the kief. You can then use the same hand rolling method mentioned above. Using a silkscreen is a more efficient hand-rolling option, but you'll need to purchase it in advance.
For the best results, put on latex gloves and begin the hand-rolling process. While it might seem difficult at first, after 5-10 minutes of hand rolling, you'll notice that the texture becomes smoother and the kief will begin to stick together and form hash.
2. Mechanical Press (Hash Press)
If you want to make the hash production process even easier, you can use a mechanical press. This option is much simpler for people who don't have hand-rolling skills. The only downside is that you'll have to invest money in a mechanical press (if you don't already have one).
To use a mechanical press to make hash, you'll need to separate the kief from the bud using the same methods mentioned in previous sections of this guide. Once you have your kief, placing it in parchment paper and compressing it with your mechanical press will result in a finely compressed batch of hashish.
No matter which method you use to create hashish, it's essential to use high-quality kief or resin. If you have too much plant matter remaining in your kief, it won't create the same quality of hash, which is especially true if you decide to hand-roll your hash.
If you're wondering how to make hash from trimmings or how to make hash from shake, it's pretty much the same process. You just need to separate the trichomes from the trimmings or shake by using silkscreen or another kief-removal method.
How to Make Bubble Hash
Bubble hash is one of the purest forms of hashish on the market. If you're looking for a hash product that is dense and high in THC, this is one of your best options.
So, why is it called bubble hash? While different cannabis experts will have different answers to this same question, the most likely origin of this name is that bubble hash 'bubbles' when you smoke it.
Are you wondering how to make bubble hash? It's slightly more complicated than traditional hash, but you'll still be able to do it at home if you have the right cannabis and materials.
Supplies Needed
Cannabis
Freezer
Ice
Water
Bubble Bags (Filtration Bags)
Bucket
Spatula
Spoon
Making Bubble Hash Steps
Take your cannabis buds, place them in a bowl with ice and freeze them for 1-2 hours.
Fill your bucket with multiple filtration bags (bubble bags) – make sure that they're layered on top of one another. You should use at least three to four bags.
Place the frozen cannabis buds and ice into the top filtration bag (within the bucket).
Pour water into the filtration bag with the cannabis and ice.
Mix the bud and the water with a spatula for 5-10 minutes. This process allows for the water to drain through the bags.
Remove the top bag with the cannabis buds and squeeze the water out into the remaining bags.
Remove the next bag and let the water drain.
Begin scraping the bubble hash that has collected at the bottom of the second filtration bag (using your spoon).
Place the bubble hash on a drying tray to dry.
Repeat steps 7-9 until all the bubble hash is removed.
How to Smoke Hash
Now that you know how to make hashish, it's time to learn how to smoke it. Hash is extraordinarily versatile, and you can smoke it in several different ways.
One of the most popular ways to smoke hashish is via the bowl of a bong or pipe. For the best effects, you should use a spoon or a knife to break up the hash before you use it. When it has a dirt-like texture, it will burn much better in the pipe or bong bowl.
Joints are another popular way to enjoy hashish. Most hash smokers that use joints will mix it with traditional cannabis. Start by layering your joint with cannabis and then run a thin line of hashish along the length of the joint. It's best to ensure the hash extends the length of the joint. Otherwise, there will be times when you're only inhaling bud.
For cannabis enthusiasts that prefer vaping, there are plenty of vapes that are suitable for smoking hash. Vaping is an excellent alternative if you're looking for a consumption method that doesn't include heavy smoke. The vapor produced by vape pens and other vaping sources is often much easier to manage for infrequent smokers.
Just make sure that you're purchasing a vape that is compatible with hash. Double-check the manufacturer's guidelines before you make any purchases.
Storing Hash
If you've already made hash, but you don't want to smoke it all at once, it's easy to store for prolonged periods of time. While the outside of the hash will lose strength if it oxidizes over time, you'll still find the inside of the hash potent. By breaking it up, you'll have access to the most potent components of the hash.
On the other hand, if you want to preserve your hash for as long as possible, we suggest a frost-free freezer.
Sourcing High-Quality Cannabis Products
If you're going to make premium hash, you need access to premium cannabis products. As Canada's cannabis market grows increasingly competitive, there are now dispensaries and online cannabis retailers scattered throughout the country. While this means that you have plenty of choices when it comes time to buy marijuana, it also means there are some retailers pushing low-quality products.
If you're planning on making hash, make sure to use a reputable supplier. Teaming up with a cannabis producer with a strong reputation is the best way to ensure your hash is potent.
If you're looking for high-quality cannabis products, make sure to explore our store at Kootenay Botanicals. We offer Canadian residents a host of premium cannabis products and accessories. If you're searching for more information about making hash or any other cannabis product, stay tuned. We post regular updates on our blog with industry news and cannabis guides.