You might have come across 'shatter'. This is a cannabis concentrate that is growing increasingly popular throughout Canada, and with THC levels that can reach above 90%, it's not hard to see why.
So, what is shatter? It's a high-grade concentrate that is similar to wax – some people say it looks like dry tree sap. In most cases, it will have the same appearance as a dark honey product, and its consistency is hard and brittle.
Many people are unaware of this unique cannabis concentrate and how to use it. In this article, we'll be taking a closer look at everything you need to know about it— and we'll answer all your questions on how to smoke shatter.
How to Smoke Shatter
While cannabis concentrates are readily accessible across Canada, you might not know how to smoke shatter yet.
The most common way to smoke shatter is via a 'dab rig', but if you don't have a rig, we'll show you how to smoke shatter without one.
Smoking Shatter in a Joint
If you're someone who enjoys joints but wishes they were a bit stronger, rolling shatter in a joint could become one of your new favourite ways to smoke it!
Start by grinding your favourite cannabis strain and fill your rolling paper the way you usually would. Next, sprinkle some crumbled shatter onto the flower and roll it as usual.
If you don't know how to roll a joint, you can always purchase a joint roller that automates the process.
Smoking Shatter in a Pipe or Bong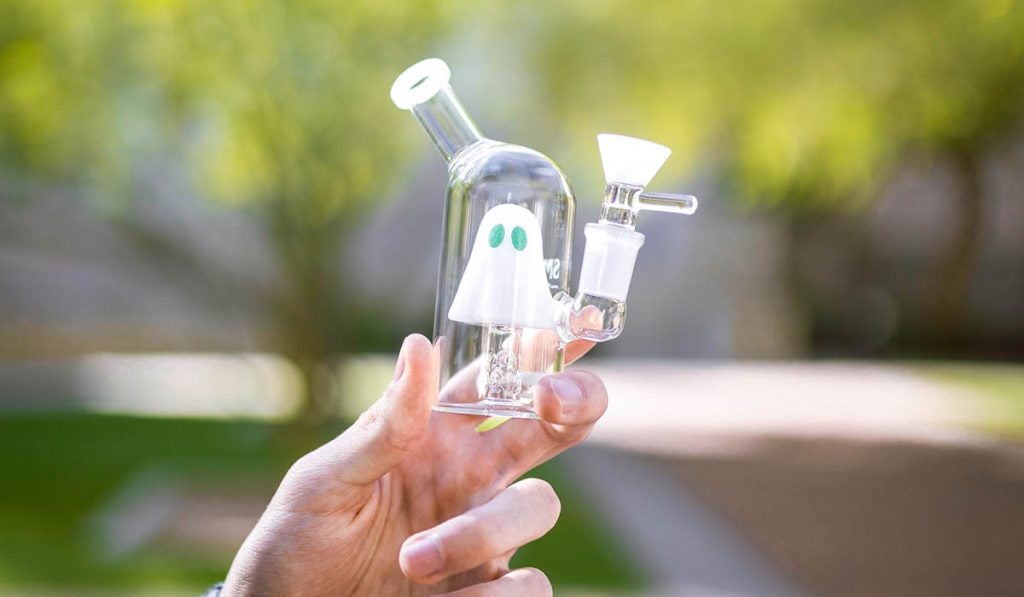 For those who use glass pipes or bongs, you'll be pleased to know that cannabis concentrates are compatible with both methods. So, let's learn how to smoke shatter in a pipe or bong!
First, place a layer of ground cannabis within your bong or pipe bowl, and then sprinkle the shatter on top. Some people will add a bit more flower on top to fill out the bowl and help ensure a more consistent burn. Make sure to adequately light the shatter as you smoke it.
Check out different types of bongs to use.
Again, this is another way to intensify the high you receive from a pipe or bong. Make sure that you're comfortable with shatter before add too much to your bowl because the high will be much more intense.
How to Dab Shatter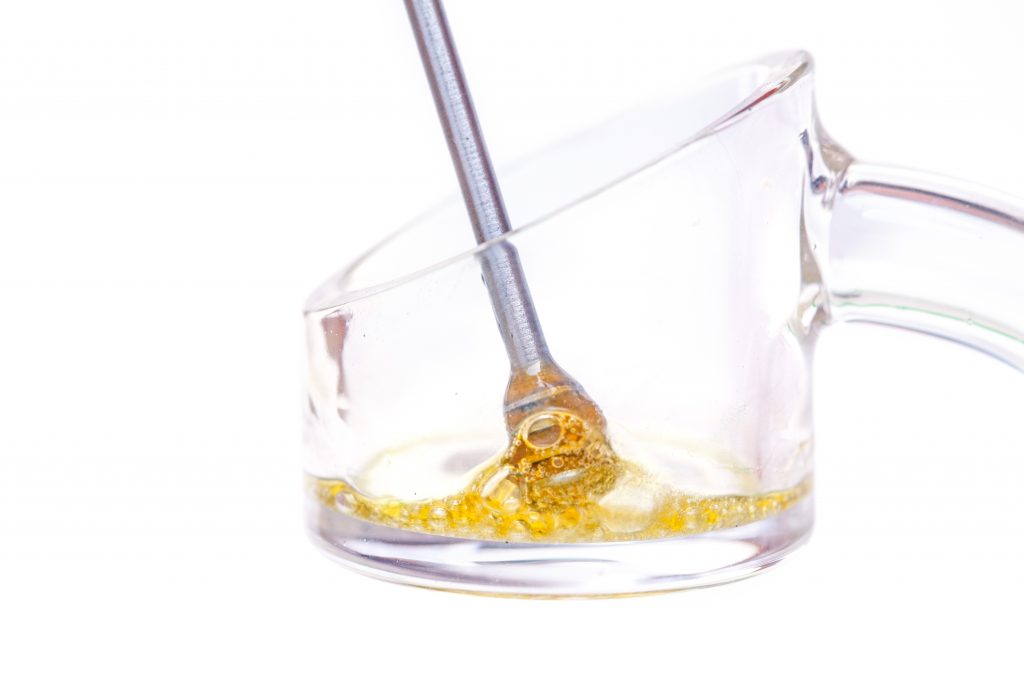 'Dabbing' is probably the most popular way to use cannabis concentrates— and shatter is no exception! If you're looking for a quick, potent method of consumption, this is one of your best options. The only downside is that it requires additional hardware and a bit of practice.
Dabbing requires you to buy a 'rig.' A rig consists of a water pipe with a bulb-like dome or carb cap. You'll also need a nail, butane torch, and metal dabber. Let's take a step-by-step look at the dabbing process below:
Start by placing a piece of shatter at the end of your dabber. This piece should be as small as possible.
Turn your butane torch on and begin to heat the nail – the nail will get hot as you heat it up.
Once your nail is red hot, wait a few seconds and place the dome over the top of the nail.
Once the dome is securely placed over the nail, slowly dab the shatter onto the nail using the dabber.
Begin inhaling immediately. All done!
The dome is used to ensure that the vapor doesn't escape when it first touches the nail. As you'll see, when you use your rig, it's critical to use the dome to avoid losing the vapor (even if you inhale immediately).
Although it seems like a small amount of vapor that's created from the shatter, it's incredibly potent.
If you want to dab, it's critical to create a checklist of everything you need. If you don't have the right materials, this method won't be possible.
Below is a checklist:
Rig
Dome
Nail
Butane Torch
Dabber
Smoking Shatter in a Vape Pen
Vape pens have emerged as a popular tool for various concentrates. While most vape pens are for cannabis oil, you can also smoke shatter, and other cannabis concentrates if you have the right type of vape— and it doesn't require nearly as much effort as traditional dabs.
If you want to know how to smoke shatter in a vape pen, it will depend on the type you purchase. With most pens, you will need to add it to a compartment and then push a button – it's that simple.
Read the instructions included with your vape pen and make sure that the pen's manufacturer specifically says it's suitable because some vape pens are not compatible.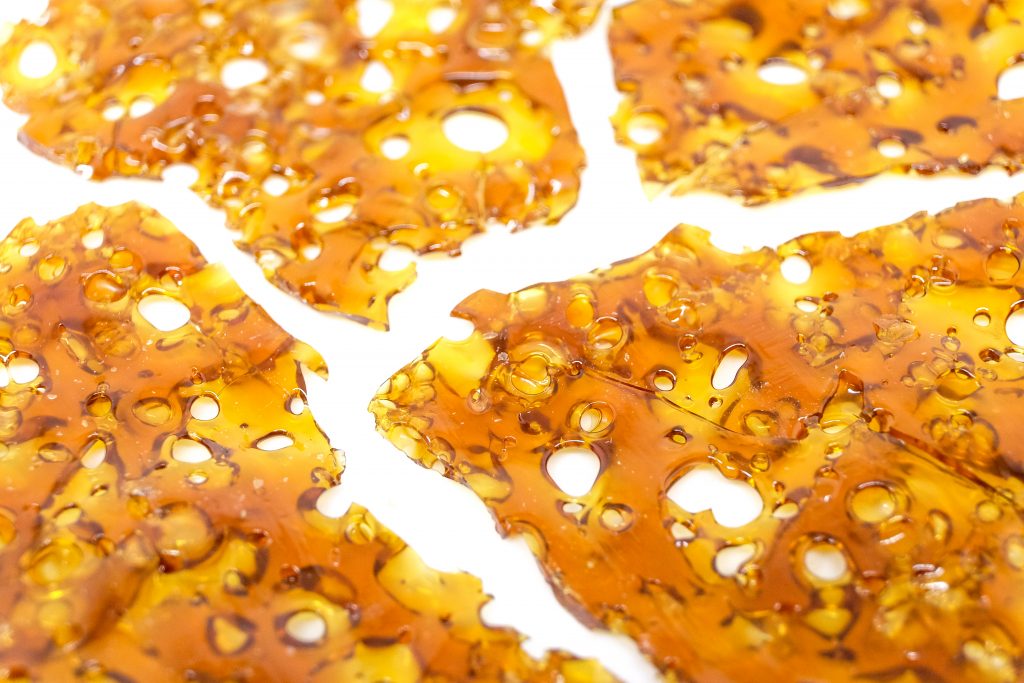 Smoking Shatter FAQ
We receive a lot of questions from readers about this unique cannabis concentrate. Below, let's take an in-depth look at some of the common questions we receive regarding how to smoke shatter:
Q: Can You Eat Shatter?
A. While there are plenty of ways to consume shatter, eating it is not an effective form of ingestion, and we don't recommend this method. While nothing is stopping you from eating shatter, it won't have a significant impact because it has to be decarboxylated first, usually achieved through heat or burning.
Q: Will Shatter Make Me Cough?
A. While many people assume it won't make them cough, it can be pretty intense for first-timers. For this reason, it's always a good idea to smoke shatter in small doses during your first attempt – a little bit goes a long way.
Q: How Much Should I Use?
A. The answer to this question will depend on a range of variables. The appropriate quantity of shatter will vary depending on your experience and ingestion method. For example, you should use less for a dab than a joint.
It's best to only use crumb-sized pieces – especially if you've never smoked it before.
Q: How is it Made?
A. The process used to make shatter requires some expertise. Still, if you have the right materials and know-how, you can make this concentrate from scratch.
Typically, producers will use a solvent like butane to extract the cannabinoids from cannabis. Afterwards, low heat is used to eliminate the solvent.
Many extracts, like cannabis oil, wax, budder, and more, are produced using similar processes.
Lastly, the remaining substance is left to cool down and harden. Most producers will manufacture large sheets of shatter and then crack it into smaller pieces to sell – this is why it has a glass-like appearance.
We recommend that you purchase quality shatter from a dispensary or online source. It's much easier, and you'll have better assurances that the THC concentration is high.
Q: How Strong is Shatter?
A. Shatter is a very potent concentrate with THC levels that can reach up to 90%.
Keep in mind that the quality and strength will largely depend on the manufacturer. It's critical to choose a reliable producer if you want to benefit from a potent high.
Q: Is Shatter Okay for First-Time Use?
A. While smokers with a range of different experience levels enjoy using shatter, it's not recommended if you've never smoked weed before. Since it is much more potent than traditional marijuana, it can be overwhelming for a first-time smoker. Make sure to try a less concentrated form of marijuana or THC before you use shatter.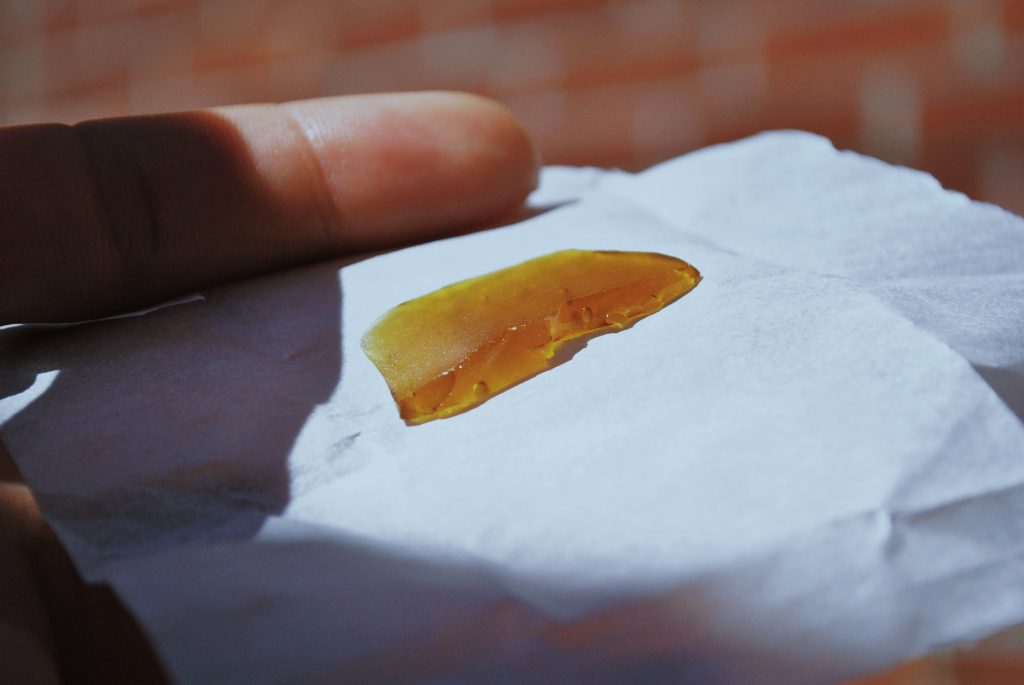 Q: Is it Expensive?
A. The price of shatter will vary depending on the producer and retailer that you're purchasing from. If you want to access shatter at the best price, it's critical to use a producer that you can trust. It's also important to remember that quality may vary if you decide to purchase the cheapest on the market.
If you want the best value for money, it's critical to assess the potency and cost before purchasing it.
Q: What is a Dab Rig?
A. A 'dab rig' is an accessory that allows you to smoke shatter and other concentrates like wax, resin, and budder. You'll also need a butane torch and other items to ensure that you get the most from your dab rig. Make sure to check out the 'How to Dab Shatter' portion of this review if you're interested in using a dab rig.
Q: Is a Butane Torch Really Necessary?
A. If you're going to dab shatter, a butane torch is necessary. While it may sound excessive, it's required if you want the nail to get hot enough to vaporize the shatter. A regular lighter won't be able to provide you with the right temperature.
Q: Are Cannabis Concentrates More Potent Than Traditional Cannabis?
A. Yes. One of the primary allures of shatter is that it offers one of the most concentrated THC levels available to smokers. If you're someone who enjoys the effect of THC, this is one of the best ways to access a potent high.
While potency can vary, most cannabis flower has a THC concentration below 30%. On the other hand, quality shatter's THC levels can reach above 90%.
While this is excellent for experienced cannabis users that enjoy strong weed products, it's critical to remember that it can be overwhelming to newcomers.
Q: Can You Mix Shatter with Traditional Cannabis?
A. Yes. Many people make the mistake of thinking that shatter and other concentrates must be used alone. In reality, people often use it to add potency to joints, bongs, and pipes – it's a popular way to consume it as it can improve the potency of regular flower.
Q: Can You Cook Shatter into Food?
A. If you're looking to use your shatter to make edibles, you'll be pleased to know that it's a possibility. While shatter users have different recommendations for cooking it into edibles, it's often best to 'decarb' it by melting it into coconut oil or another similar substance. You can then bake it into brownies or a host of other edible substances.
It's essential to keep in mind that there are other concentrates that are much easier to cook into food. Alternatively, it's also easy to access pre-baked edibles at plenty of dispensaries in Canada.
Q: Where is the Best Place to Buy It?
A. If you're a Canadian resident, there are plenty of places that you can purchase a cannabis concentrate like shatter. Whether you're looking to buy cannabis online or planning on heading to your local dispensary, choosing a supplier that you can trust is essential.
At Kootenay Botanicals, we offer our clients access to the industry's best shatter products. If you're looking for quality shatter, or any other cannabis-related products (like wax, flower, oil, tinctures, edibles, and more!), make sure to check out our store.
You May Also Enjoy: