If you regularly smoke cannabis, you may have wondered at least once how long weed can last. Maybe you've found a nug or two between the cushions, or your latest homegrown crop is more than what you need. Storing and preserving weed correctly will keep it fresh for the next time you're ready to enjoy it.
How to Preserve Weed and Keep it Fresh
Knowing how to keep weed fresh is more of an art than using sandwich bags. While there is no fixed expiration date for cannabis, here are a few things to consider when storing it for long periods.
To get a better idea of how to store marijuana, you first need to understand what makes it fade. Several factors affect the potency of cannabis, including:
Light
In the same manner that harsh ultraviolet rays make the paint fade over time, constant light exposure burns the cannabinoid and terpene compounds in your cannabis plant and buds. Seasoned cannabis enthusiasts keep weed in opaque containers, away from any direct light sources.
Air
Oxygen is another significant factor that affects the shelf life of cannabis. Too much oxygen speeds up decomposition, while too little encourages the growth of mould and mildew. Vacuum-sealing is often the most effective solution, but airtight jars and containers are the next best thing.
The container for your cannabis should also be the right size. Even without air circulating inside of it, a container that's too large may store too much oxygen and facilitate the deterioration of the contents quickly.
A container that's too small may result in too much humidity entering the substance and quickly result in mouldy buds. Ideally, you should store your cannabis in containers with not much room to spare but without overcrowding.
Moisture
Moulds and mildew thrive heartily on humidity, but this is not the only threat to your high. Buds that are too dry may also cause terpenes and cannabinoids to break down faster, diluting the results.
Cannabis should be stored between 59 and 63 RH.
To maintain this balance, we recommend using humidifying capsules, like Evergreen Pods. These capsules are designed to absorb and discharge moisture based on the humidity in the air, keeping the containment at optimum levels.
How Long Does Weed Stay Good?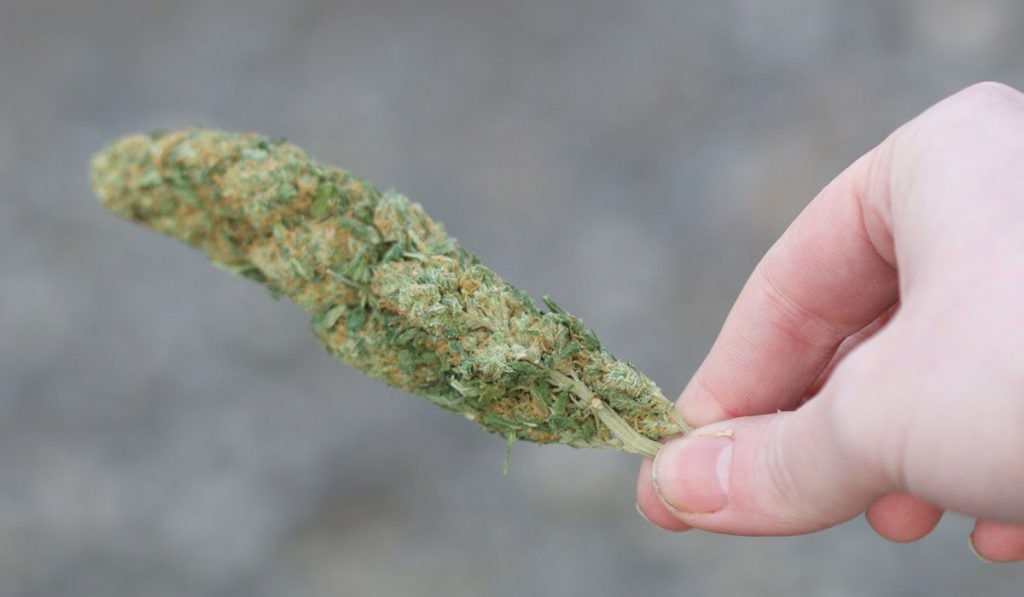 The quality of weed over time will largely depend on how it was harvested and cured.
Harvesting
To yield the most cannabinoids, weed must be harvested at the proper time.
Harvesting the buds too early causes the buds to become less potent when smoked. Harvesting too late garners 'sleepy' weed. The plant must be gathered when its trichomes start to become cloudy and amber-coloured, which indicates maturation.
Cutting down the buds for harvesting is also essential for the long-term quality of the weed. The process varies, depending on the strain, and whether the plant was grown indoors or outdoors. It should be harvested before the light cycle begins to prevent the plant's nutrients from moving to the roots from the stem and leaves.
Curing
You can sample a bud or two immediately after harvesting, but the best flavour comes after a careful curing process over four to seven days. It draws out excess moisture, allowing it to "sweat" and preserve flavour and cannabinoid content.
Curing cannabis involves cutting individual buds from the stems into airtight containers. Mason jars are particularly popular among home growers because of its effective sealing capability and affordability. Plastic containers may also be airtight but often leave a plastic taste to the buds.
What's Best Way to Store Cannabis?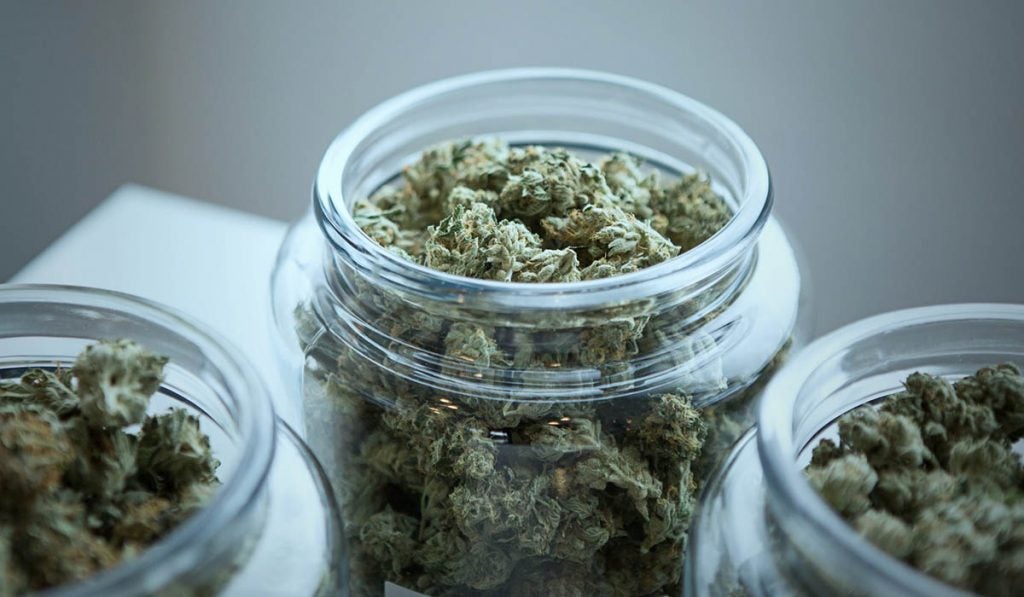 If properly harvested and cured, cannabis buds last indefinitely, tasting as fresh as the day the buds were cut. These pieces may still lose potency if not stored correctly, though.
Potency relies upon a wide variety of factors, so it is difficult only to advise a single method of storage. Several aspects may help you along in the process, though, preventing your weed stash from weakening anytime soon:
Make sure your weed is completely cured. If you find that the weed is still wet after being freshly harvested, let it air-dry for at least three days. Afterward, place the dry weed in a sealed container and let it "burp" (by opening the lid every two days to release any humid air still caught within the unit).
Store your weed with a humidity monitor. An RH monitor can help you check whether your buds are within ideal humidity levels. You can adjust these levels as necessary by using desiccants or humidifying capsules.
Always keep your cannabis in a sealed container. Never take your dry buds out of the container unless you intend to smoke them the same day. Opening the containers alters the oxygen and moisture levels around your stored buds, potentially ruining your hard work in preparing it well.
Store in a cool place away from sunlight. While we instinctively store our weed out of sight, it has the added benefit of keeping the buds away from heat, as well as damaging UV rays. Instead of your bedroom dresser, consider storing it in your basement or at a lower level of your house to help keep it cool. Also, make sure to keep it away from electronics and other heat sources.
Store different strains in separate containers. Taking care in separating the strains will prevent flavours from one strain from mixing with the other, especially where overpowering blends may dilute the various subtleties you want to enjoy occasionally. Newly cured strains may also change the humidity within the container when mixed with older buds.
Top 3 Best Weed Containers
There are lots of storage options to keep your weed fresh, but the following are the three most popular choices by professional cannabis growers:
Glass Mason Jars
Glass is the go-to material when it comes to cannabis storage because of its neutral properties, while the screw and hinge tops of mason jars are a simple and effective way to keep it airtight.
If sealed properly, mason jars keep moisture and air out and lock in flavours and cannabinoids. The jars can also completely contain smells and prevent buds from getting crushed during transport. Using a vacuum sealer designed for wide-mouth mason jars can also help manage the oxygen content more efficiently.
When using a mason jar to store your weed, make sure that it's at least three-quarters full to prevent excess air. If you don't have enough buds to fill your container, use a smaller jar.
Custom Cannabis Storage Containers
Many companies offer storage containers specifically designed for storing cannabis (for both short and long-term use).
These containers typically have a built-in dehumidifying function that maintains moisture levels more effectively and keeps your buds fresh. Also, unlike mason jars, custom cannabis storage containers come in a wide array of styles. Some of the types incorporate stainless steel, wood, and other materials for a more pleasing aesthetic that fits into your décor or personal style.
Compact Storage Bags
When you need to travel with your weed, odour-resistant bags keep the smell of your buds to a minimum and not take up much space in your bag.
These bags usually have a durable nylon or canvas exterior, while higher-end models feature a rubber backing that shields against odour and moisture. There are also storage bags that have built-in carbon filter systems to further eliminate strong weed smells using activated charcoal.
Like with cannabis storage containers, cannabis storage bags come in various designs to match your taste.
Storing Weed FAQs
Q: Can I store weed in a cigar humidor?
A. While using your dad's old humidor to store your weed seems like a cost-effective idea, it may do more harm to your weed than good. Conventional tobacco humidors are usually made of cedarwood, which contains oils. These can easily be absorbed by the bud and affect its flavour over time.
The humidors also tend to contain sponges that use propylene glycol to regulate humidity. It oversaturates the weed.
Q: Can I use my freezer to stash my weed?
A. It's cold and dark, but while your freezer may seem like the perfect place to stash your weed, it's also an extremely humid environment. The freezing temperatures might also cause the fragile trichomes in the weed to become brittle, breaking off like tiny icicles when touched.
Q: Which substance is the best to store cannabis?
A. Use glass containers where possible. Many growers swear that glass is the best material for storing cannabis in the long-term.
Aside from being sturdy and easy to seal, glass is also a neutral material. It will not transfer unwanted flavours to your buds like plastic or other substances tend to do. It is also a more environmentally friendly choice of material if that's your concern.
Q: Do I need to store my cannabis concentrates the same way as weed?
A. Cannabis oil and other concentrates contain far less organic material than flowers, making these substances more resistant to oxygen and humidity in general.
It can still weaken from prolonged exposure from the sun, though, so while keeping these concentrates in an airtight container may not be as essential, it's still highly recommended. Store cannabis concentrates somewhere dark (or away from direct sunlight) and dry.
You May Also Like: