The strength of the different cannabis strains varies and depends on their THC and CBD content. The terpene profile affects their potency as well.
In addition to the cannabinoid and terpene profile, you also have to take into consideration the reason why you might want a stronger weed strain in the first place. This will help guide you into the right balance.
Are you looking for buds to energize you and help you get through the day? Or are you looking for a powerful relaxing strain that can help you sleep?
Or maybe you're looking for a good, potent strain for your health needs?
In this guide, we'll help you choose the strongest weed in Vancouver. help you understand what makes them potent and give you an idea for what they're perfect occasion to try them for.
What Makes Weed Strong?
So, what makes weed strong?
THC level — The higher the THC content compared to its CBD level, the more potent it is.
Terpene content — The higher the terpene content, the more powerful the effects.
Types of terpenes — The types of terpenes also matter in the balance.
Some terpenes like myrcene, limonene, and linalool produce relaxing effects, while terpenes like pinene and caryophyllene energize. Strains rich in limonene, linalool, pinene, myrcene, and caryophyllene also boost your mood.
When choosing the strong weed in B.C. and Vancouver, you need to consider these few factors!
Same-Day Weed Delivery In Vancouver Today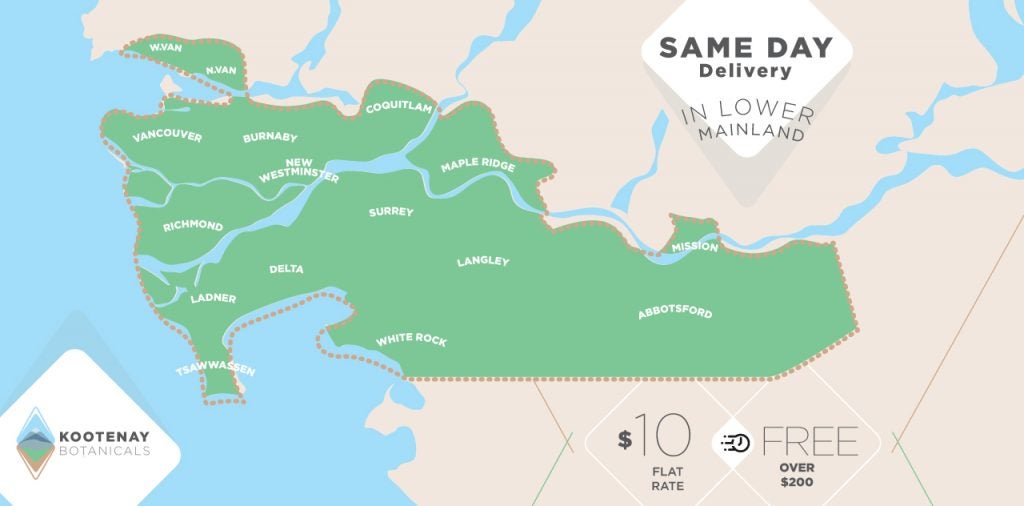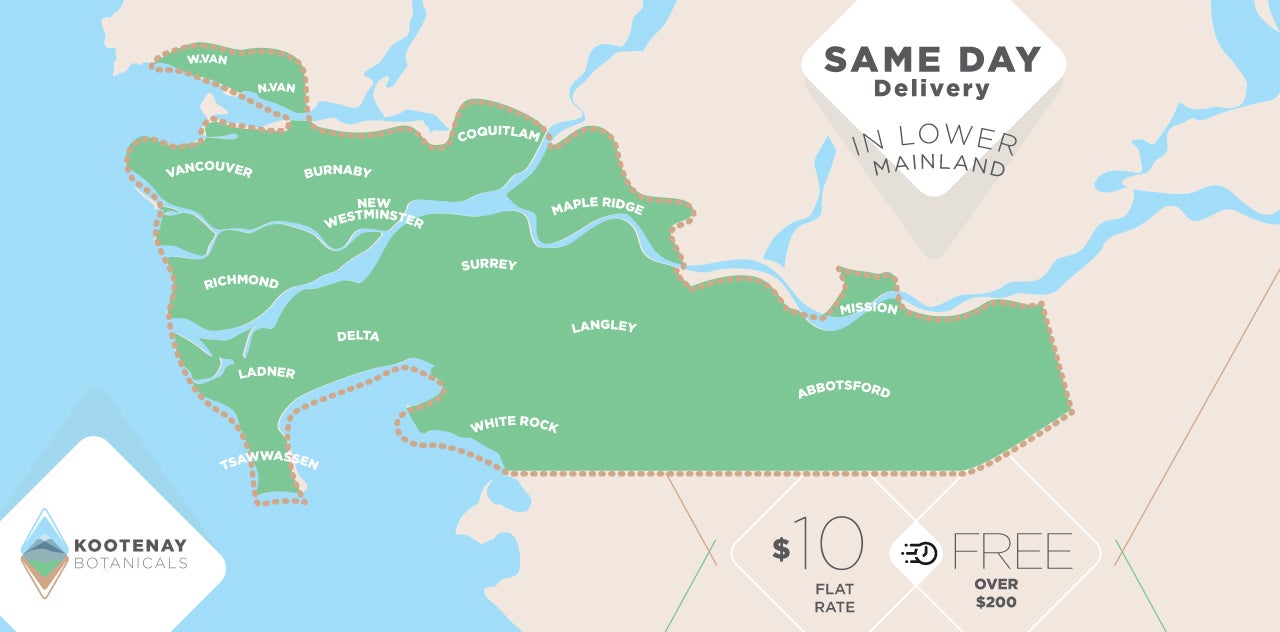 One characteristic that should be important to you is delivery times.
We provide excellent and speedy delivery. Same-day delivery also happens for packages ordered before 12 PM PST and that within Vancouver, B.C.
More details are here and also below.
You should also consider who you're getting your weed from. You want weed that's not only potent, but safe and of excellent quality, too.
That's what we provide here at Kootenay Botanicals – BCs best craft weed site.
Safety & Precautions In Using Strong Cannabis Strains
The strains we've listed here are definitely not for beginners. These are pretty potent strains, so if you're not used to high-THC weed, the side effects can be pretty brutal.
High-THC weed can induce anxiety and paranoia in some users. It also affects short-term memory, judgment, reasoning, and reflex.
If you're going to use strong cannabis strains, then you need to be extra cautious. Be mindful of these precautions when using high-THC weed strains.
If you're new to weed, try to consume potent strains when you're around trusted friends and in a comfortable environment. If you do develop ugly side effects, you'd want to be around people you can trust, friends who'll take care of you and make sure you stay safe.
Don't take too much. It's wise to start low and go slow. So smoke just a little bit and wait for about 10 to 15 minutes to see how you'd react to the potent strain before smoking just a little bit more.
High-THC, Indica-dominant weed — especially if it contains high levels of myrcene, terpinolene, and linalool — can induce a strong couch-lock effect. So if this effect is making you uncomfortable, then stop and rest awhile. Better yet, sleep it off.
Don't use potent strains during the day, especially if your day job is physically demanding or you're going to drive or operate heavy machinery.
It's also wise to keep some CBD oil on hand. Taking a few drops of CBD oil helps combat the negative side effects of high-THC strains.
For cottonmouth and dry eyes, drinking plenty of water can help reduce these side effects.
Some potent strains also induce the munchies. So keep some snacks near you for when your fierce hunger strikes.
The Strongest Weed Strains In Vancouver Today
Today, we've listed seven of the strongest weed strains in Vancouver today. These strains are known for their high THC levels and terpene content. They're also popular for their potent effects.
1. Pink Death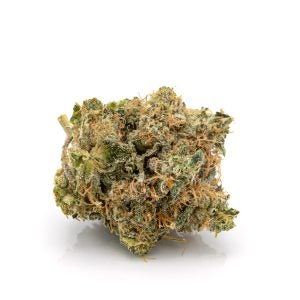 Type: 100% Indica
Origin: Death Star x Blood Rose
THC Content: 28% to 35%
CBD Content: 0 to 1%
Terpenes: n/a
Flavours and Aroma: Earthy and spicy with diesel, fruity, and herbal tones
Effects: One puff of this potent strain and you'll immediately feel the full effects of its Indica lineage. The relaxing high starts from your head and spreads down to your limbs, leaving you in deep relaxation.
This strain is best for people with insomnia and chronic pain. Its relaxing effects can work wonders for muscle spasms as well.
If you're new to the Pink Death strain, expect to feel very stoned and sleepy. Don't be surprised, too, if you end up glued to your couch and sleeping the night away.
2. Pink Grease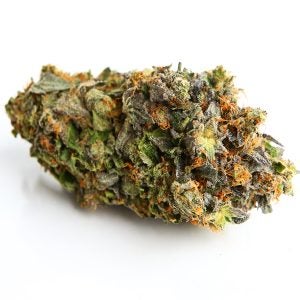 Type: 100% Indica
Origin: Pink Kush x Death Bubba
THC Content: 27%
CBD Content: 1%
Terpenes: n/a
Flavours and Aroma: Pungent and earthy with sweet, floral, pine, and diesel notes
Effects: This is one intense strain that produces immediate effects. One puff and you'll feel like your socks have been knocked straight off. The relaxing and sedating effects come on pretty strong, spreading all over your body and leaving you in a heavy body stone.
Pink Grease is a cerebral high and is very potent. It drains away all your stress and anxiety, leaving you euphoric and elated.
This strain is perfect for those who have trouble sleeping or have mood problems. The relaxing effect of Pink Grease is a great sleep-aid and mood booster.
3. Death Bubba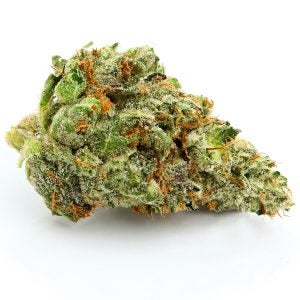 Type: Indica-dominant at 70% Indica and 30% Sativa
Origin: Bubba Kush x Death Star
THC Content: 25% to 27%
CBD Content: 0.65%
Terpenes: Humulene, caryophyllene, and myrcene
Flavours and Aroma: Sweet, citrusy, earthy, and woody with robust hints of lemon and pine
Effects: With famous parent strains like Bubba Kush and Death Star, it's no surprise that Death Bubba has become one of the most popular strains in Vancouver. The high produced by this strain is like no other.
With the Death Bubba strain, you'll first feel a sudden head rush and a focused energy, lending you some vigor. It also boosts your mood, making you feel ready to tackle any problem. But as its high continues, its relaxing and sedating effects soon follow. The high energy is replaced by deep introspection, and the energy boost gives way to deep relaxation. Pretty soon, you'll feel yourself being pulled into a deep relaxing sleep.
Death Bubba is a go-to strain of many insomniacs and those who suffer from depression. Not only does it boost mood, but this strain can also help you sleep deeply and peacefully.
4. Crystal Coma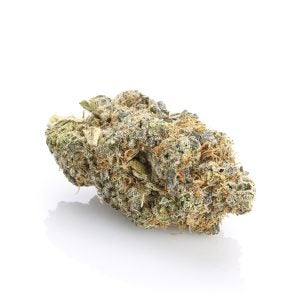 Type: Sativa-dominant at 70% Sativa and 30% Indica
Origin: Skunk x Cheese
THC Content: 26.20%
CBD Content: 0.80%
Terpenes: Terpineol, bisabolol, limonene, and camphene
Flavours and Aroma: Skunky, pungent, and sweet with strong notes of cheese, diesel, and citrus fruits like lemon
Effects: An award-winning strain, Crystal Coma is famous for its deeply sedating effects. It may be Sativa-dominant, but it has definitely retained the potent relaxing and sedating effects of its Indica roots.
Crystal Coma gives you a cerebral high, starting with a heady buzz around your temples that spreads to your face. As the high spreads, it may push your anxiety, stress, and tension out of your system, leaving you fully euphoric and elated. It also boosts your energy, making you feel more focused.
Its deep body high hits you soon after. Some users report that the feeling is like warmth spreading all over their body, leaving them sleepy and locked in a potent body high.
This strain is perfect for those with chronic fatigue, chronic pain, and insomnia.
5. El Jefe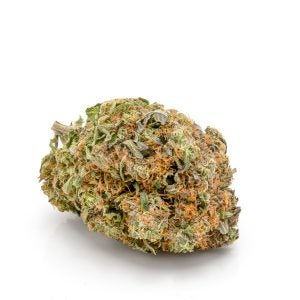 Type: Indica-dominant at 70% Indica and 30% Sativa
Origin: Abusive OG x Rare Dankness #1
THC Content: 25%
CBD Content: 0%
Terpenes: Caryophyllene and myrcene
Flavours and Aroma: Strong hash flavour and aroma, sweet and lemony with hints of spices and pine
Effects: Consumers who prefer potent soothing mind and body effects but without heady sedation prefer El Jefe over other strains. The high won't hit you immediately but slowly builds, starting from your head and spreading to the rest of the body.
Once you smoke El Jere, pretty soon you'll be feeling a bit spacey, as if you're floating in space. This mind-blowing head rush washes away your troubles, leaving you feeling euphoric and happy.
As the body high spreads, you'll feel calmer and more relaxed. Don't worry though; this strain isn't known to produce couch-lock but will make you feel a bit sleepy.
El Jefe is a favourite of our customers suffering from insomnia, chronic pain, depression, and muscle cramps.
6. Dutch Crunch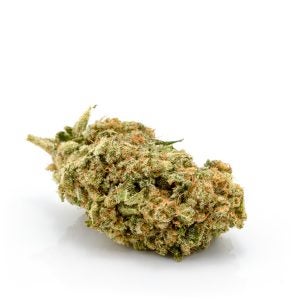 Type: Indica-dominant at 80% Indica and 20% Sativa
Origin: Dutch Treat x Jack Herer
THC Content: 20% to 26%
CBD Content: 2%
Terpenes: Terpinolene, myrcene, and ocimene
Flavours and Aroma: Minty and fruity with pine notes
Effects: One of the favorite strains to smoke for symptom relief, Dutch Crunch is famous for its powerful calming and painkilling effects without affecting focus.
With the Dutch Crunch, your first effects are strongly reminiscent of its Sativa roots as it gives your energy a boost. But then its Indica lineage will kick in. A powerful relaxing and calming warmth will wash over you, leaving you in a state of complete relaxation.
Dutch Crunch is also famous for its munchies. So be sure to have some snacks ready when the munchies hit you.
This strain is best for chronic pain, anxiety problems, and appetite loss.
7. Ultra Pink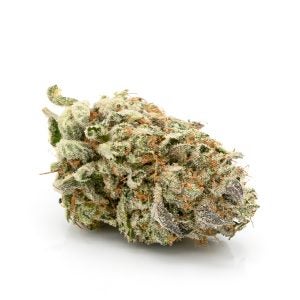 Type: Indica-dominant
Origin: Pink Kush x MK Ultra
THC Content: 18% to 26%
CBD Content: n/a
Terpenes: n/a
Flavours and Aroma: Floral, skunky, and earthy with hints of pine and diesel
Effects: This strain is not for the faint of heart. The effects are pretty immediate, leaving you feeling stoned yet relaxed. As you ride its body buzz, you'll also feel its cerebral high kick in. You'll feel deeply introspective, but your mind remains calm and focused.
Although Ultra Pink is famous for its hypnotic powers, it won't affect productivity though. You'll only feel calmer, deeply relaxed, and a bit stoned through the day.
Ultra Pink helps relieve depression, fatigue, chronic pain, and anxiety.

How To Order From Us
Ready to try some of our potent strains? Buying the strongest weed in Vancouver is easy!
Here's how to start your order:
Browse through our collection of the heavy weeds above 👆
Choose the strains you want and their quantity, then add to your cart 🛒
If you live in Vancouver 🍁, choose "same-day delivery" as your shipping option when you checkout. Make sure to send your payment though before 12 PM or noon (cut-off time), so you can enjoy our same-day delivery service. If you send your payment after 12 PM, don't worry – your items will arrive the next day.
For questions regarding our products, please feel free to drop us a message or chat with us.
Our friendly staff is always available and ready to help you.