Table of Contents
Amateur and beginner cannabis growers are known to opt for the genetics of autoflower cannabis strains thanks to their simpler demands and lower maintenance quality. Autoflowering strains are available in a variety of THC and CBD profiles that will appeal to newcomers to the growing world of cannabis production. 
But as anyone diving into the world of cannabis growing will discover, there's no fast track to quality cultivation. There are both advantages and disadvantages to choosing an autoflowering strain.
Here are some of the pros and cons of choosing autoflower cannabis strains.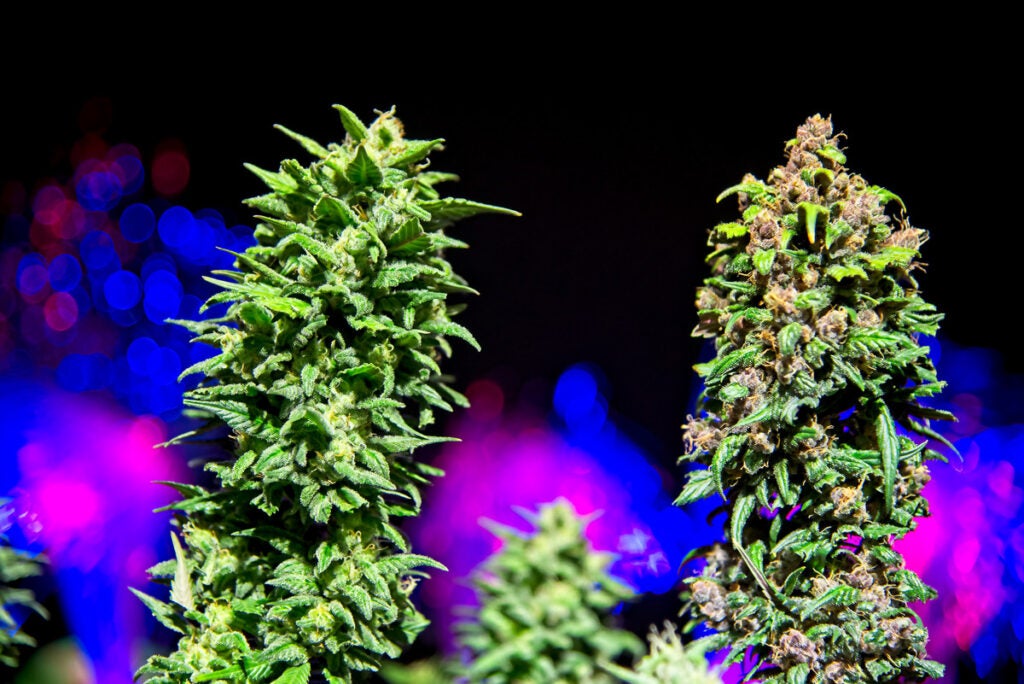 What is Autoflower Cannabis?
Both new and experienced cannabis growers are choosing autoflower strains for their beneficial characteristics. While it goes without saying that the easiest method isn't always the best method, autoflowering cannabis strains are growing in popularity thanks to their fast cycles and low-maintenance qualities.
As the name suggests, autoflower strains are cannabis strains that flower automatically.
What's the difference between autoflowering cannabis and other strains? While other types of strains known as photoperiod cannabis require a shift in light cycles to trigger a transition from the vegetative phase to the flowering stage of the growing cycle, autoflower strains are capable of flowering without this added effort by growers.
Instead of waiting for that human-induced light shift to start flowering, autoflowering strains will start budding on their own after a certain period of time has passed in the vegetative phase of growth.
Where Did Autoflower Strains Come From?
The key to the quicker growth cycle of autoflowering cannabis strains is in its genetics.
The ability to flower without temperative or light exposure changes is one that adapted in the subspecies of cannabis plants due to necessity of environment. The Cannabis ruderalis adapted to colder climate environments in places like Eastern Europe, Russia, and Mongolia, where longer winter seasons allowed the subspecies to develop a new gene.
The adapted gene in autoflowering cannabis plants is what enables buds to grow within a faster life cycle.
The Benefits of Autoflower Cannabis 
The shorter life cycle and lower maintenance cultivation of autoflowering cannabis strains is what attracts most growers. However, there are other more specific advantages to this particular subspecies strain.
Faster Growth Cycle
A major benefit of planting autoflowering strains is their speedy life cycle. 
From the quick vegetative phase to the flowering phase and being ready for the picking, autoflowering strains can process an entire growth cycle within 7 to 10 weeks. Other species can take anywhere from 4 to 8 months.
The faster turnover rates for crops are a benefit to both commercial and artisanal or craft cannabis growers.
Less Nutrients Required
Some growers may have the time and passion to dedicate to the development of high-quality, nutrient-dense living soil over years of cultivation (and trial and error). However, with the right focus, the same quality plants can be grown with more low-maintenance soil as well.
Autoflowering strains require fewer nutrients. Years of adapting to harsher climates allowed the genetics of autoflowering cannabis plants to yield faster crops with less of an appetite for expensive nutrients and fertilizers. 
A less-nutritious soil has plenty of benefits for growers. Less need for nutrients means less time spent developing soil quality. Not to mention lowering growing costs. Organic topsoil, peat moss, worm castings, and other nutrient-rich soil ingredients can get costly.
Low Maintenance Lighting
Autoflowering strains – while potentially racking up your energy bill – require less time spent on shifting lighting for indoor growing. Especially for craft growers and home-growing, this lower maintenance light process can be a huge plus.
Autoflowering strains typically require growers to maintain an 18-hour-on, 6-hour-off  light schedule.
Growers can, of course, opt for more light exposure as they see fit. But the biggest benefit here is the low-maintenance schedule that does not require the typical lighting shift to begin the flowering process.
Low-Key Growing
A side effect of the faster growth cycle of autoflowering cannabis strains is their height. This can be a pro or con depending on how you look at it.
In general, cannabis plants can mature to sizes of 13ft or higher. Autoflowering strains, however, are more compact and typically grow to a height of around 2ft.
The shorter stature of the mature plants can be a plus for home growers and small-batch growers. A more discreet size is perfect for growing on your balcony at home or keeping plants hidden from nosy neighbours. Craft growers might also benefit from the smaller plants when less space is available.
Potency Benefits
Cannabis ruderalis genetics tend to boast higher levels of CBD content.
The benefit of this high cannabinoid content extends beyond the sought-after head-clearing effects for consumers. While CBD is an important factor in many medicinal cannabis products, the majority of consumers enjoy a balance between the psychoactive effects of THC and the therapeutic benefits of CBD.
Higher levels of CBD in autoflowering strains have allowed growers and breeders to infuse genetic materials with other strains to make some of the balanced THC to CBD strains we know and love.
Here are a few well-balanced strains worth trying…
Craft Series LSO Mint Chocolate Chip

– A balance of sativa and indica cannabis strains, this flower gives consumers a balanced feeling of euphoric highs and feelings of calm relaxation, perfect for addressing chronic pain and stress.

Albatross OG Kush x Afghani

– An indica-dominant hybrid, this flower comes with floral undertones for a blend of euphoric uplifting effects combined with a calming sense of relaxation great for dealing with depression and nausea.

The Downside of Autoflower Cannabis Strains
In addition to the benefits of growing with autoflowering cannabis strains, new growers should be wary of the downfalls of these genetically efficient, faster plants. 
While the convenience of a quicker growth period and quicker harvesting is tempting for many growers, the rapid life cycle of autoflowering cannabis plants can leave less time for correcting mistakes of cultivation, soil nutrient levels, and lighting. 
Here are some of the cons associated with autoflowering cannabis plant strains.
Lighting Costs
Despite being less work to change lighting cycles, autoflowering cannabis strains can require round-the-clock light exposure. 
Even though light does not trigger the flowering phase, extensive light exposure is still required for proper growth. Meaning that the power bills can climb quickly. Especially for commercial and large-scale growers, lighting and energy costs can be one of the biggest expenses in the cannabis business.
Lower Quantity
With a shorter lifespan comes less time to produce valuable buds.
Unlike larger-sized cannabis plants of the photoperiod subspecies, autoflowering strains yield a smaller harvest. With their sped-up life cycles, the smaller plants simply won't produce as much quantity as other bud types.
In addition to their shorter height, autoflowering cannabis plants will also produce fewer buds per plant – resulting in less product.
Lower Potency
While the CBD levels of autoflower cannabis plants are known to be higher, cultivators are sometimes put off by the lower THC content in these fast-growing strains.
It's a fact that the traditional genetic makeup of autoflowering seeds yielded a lower content of THC in its naturally produced cannabinoids. These days, however, genetic breeding of hybrid strains has allowed growers to find a happy balance with THC and CBD levels in their chosen plants.
Autoflower Cannabis Advice
Growers choosing to plant autoflowering cannabis have to remember that despite the faster cycle and benefits of time and care, there are certain things required to get the most out of these genetically undemanding strains.
Here are some tips and advice for handling and optimizing autoflowering cannabis plants.
Cut with care.

Because of the faster life cycle rate, cutting too deep during harvest can damage the plant without time to repair itself before the next cycle. Unfortunately, this can result in the end of the particular plant's life altogether.

Don't be cheap on lighting.

Some growers will give their autoflowering plants the bare minimum in terms of light with 12 hours on and 12 hours off. While this light exposure length will be enough to let buds grow, 18 hours or more with less time off is the optimal amount for cannabis plant light exposure for indoor growing.

Strain choice.

There are a variety of autoflowering cannabis strains to choose from. Decide on the type of product you hope to yield and

make the right choice of strain

based on your purpose, goals, and experience level.

Show them the love.

Sure, autoflowering strains are less demanding than other types, but that doesn't mean you can plant them and abandon the process. The genetic growth process may be automatic, but the planting, soil maintenance, watering, cultivation, cutting, and harvesting still requires your devoted attention on a daily basis.
Final Thoughts on the Pros and Cons Of Autoflower Cannabis Strains
For commercial growers who have the time and expertise to experiment with various growth cycle lengths, opting for autoflowering cannabis plants can be a fun and economical way to yield faster harvests. Small batch growers and craft cannabis companies, however, may not benefit given the minimal harvest, higher risk of failure, and less time to correct major mistakes.
Whether you choose to go the faster route or take your time with larger strains that require a little more maintenance, take a moment to consider both the pros and cons of autoflower cannabis seeds, growing, and harvesting.
In Need Of Seeds For Your Home Grow? – We've got you covered!
Exotic Genetix proudly sells the highest quality cannabis seeds available on the market. These strains have been developed over years of breeding, testing, and stud. We are confident that you will not find a better product elsewhere. Whether you are looking for regular or feminized cannabis seeds, we have something to offer everyone. Place your order today and experience the excellence of Exotic Genetix!