Table of Contents
Which is better? wet trimming or dry trimming? It depends on who you're talking to! 
Mass-producing commercial growers will likely take to wet trimming methods since they'll have less space to hang every plant to dry. Artisanal or Craft growers might have a smaller crop and, therefore, the ability to go for dry trimming.
Of course, it's not as cut and dry as it sounds. Let's finally settle the debate on which trimming style is better. 
What's the Difference Between Wet Trim and Dry Trim?
Let's dig in by covering the difference between wet and dry trim cannabis. As the term suggests, wet versus dry trim has to do with how the cannabis flower is cut and trimmed from the plant.
Cannabis Trimming refers to the process of removing sugar leaves from the buds. The process takes place after harvesting, and whichever way you spin it, trimming is a lot of work! It's necessary, however, for preparing the crop for consumable products sold in shops and dispensaries.
Depending on the method (and skilled hand) used, trimming of the leaves can affect the potency, aroma, and flavour profile intensity of the end product.
Wet Trimming
Wet trimming means cutting the plant, followed by immediately trimming fan leaves and harvesting buds. In this case, the process is done while the plant is

fresh from the moist soil

– or "wet". The trimmings are then allowed to dry.
VS
Dry Trimming
Alternatively, some growers and cannabis harvesters swear by the dry trimming method. In this flower-cutting scenario, the plant is cut and then immediately given time to fully dry or reach an ideal moisture level. Growers wait until the moisture content is to their liking before manicuring the flowers and buds.
Is Wet or Dry Trim Better?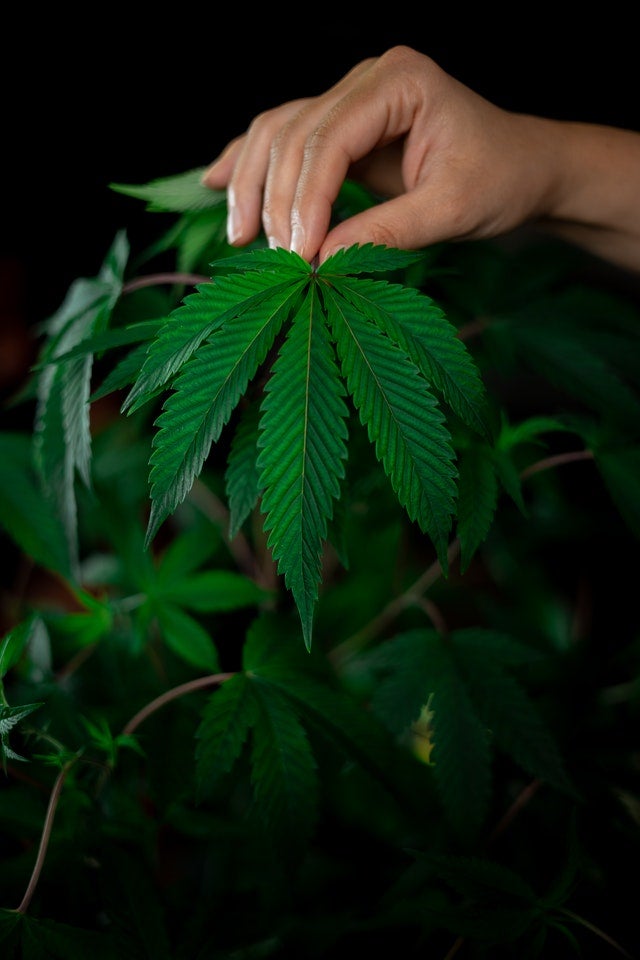 The ongoing debate between growers, cannabis retailers, and consumers is whether wet or dry trim is the better option. And there are some excellent points for both sides! 
Choosing between wet trim versus dry trim cannabis comes down to two key factors. Consider these points, and you'll likely know whether to go with the wet or dry method:
What will the cannabis flower be used for?

What amount of cannabis is being yielded or harvested?
The choice between wet and dry trim also comes down to personal preference. To help settle the debate, here are some pros and cons for both wet trim cannabis and dry trim cannabis.
Wet Trim Cannabis – Pros
The benefits of wet trimming cannabis are as plentiful as the preserved trichomes its saves! This style of cannabis trimming is the preferred method of many producers and growers. Here's why:
When leaves are trimmed immediately, they dry faster, leaving less time for mold to form on the stalk of the plant or the flower. Mold can be a serious concern for growers working in humid climates, as even a hint of its presence makes the crop unusable.
Wet trimming is also faster – and as any entrepreneur knows, saving time is essential. Time-saving is especially prudent for farmers and growers who often work around the clock to protect and optimize their crops.
When square footage is an issue for growers, wet trimming becomes the best method. Wet trimming takes up less space since plants go directly from soil to the trimming stage without the need for dry hanging.
And don't rag on bag appeal! In addition, wet trimming has more aesthetically pleasing effects. Buds will look puffier and more appealing, which is particularly important for commercial growers. 
Wet Trim Cannabis – Cons
Besides the many benefits of the wet trimming method, there are some downsides to be aware of.
Time is usually of the essence when growing cannabis, and you can expect more work upfront when trimming wet. If you're someone who likes having things one and done, then wet trimming is the way to go. Just expect to put in the work!
Because plants are being trimmed directly after harvesting, the moist material of the leaves can create a mess and wear down tools like trimmers and scissors. These specialized pieces of equipment, such as a wet cannabis trimming machine, can be an expensive investment and even more costly to replace.
Dry Trim Cannabis – Pros
Of course, the benefits of dry trimming cannabis are also worth a second look. When using the dry trimming method, growers can cut plants and leave them to dry. In contrast to wet trimming, it's less work all at once.
Besides the work involved, the biggest benefit of dry trimming cannabis is the resulting quality of the buds and product. Dry trimming is a slower process, which allows time for the terpenes to remain preserved. A higher terpene content means a more exciting and quality experience for consumers!
Another plus is that since the drying process hardens trichomes on the plants, there's less of a mess to clean up and trimming equipment takes less of a hit.
Dry Trim Cannabis – Cons
There are a few reasons that dry trimming isn't right for every grower – especially those working with a higher quantity in commercial production. 
Dry trimming requires a gentle hand. Harvesters have to be careful while handling the dried plant and leaves as the trichomes – once sticky – are now dry and brittle and can easily be lost in the trimming.
Growers opting for the dry trimming method are likely to invest in a dry batch tumble trimmer to gently trim plants without losing the precious and delicate trichomes.
Harvesters also have to be extra careful NOT to put the wet branches down (which is why they are hung to dry) as they can lose their shape and aesthetic appeal.
As mentioned earlier, dry trimming also takes up more space than wet trimming since you need plenty of hanging area to leave the plants to dry over the course of 1-3 weeks.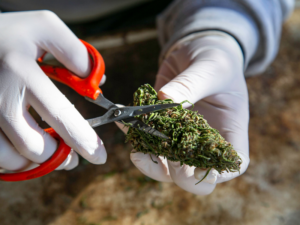 Options for Cannabis Trimming Scissors
In addition to choosing between the wet and dry methods, growers also decide whether they want to trim by hand or with a cannabis trimming machine. Using an automated trimming machine maybe produce more usable buds – but also leaves a lot of leftover unused material. 
Many craft cannabis growers are choosing cannabis hand trimming scissors.
But which scissors are the best for trimming cannabis? A few brands such as Fiskars, Gonixx, Happy Hydro, and Hydrofarm have quality trimming scissors and shears made specifically for cannabis trimming.
The delicate art of preserving the trichomes and bud shape isn't something you want to do with regular kitchen scissors!
Dry or Wet Trimming for Home Grown?
For consumers growing their own plants at home, the dry trimming method is worth trying.
Since you likely only have a couple of plants in your personal consumption garden, making space for the drying time won't be an issue. As opposed to commercial growers dealing with thousands of plants and leaves daily, home-based growers have the time to spend on each plant to ensure they're getting the whole, high-quality experience they deserve.
Is Wet or Dry Trimming Better for Commercial Growing?
For growers working in commercial formats, dry trimming can be a time-consuming hassle. Commercial growers are often paid by the weight of harvested crops, after all. Producing mass amounts of cannabis doesn't leave much time for the trimming process.
Because of this, commercial growers are likely to go for wet trimming to save on time and space.
That's not to say you won't find dedicated commercial growers who make the time for drying to help better preserve trichomes and produce better overall quality cannabis products for their buyers and consumers.
Final Thoughts on Wet or Dry Trim for Cannabis
As a consumer, you likely won't know which trimming method was used for the products you chose. But you WILL notice the difference in quality put into the plants harvested, trimmed, and prepared with that extra bit of attention and care.
When all of the pros and cons of dry trimming versus wet trimming are weighed – one method comes in as the clear winner. Dry trimming produces better cannabis products for consumers. When considering the experience, aesthetics, potency, aroma, and flavour profile of the cultivated buds. Taking the time to dry and trim the leaves with care will allow the flower to reach its full potential and consumers to get the most out of the experience.
Sure, it's a little extra work, time, and space – but we definitely think it's worth it!
Kootenay Botanicals offers a range of high-quality cannabis flower products to try at any time. Their flower mixer package even lets you mix and match different buds to try a variety and find your perfect fit.
Sources:
HydroBuilder – Wet vs Dry Trim
GreenBros – Wet Trim vs Dry Trim Complete Guide to Trimming
WayofLeaf – What are the best Scissors for Marijana
TheTrimmerStore – https://www.thetrimmerstore.com/wet-trim-vs-dry-trim/#:~:text=Wet%20trimming%20is%20when%20the,all%2C%20before%20you%20begin%20trimming.