Hash or hashish is a type of cannabis concentrate that contains a very high amount of THC. The THC level of this potent cannabis concentrate can range anywhere from 40% to as high as 80%, compared to cannabis flowers that generally has about 10% to 20% of THC.
Because of its high THC levels, care should be taken when consuming hash. A small quantity can already trigger psychoactive effects in a relatively shorter period of time. So for beginners to cannabis, hash may not be the best choice to start with but if you are experienced, here are the different types of Hash that we have available today.
But what is hash and how do you use it? Is smoking hash as good as smoking weed, or does it produce a more potent high? More importantly, how do you choose a good hash?
Where Did Hash Originate?
The exact origin of hash or hashish is unknown, and there's no clear evidence that pinpoints its first appearance. But hashish has long been used since ancient times.
Some historians believe that hashish first made its appearance at about 900 AD, several years after people began using cannabis for its fibers and medicinal effects. The use of hashish then spread in the Arab regions, with some people even eating it. This is how the famous Afghani hash became to be.
Hashish was brought to Europe only in the 1800s when Napoleon's army encountered the drug during their time in Egypt. From there, the popularity of hashish spread to other countries.
Despite its highly psychedelic effects though, hashish became known as a medicine. By the 1900s, it was at its peak in popularity.
But when the 1930s rolled in, cannabis and all its forms began losing support, ultimately leading to its prohibition. The prohibition then led to the worldwide illegalization of cannabis. Of course, those tides are changing now, especially here in Canada.
How Is Hash Used Culturally Around The World?
Traditions, practices, customs, as well as historical political differences have led to a culturally diverse way of using cannabis, including hash. In India and Jamaica, for example, hash is commonly used as a spiritual and religious tool to communicate with the gods. It's also been used in many ceremonies, rituals, and healing practices, especially in China and Africa.
But in the Netherlands and other western countries, cannabis is more commonly used as a recreational drug, a way to have fun and relax. Some also use cannabis to boost their creativity and as a source for their inspiration.
Today, hash is, once again, becoming popular as a medicine both practically and recreationally.
How Do You Smoke Hash?
Hash is pretty potent. With its high THC content, it's best that you only use hash in small amounts.
Hash can be smoked in a variety of ways. You can add a small amount to your joint. Break it into smaller pieces and distribute evenly when you're rolling your joint.
You can also smoke a small amount of hash in a pipe or a bong. You can smoke it as it is, or you can even add some ground weed.
Another way to smoke hash is by using a dab rig. Simply apply hash on the heated nail, and the heat will vaporize the hash, which you will then inhale.
Or better yet why not go old-school and use a hookah? Roll a small amount of hash into a little ball, place it on your hookah, and cover. Place some heated charcoal on top of the cover and inhale the smoke through the tube.
There are several ways to smoke hash. But if you want a satisfying experience, always start with a small dose to avoid unwanted side effects.
What Are The Pros And Cons Of Hash?
Using hash has its own pros and cons.
Because of its high cannabinoid content, you can already benefit from its stronger effects with just a little amount. This allows you to save some money as well since one brick can already last a long time. Hash is also pretty versatile. You can smoke it, and you can even add it to your dish.
However, hash is a bit more expensive than flowers, oils, tinctures, and vape oils. Buying premium-grade hash can cost you a pretty penny. Additionally, hash is not meant for everyone, especially beginners. You need to have some experience first before trying this potent type of cannabis concentrate.
What Are The Different Types Of Hash?
There are different types of hash – from hand-rubbed hash to store-bought hash. These are all cannabis concentrates with potent THC content, but they differ in the way they're made.
First, Is Kief A Hash?
Before getting into the different types of hash, let's first understand what kief is. It is, after all, what's extracted to make hash.
Look closely at a cannabis flower and you'll see these minuscule resin glands covering them. Called kief (also sometimes called pollen), they look like frosty, silvery-white mushrooms with a bulbous tip.
Now, these resin glands contain all the richness of cannabis. It houses the most concentration of the plant's cannabinoid and terpene content. These resin glands or kief are what's taken from the buds and compressed to form hash.
You can collect kief by hand. Simply put clean gloves on and gently but firmly rub up and down the buds. The sticky resin glands will stick to the gloves, which you can then scrape off using a spoon. You can also rub your hands together. The resin glands will form little clusters which you can roll into a small ball and press into a block.
Dry Sift Hash
Dry sift hash is the most popular, easiest, and oldest method of extracting kief.
This process involves rubbing properly dried and cured cannabis flowers against a mesh screen. The kief separates from the plant material and falls through the mesh screen where a clean tray collects them. It usually takes several rounds of rubbing, shaking, and grounding the plant against the mesh screen to thoroughly separate all the kief powder.
Once done, scrape the kief powder from the tray and compress tightly together until you form a hash brick.
Of note, you can also use different-sized mesh screens and sift in stages. This way, you get to harvest even the finest kief powder.
Ice Water (Bubble) Hash
Another way of harvesting kief is the ice water or bubble hash method.
For this process, you need different-sized micron bags placed in ascending order, from the lowest micron bag to the highest micron bag on top. You'll also need two buckets; clean, cold water; lots of ice; stirring rod; and parchment paper.
Place the cannabis flowers inside the top bag and pour in the ice and cold water. The low temperature freezes the resin glands and allows them to easily separate from the rest of the plant materials. Make sure that the ice and cold water cover all the cannabis flowers.
Then, stir the mixture, agitating it so the resin glands break away from the flowers. The resin glands will fall through the micron bags, leaving the plant materials behind.
The first layer of bag collects low to medium-quality kief, while the last bag collects the finest, cannabinoid-rich kief. Scrape them from the bags using a clean spatula and place them separately on the parchment paper to dry. Once dry, press firmly to form small bricks.
What Are The Best Hash Products In The Market?
If you don't have the time to make your own hash, then you can simply buy premium-grade hash from our online cannabis shop. Some of the best hash that you can buy are:
Made from potent Afghani Indica, this offers powerful relaxing and euphoric effects and is perfect for those who suffer from insomnia, chronic pain, and anxiety problems.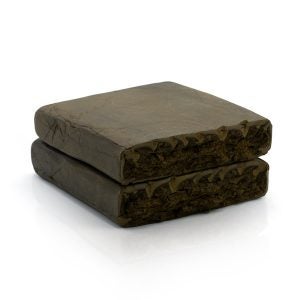 This hash is made from OG Kush, a strain made from crossing Hindu Kush and Chemdawg. Effects include a potent body high from its Indica roots and pleasant energizing effects from its Sativa lineage.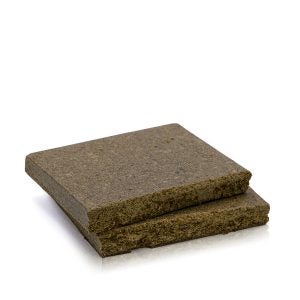 This cannabis concentrate is made from the Moroccan strain, a powerful Indica. It produces a potent physical high that can induce deep relaxation and calming sleep.

What Are The Side Effects Of Hashish And Marijuana?
Hash, because it's a concentrated form of cannabis, produces the same side effects similar to marijuana. Both can cause dry eyes and dry mouth sensations, and both can also trigger motor incoordination, sensory distortions, increased appetite, anxiety, paranoia, and other psychoactive effects.
When it comes to the high, hash, without a doubt, is stronger than weed simply because it has a higher level of THC. So expect potent mental and physical high even on just a small quantity of hash.
Hash, in general, produces stronger effects compared to the plant it came from. It is, after all, made from pure resin glands that contain the majority of the plant's cannabinoids and terpenes.
This is why it's important to use only a small and reasonable amount of hash. It prevents unwanted side effects and makes the experience more pleasurable.
What Are The Things To Look For When Shopping For Hash?
Not all hash products are created equal, so you have to be careful when buying one. Below are some tips for choosing a good hash.
Colour
The colour of hash varies and ranges from light brown to very dark brown that it almost appears black. When you break it open, the colour appears lighter on the inside.
When we choose a good hash, we look for hash that's uniform in colour and avoid those that have a strong greenish tinge. Greenish hash means that it contains some plant material and is of poor quality.
If you see some white fluffy areas on the hash, we don't buy it. This could mean a mold infestation, a sign that the hash hasn't been dried and cured properly.
Consistency And Texture
Another factor to consider when we purchase from our supplies is consistency and texture.
Pressed-dry hash has a soft and sandy texture. Since it's been lightly pressed to get rid of excess water, the hash also appears a bit crumbly.
Heavily-pressed hash, on the other hand, appears very compact and hard with a glossy appearance. The brick-like hash also appears darker in colour, compared to pressed-dry hash. It also feels oilier and a bit sticky.
We avoid putting hash in our marketplace that's very sticky to touch. It's a telltale sign that oil has been added to the hash to add more weight to it.
Taste
Hash has a rather strong woody, piney, and earthy flavour. Depending on the strain used to make the hash, it will also have some of the flower's unique flavours.
What you need to avoid though is hash that tastes a bit rubbery or plasticky. This means that plastic has leached into the hash and may have contaminated the product.
If you notice that the hash also tastes too metallic and a bit like wet dirt, don't smoke it. It means that the hash has gone mouldy, and smoking it could lead to serious health problems.
Do The Bubble Test
We also check the hashish quality by doing the "bubble test." Premium-grade hash easily catches fire when you apply flame to it. It also bubbles and burns evenly with a clean flame.
However, if the hash took some time to catch fire and left behind black soot, then this means that the hash was poorly made and may contain contaminants like plant materials and oils.
Hash that bubbles too quickly can mean it contains additional oil for added weight. Hash that doesn't bubble, on the other hand, means that it contains residual plant matter.
Those are the important factors we inspect before placing anything in our store.
Final Thoughts – Where To Find The Best Hash?
Hash has a long history that dates back to ancient times. It played important roles in people's history and culture, especially when it comes to religion, health, and arts. Hash may have lost its value during the prohibition, but our society's changing view on cannabis is helping hash make a big comeback.
Today, hash is once again enjoyed by many not only for its recreational aspect but for its health benefits as well.
Our store carries several types of hash from around the world and also hash produced locally within Canada, like our BC Afghani Hash.
So if you're itching to get your hands on one of our premium-grade hash, then visit our shop and browse through our collection of the best hash in Canada online.
You also get to enjoy great discounts when you order from us too, so place your order today!