Shatter is one of the most popular cannabis extracts for smokers that enjoy a potent high. Whether you're a novice cannabis user or an experienced smoker, learning more about shatter can help you decide if it's a suitable cannabis product for you and your friends.
In this guide, we'll be taking a closer look at shatter, how to make shatter at home, how to use it, and where you can buy this popular concentrate.
What is Shatter?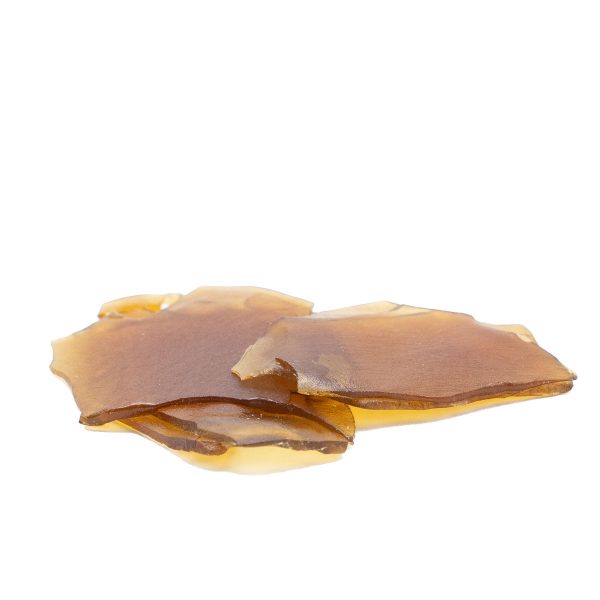 Shatter is a popular cannabis concentrate that is increasingly common throughout North America. While the appearance of shatter can vary, it typically resembles an amber-like glass. Producers usually make shatter in large sheets – it's then broken up into smaller pieces before it's sold and smoked.
As with other concentrates, the primary allure of shatter is its THC concentration. Some shatter has a concentration of over 90%, which makes it one of the most potent cannabis products on the market. For this reason, it's extremely popular with experienced smokers.
Considering that traditional cannabis contains 2-10% of THC concentration, shatter is undoubtedly more potent.  Shatter can be used in a variety of ways. Whether you enjoy smoking joints, or you're someone that uses a vape pen, you'll be able to enjoy the benefits of shatter.
One of the most popular ways to use 'shatter' is to dab it. While you will need a dab rig to dab shatter, it's one of the most effective ways to get a potent high. By heating the dab nail with a blow torch, you can create the perfect conditions to vaporize shatter and inhale a high concentration of THC.
It's important to note that using a large amount of shatter is not advisable for new smokers. If you don't have experience using concentrates, it's best to start slowly. This type of concentrate can provide a much more potent high than traditional cannabis buds, which can be overwhelming for new users.
How to Make Shatter
If you like the sound of a potent cannabis concentrate, you may be interested in making shatter. So, how is shatter made? The process will vary depending on your resources. In this guide, we'll be looking at the simplest way to make shatter at home.
For this shatter production method, you'll need the following materials:
Parchment Paper
Grinder or Silkscreen
Electric Hair Straightener
Making Shatter: Step By Step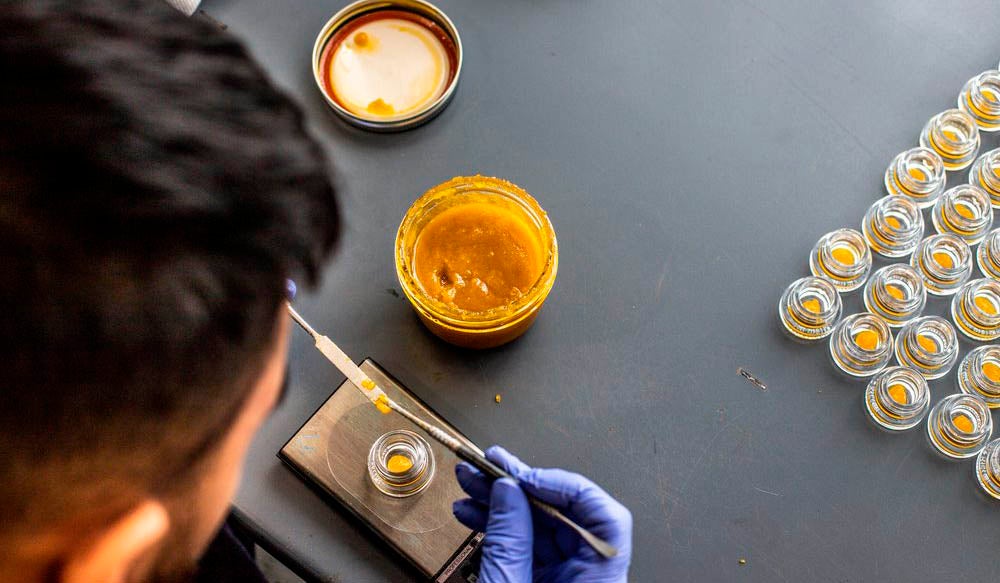 1. Make Kief
The first step in the shatter production process is sourcing kief. Kief comes from the trichomes on the outside of the cannabis flower (bud). If you have a three-chamber grinder, kief will naturally collect in the bottom chamber as you grind weed.
If you don't have a three-chamber grinder or you don't have time to collect kief using your grinder, purchase a silkscreen instead. Hold the silkscreen over an even surface and rub cannabis on top of it. Over the next 5-10 minutes, kief should fall through the silkscreen and collect on the surface below.
2. Package Kief in Parchment Paper
Lay your parchment paper on an even surface and pour kief on top of it. Now it's time to fold the parchment paper around the kief in squares. Make sure that the kief is at the center of the parchment paper.
The result should be a flat, square parchment paper package of kief.
3. Preheat Your Hair Straightener
Plug your hair straightener into an electricity source, turn it on, and allow it to heat for a couple of minutes.
4. Use the Straightener to Heat the Kief
Once your straightener is hot, it's time to take the parchment paper square and heat it using the straightener. Make sure the straightener is clamped across the entire surface area of the parchment paper.
To make sure you're applying enough pressure, use a cloth or oven glove to push down on top of the straightener. You should continue applying pressure for at least 10 minutes. It's essential to avoid burning yourself during this stage – the straightener is extremely hot.
5. Remove Your Shatter
After ten minutes, carefully remove the parchment paper and unfold it. The amber-like substance inside of the parchment paper is shatter. Let it cool down and then remove it from the parchment paper if you're ready to smoke it.
If you're wondering how to make shatter with butane, the process is much more complicated. While using butane is appropriate at an industrial scale, the method outlined in our guide is more practical if you're trying to make shatter at home.
If you think this process sounds time-consuming, there are other options available. Shatter is available at a variety of dispensaries in Canada.
Shatter vs. Other Concentrates
If you're considering producing or purchasing shatter, it's essential to compare it to other concentrates available on the market. While shatter is certainly a popular option, you'll find that wax, distillate, hashish, and other concentrates are also widely used throughout Canada. Let's look at some others:
Distillate
A distillate is an odourless and tasteless oil produced by distilling cannabis. This substance is the purest form of THC or CBD isolate – you can sometimes find THC concentration levels above 95%. If you're looking to separate cannabinoids from one another entirely, a distillate is the better option.
The primary differences between distillate and shatter are appearance and purity. Distillate typically only has one cannabinoid (CBD, THC, etc.), while shatter can have terpenes and other by-products. A distillate is oil, while shatter is an amber-like material.
Hashish (Hash)
Hash is one of the most popular concentrates on the market, and it's also one of the easiest to make. Hash will sometimes naturally form on your hands if you handle or trim marijuana buds – as resin builds up on your fingers, you can rub them together to form a dark, oily substance. This substance is hashish.
While there are more industrious ways to make hash, most methods are fairly straightforward. The primary difference between shatter and hashish is the strength of the THC. Hash typically has a THC concentration of below 60%. Learn more about smoking hash here.
Wax
Wax is another popular concentrate with people who enjoy vaping and dabbing. Wax has a similar consistency to coconut oil, which makes it extremely malleable. The primary disadvantage associated with wax is that it's less stable than shatter – it won't last as long.
Making Shatter FAQ
At Kootenay Botanicals, we receive numerous questions about shatter, and other cannabis concentrates. Below, we've compiled a list of some of the most popular questions:
Q: Does Shatter Have a Taste?
A. The taste of shatter will vary depending on the method of production and the quality of the shatter. In some cases, shatter may taste like the solvent that was used during the production process. While this can be unpleasant, the taste of shatter isn't overwhelming.
Q: Shatter vs. Weed: What's the Difference?
A. While shatter is derived from weed, it's much more potent. While cannabis buds typically have a 2-10% THC concentration, shatter can have a concentration of over 90%. This means that smokers who use shatter will experience a much more intense high.
Aside from potency, the primary difference between shatter and weed is appearance. Shatter is a honey-colored, glass-like substance – and weed is simply the flower of a cannabis plant.
Q: Shatter vs. Budder: What's the Difference?
A. Shatter and budder are both concentrates. The primary difference between the two products is their appearance and texture. Budder is a waxy product, whereas shatter is much harder and smoother. Both offer high concentrations of THC.
Q: What is Shatter Drug?
A. Shatter drug is a term sometimes used by people to describe shatter. While shatter is considered to be a 'drug' in some circles, it is naturally derived from cannabis plants – it's also legal in Canada.
Q: Can You Eat Shatter?
A. While there's nothing wrong with eating shatter, in most cases, it won't get you high. If you want to experience the full effects of this concentrate, you'll need to 'decarb' it. Decarbing means that you'll have to heat it up or cook it into a butter or oil.
Where to Buy Shatter
While it's possible to make shatter at home, the process can be time-consuming. For cannabis users that want to enjoy the benefits of shatter without the hassle of producing it, there are plenty of places to buy shatter throughout Canada. In most cases, your local dispensary may have shatter available to walk-in customers.
There are also online weed delivery services that will provide shatter to customers throughout Canada. If you're looking for the best cheap shatter Canada has to offer, our online store at Kootenay Botanicals has everything you're looking for. We also stock a wide variety of smoking accessories and vapes.
If you're interested in learning more about shatter, cannabis concentrates, CBD, or any other cannabis-related product, make sure to check out the additional guides and articles on our blog. As one of Canada's most trusted sources of cannabis products, we're uniquely positioned to provide in-depth information on industry topics and trends.