Table of Contents
Marijuana is fast becoming one of the world's most popular drugs, driven by the legality of both production and consumption expanding at a remarkable rate. With this increased usage, it is no surprise that there has been an influx in cannabis products flooding the market – especially in Canada where recreational marijuana is now completely legal.
Blunts, joints, bongs, spliffs, dabs, vaporisers, (the list goes on) are all soaring in popularity as new people dip their toes into the world of weed.
But we get it, the majority of cannabis products require the inhalation of smoke, and this certainly is not for everyone. Weed candy and edibles are a great replacement for those who aren't willing to 'smoke trees' and offer the wonderful benefits of marijuana without the smoking process.
I'm sure that we are all aware that cannabis edibles exist, but many people's knowledge stops at brownies, when in fact, there is a whole world of cannabis-infused edibles waiting to be discovered!
In this article, we will focus on one form of edible that is booming in popularity, weed candy. Keep reading as we peel back the wrapper on cannabis candies.
What Is Weed Candy?
Weed candies are candy infused edibles with cannabis concentrates. These sweets can come in a wide variety of forms, ranging from gummies, cookies, chocolates, and even lollipops – all of which offer an incredibly tasty, smoke-free way to consume marijuana.
Marijuana candy is typically made with corn syrup and a cannabis extract or tincture, rich in both terpenes and cannabinoids from the chosen strain. This preserves its unique effects and allows for the creation of Sativa, Indica, and even Hybrid sweets.
What Varieties Are Available?
Candy Chocolate Bars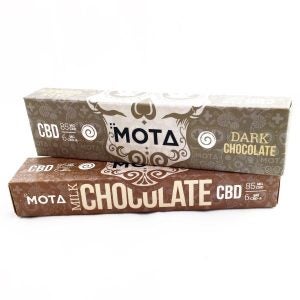 Let's face it, everybody loves chocolate, which is why cannabis chocolate is one of our most popular forms of weed candy. Enjoy the luscious taste of cocoa infused with your favourite cannabinoids to take your sweet tooth to the next level.
Be sure to try our ever-popular Mota THC Chocolate Bar – a delicious, organic candy combining cocoa with THC and CBD.
We also have a fantastic option for individuals who aren't looking for a psychoactive effect – our Mota CBD chocolate bar contains 85g of CBD with zero THC.
These varying treats accommodate all marijuana enthusiasts and provide a trip-filled snack for any situation, place, or occasion.
Candy Nerds & Dweebs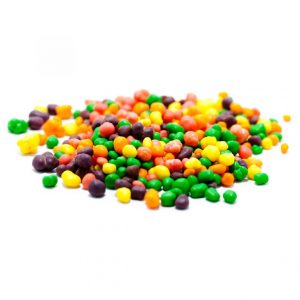 It's no secret that Nerds and Dweebs have been amongst the world's most popular candies since the 1980s, and what better way to improve them than to add cannabis into the mix?
Our classic and colourful Dweebs by Mota boast irresistible flavours to give you a kick of nostalgia and powerful THC.
These candies are superb for micro-dosing as you can start with a small amount and easily work your way up to reach the high of your desire.
Candy Cane Cookie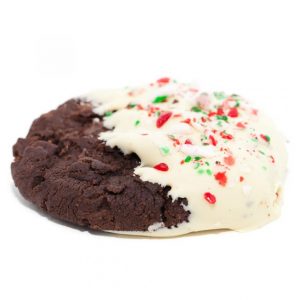 What better way to gear up for Christmas than to purchase some of our cannabis candy cane cookies? A delightful double chocolate chip cookie dipped in white chocolate and laced with colourful candy cane pieces – and of course loaded with cannabis!
These delicious edibles surely pack a punch, boasting 300mg of THC per cookie – portion it out or if you are a seasoned smoker enjoys the entire morsel.
Our cookies are a fantastic smoking alternative for treating insomnia, stress, anxiety, and pain. Sit back and relax and watch your symptoms melt away.
Lollipops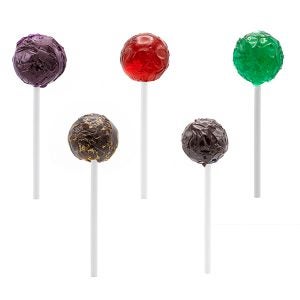 Our new medicated lollipops are handcrafted using high-quality full-spectrum shatter, guaranteeing an appropriate dosage and fantastic experience.
These tasty candies will certainly leave you with an enjoyable buzz and help any pain or stress disappear. With seven unique and delicious flavours available, we certainly have the product for you!
Jellies & Gummies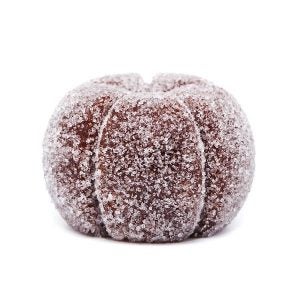 Perhaps the most popular of all weed candies is our vast range of jellies and gummies.
Gummies and jellies are fantastic cannabis products that allow users to easily control their personal dosage while getting that much-needed sugar kick. They are small, discreet, and come in almost every flavour imaginable – and even better, their potency can range from subtly low to insanely high to suit all users.
Here at Kootenay Botanicals, we have an impressive and fruity selection of cannabis jellies and gummies that are sure to satisfy your sugar cravings – and of course your ganja craving!
With products ranging from CBD fruit jellies to our THC Jelly Sphere, we are guaranteed to stock a product for everyone.
Candy Packs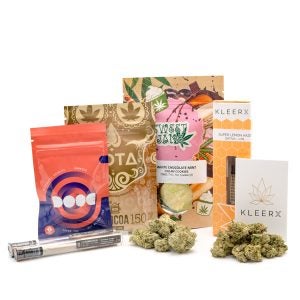 Here at Kootenay Botanicals, we love holiday-themed goodies. Two of our absolute favourites are the extremely popular Christmas Tree Pack & Halloween Pack.
The Christmas pack is a predetermined mix of our staff's favourite products to get you in the holiday spirit and wach bundle contains:
2 x 7g Flower
Sweet Jane – White Chocolate
Mint Cream Cookies
Mota – Canna Cocoa
KleerX Shatter – Pineapple Express
2 x Flowerpwr PRCs
KleerX Distillate – Super Lemon Haze
Dose – Gummies
Who doesn't love eating copious amounts of candy at Christmas? Now you can enjoy cannabis-infused candy to keep your Christmas cheer at an all-time high (pun intended). A perfect stocking filler for marijuana enthusiasts or enjoy it yourself as a personal gift!
How Long Until Weed Candy Kicks In?
Weed candy and other edibles take effect much slower than sparking up a joint. Typically, they can take anywhere between 30 minutes to two hours to begin taking effect. This time can vary depending on certain factors, such as potency and whether you have a full or empty stomach.
Why do edibles take longer? It's due to the way the THC is metabolised. When you inhale cannabis smoke or vapour, all the active compounds go into the lungs where they are rapidly absorbed into the bloodstream and carried to the brain.
However, when you eat cannabis products, the cannabinoids are digested and absorbed through the intestines, where they are then carried to the liver before entering your bloodstream.
Who Benefits the Most from Weed Candies?
Let's start off by saying that cannabis-infused candy is amazing for everyone (of an appropriate age), but there are certain individuals who can find great relief in these wonderful products.
People who have either acute or chronic medical conditions such as pain, insomnia, inflammation, nausea, autoimmune illnesses, spasms, etc can find relief from symptoms, due to the way that edible marijuana is processed in the body.
Gastrointestinal diseases, like Chrohn's disease, can also be treated using cannabis candies and edibles. Weed candies can provide excellent relief for these conditions as the cannabinoids are absorbed directly to the area of discomfort.
Pros and Cons of Cannabis Candies
Weed candy exhibits both pros and cons that all users should be aware of before consuming any of these products.
Pros
Duration – The high felt from edibles lasts much longer than smoking – anywhere between 2 to 12 hours!
Intensity – The high can be more intense due to the way the body absorbs the cannabinoids.
Discreet – Edibles are a tasty and discreet way to consume cannabis – no smoke or lingering smell produced.
Variety – There is an abundance of cannabis candies to accommodate every user, from chocolate to gummies, to lollipops.
Cons
Onset – Edibles take longer to kick in.
Dosage – It can be difficult to regulate an appropriate dosage and if too much THC is consumed it may cause paranoia, anxiety, or nausea.
Mix-ups – Weed candies can easily be mistaken for normal sweets – Make sure to keep your gummies hidden and out of the reach of children!
Why Choose Cannabis Candies
Weed candies are rapidly growing in popularity and for good reason. They are an excellent way to consume cannabis without the need to inhale smoke, which is beneficial to the health of both the lungs and throat.
Furthermore, the effects felt from consuming candies are more intense and last a lot longer which can be great for individuals with chronic pain or other ailments. Eating one small piece of candy can provide relief for hours on end and deliver a much stronger and intense body high.
A Great Alternative to Smoking
As previously mentioned, weed candies are a fantastic alternative to smoking marijuana. This can work wonders for individuals who cannot smoke due to health concerns, or simply just don't want to be smoking regularly.
Canna-candies are also much more discreet than smoking a joint, there's no smoke, smell, coughing fits, or angry neighbours – you can get high wherever and whenever you see fit.
And let's not forget the fantastic taste – you'll certainly struggle to find a weed strain as fruity as our range of weed gummies!
Where to Start?
For marijuana enthusiasts who have never tried cannabis candies or edibles before, we suggest you start diving into our high-quality selection of cannabis candies. If you enjoy the taste and effect, feel free to start experimenting with all our wonderful forms of candies and find out which is your personal favourite.
As with any cannabis product, weed candies are all about enjoying the ride – so sit back, relax, and let the wave of euphoria wash over both your mind and body.
Before Diving In…
It is always important to remember that cannabis is a drug and must be treated with certain precautions, especially edibles as dosage control can become difficult. Ingesting too much THC can lead to anxiety, paranoia, and even nausea – so take care.
Do not be fooled by the long onset time of the high, don't take more edibles just because you are not feeling effects right away, it can take a few hours to finally kick in.
If you feel like you have consumed too much and can feel paranoia starting to kick in, try to stay calm and find a nice spot to relax to wait it out. There is absolutely no danger of overdosing or harming yourself, just know the effects will pass eventually!
Conclusion
Since recreational marijuana has become legal in Canada, the weed candy market is growing exponentially. The range and quality of available in our store is constantly expanding and improving, and you'll be pushed to find a product that you don't enjoy.
Weed candies are a brilliant and scrumptious alternative to smoking that leaves no trace – only your high! Users can easily consume them while out and about (perhaps with Sativa strains) or in the comfort of their own home (with a couch locking Indica).
At Kootenay Botanicals, we sell high-quality cannabis products and stock an extensive range of weed candies of varying potency. Feel free to browse our weed candy selection and you will certainly find a candy to satisfy your cravings!