We love our pets, and we know you do too, which is why we are introducing CBD for pets.
Animals have an endocannabinoid system, this allows them to experience the same benefits from CBD as humans. CBD for pets is recommended for arthritis, anxiety, cancer, poor appetite, and inflammation. Introducing your pet to CBD tinctures can improve the quality of life for your loved pet. A growing number of veterinarians believe that CBD products are useful in treating a wide range of ailments that affect numerous animals, primarily cats and dogs. Thanks to Dr. Greg Richter, a veterinarian based out of California and Dr. Rob Silver, a holistic veterinarian and pet herbalist, more people are becoming aware of the benefits of CBD for pets.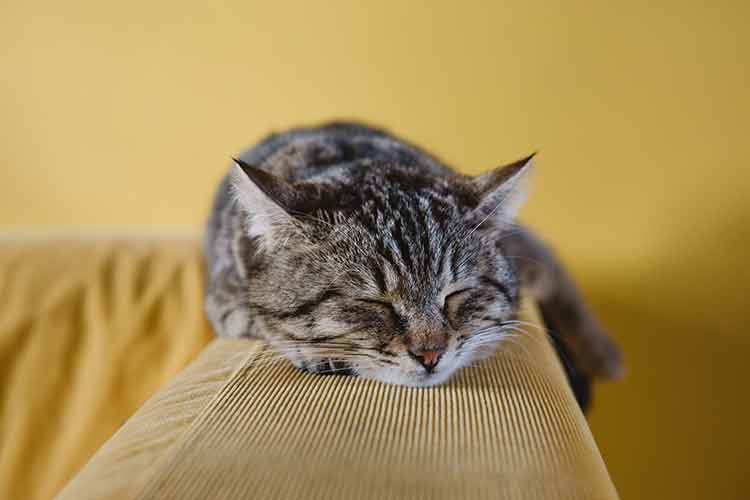 Before purchasing, please understand that even though CBD is non-psychoactive, the use of tinctures should be carefully monitored. CBD in large doses can cause drowsiness and potentially lead to rare side-effects such as itchiness or mild vomiting; we recommend understanding the dose and speaking to a veterinarian before using with your pet. On all products, please be advised to always read the label and instructions thoroughly before administering.
Pet's can't puff, puff, pass, so here are a few of our top-selling pet products:
Animalitos CBD Dog Tincture: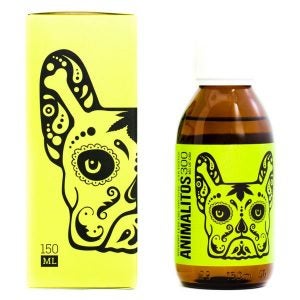 One of our top products for Dogs is our Animalitos CBD Dog Tincture. With 300mg CBD, and only three ingredients: MCT oil, Pacific Salmon Oil, CBD isolate. It is nice knowing what is inside the bottle. Designed explicitly for the relief of arthritic pain, anxiety, inflammatory issues and seizures. Tinctures are one of the most commonly suggested formats, because it is oil-based and has a set amount of cannabinoids, please note this product should not be mixed with water, as it is not water-soluble. Animalitos is a famous brand for a reason, which is why this is one of our top selling products.
Review from a happy customer:
"Our 11-year-old pup loves the product. Adopting an older dog was a big decision to take on, especially considering our dog has severe anxiety when left alone. Working 9-5 allows us to spend time with our pup in the mornings as well as in the evenings. While being left alone during the day, he used to rampage the apartment, leaving it a mess by the time we were home. We discovered Animalitos a few months back, and have been incorporating it as a daily ritual into our dog's life. By incorporating the Animalitos CBD Dog Tinctures into his routine, it has helped calm him down as well as leave our apartment in one piece."
Animalitos CBD Cat Tinctures: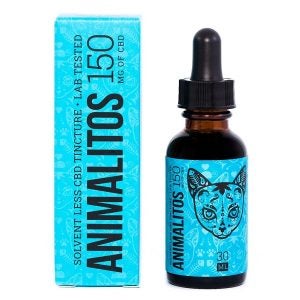 Animalitos does not only carry products for dogs, but they offer a feline version of their famous CBD tincture. Designed for fussy cats with trouble eating, tinctures are a hassle-free alternative to CBD food treats. Once again, there are three simple ingredients: MCT Oil, CBD isolate, and Wild Pacific Salmon Oil. As pet owners ourselves, we love the transparency Animalitos has with their products, with clear instructions on the packaging. It provides a sense of comfort knowing the product has been lab-tested, and based out of Canada.
With full instructions labeled, the product is easy to use and purposely designed with the health of your cat in mind. Dosage was developed based on cat size, explained thoroughly on the package. We rate this product amongst our top four, considering the honesty and transparency of the company. Once again it is a non-psychoactive tincture, primarily used for helping your feline companion cope with anxiety, arthritis, mild pain, and inflammation.
One pet owner wrote:
"My cat has chronic kidney disease (renal failure) + hyperthyroidism, and heart disease. She also experienced some irritable bowel syndrome. Being a senior lady of 20 years, I want to do anything in my power to make sure she is living happy & pain-free. My cat LOVES the taste of this, I used to add half a dropper to the top of her wet food, but now I just put the oil on a spoon and let her lap it up, so I'm sure she gets the proper daily dosage and doesn't get tossed out with her uneaten food. AMAZING PRODUCT I feel like this HELPS HER mood & conditions, and I WILL CONTINUE TO BUY THIS PRODUCT !!!".
Canna 9- Bully Bites: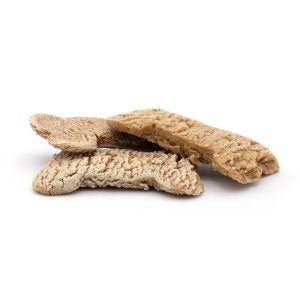 If tinctures are not the right product for you, we also carry CBD food treats for pets! We want to ensure nothing but the best for your pet, hence why we sell Canna-9 products. Canna-9 offers 100% fair trade organic, gluten, grain, and soy-free dog treats, irresistible for any pup! With solvent-free CBD infused into each dog treat, it leaves your pet feeling calm and relaxed. There is no THC, fillers or artificial flavoring found in these products, providing only the finest of ingredients for your pup. Bully Bites CBD treats are made for all shapes, sizes, and breeds of dogs. In addition to this, it is essential to understand that each dog has different dosage needs depending on their size, conditions, and other factors listed in the instructions.
We are proud to say we carry Canna- 9 Bully bites in three flavors: Turmeric & Pumpkin, Venison & Blueberries, and wild salmon.
Canna-9 Kitty Bites: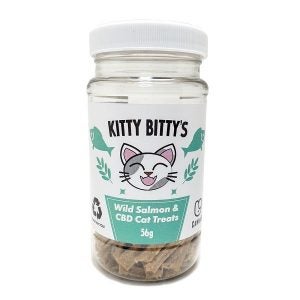 A happy kitty is one of the world's most rewarding feelings. Luckily for you and your cat, Canna-9 produces the top CBD products for pets. Canna-9 has come up with 100 fair trade organic cat treats. Indicated on the packaging is the dosage instructions, based on the different weight groups of cats. It contains no artificial colours, flavors, or preservatives. Not only is it free of additives, it also does not contain wheat or soy, making them gluten-free. There are many added benefits provided by CBD, providing your cat with a healthier lifestyle. Hemp plants are the primary source of CBD; hence, why this product does not cause any psychoactive effects to your cat. Through research, it has been discovered that this product is great for cats that suffer from separation anxiety, loss of appetite and joint pain.