For many years, we have been playing god when it comes to creating new weed strains. We crossbreed different strains and even backcross them to make more potent ones. By manipulating their genes, we have created a wide variety of new strains that showcase the best qualities of their parent strains.
While this gives us more to enjoy though, it also makes it more difficult for many beginners to choose a good strain – one that gives them the perfect high but won't make them too stoned.
This is where we, Kootenay Botanicals, come in.
We made this list of strains for you so you can choose the best weed in Vancouver and that's also produced within B.C.
First, A Beginner's Guide To Weeds In Vancouver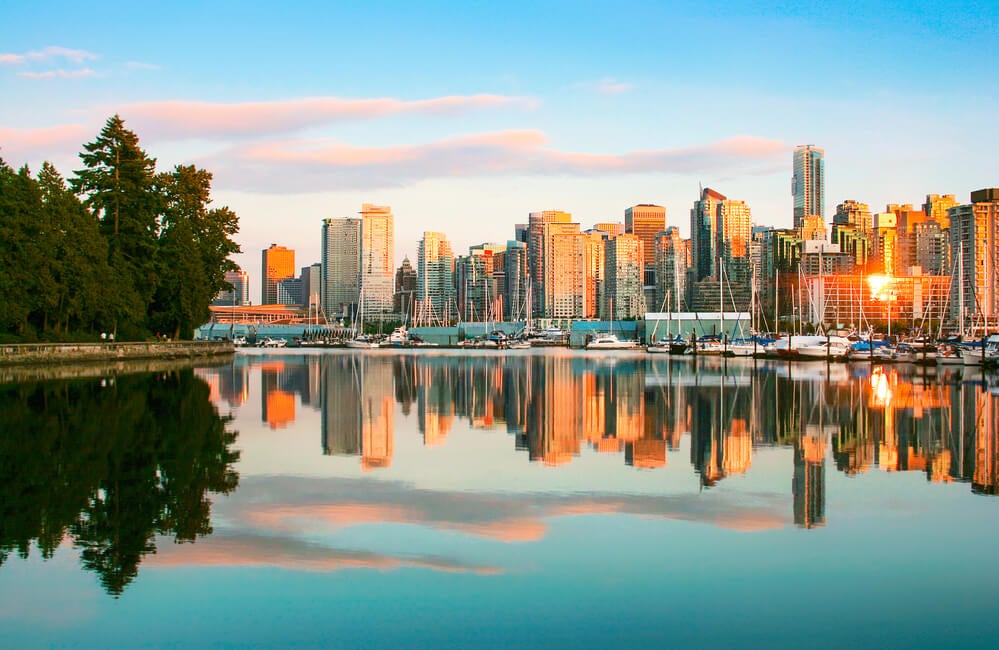 Recreational weed has been legal in Vancouver, British Columbia since October 2018. This allows residents of legal age (19 years and older) to consume, buy, and possess weed of up to 30 grams in public and 1,000 grams inside their own residences. Adults are also allowed to grow weed, but only up to four plants per household and provided that the plants aren't visible or available to the public.
You can smoke weed outside your residence, but it's suggested that you be six meters away from a window, a doorway, or an air intake. Smoking near children is strictly prohibited.
To be on the safe side though, don't smoke weed in these public places:
Indoor public places such as cafes and restaurants, unless the establishment has a designated room
Provincial and regional parks, skate parks, sports fields, playgrounds, and public areas where children commonly play and gather
School properties
Beaches
Vehicles and boats
Bus stops
Now that that's out of the way, let's go to helping you choose the best weed in Vancouver, Burnaby, and North Vancouver – and boy do we have a great selection for you!
What Are The Top Weed Stains In Vancouver, British Columbia?
What are some of the best cannabis strains in Vancouver right now? These strains. below were carefully chosen to give you the best experience in terms of flavour, aroma, and potency.
Punch Breath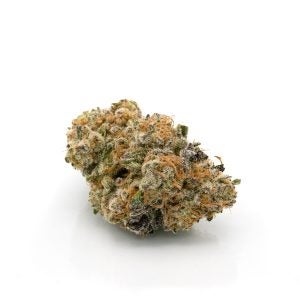 A cross between Purple Punch and Mendo Breath, Punch Breath is an organic, British Columbia grown, Indica-dominant Hybrid strain at 70% Indica and 30% Sativa with a THC level of about 20%. This strain is a favorite of many for its powerful punch that delivers an exhilarating mind and body high. The high comes on fast and strong, starting as a tingling sensation that spreads all over the body. The sensation soon gives way to deep bliss and relaxation.
You'll definitely love this strain not only for its effects but its sweet, fruity, tangy, and earthy aroma and flavours as well with tones of blueberry, grape, and nuts.
These strains also have medicinal properties and can help with pain, anxiety, stress, and depression. Some of the strains can also help with fatigue and insomnia since they're known to improve energy and promote sleep.
Hidden Pastry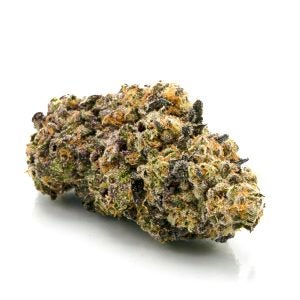 Here's one that you should definitely try – Hidden Pastry. This is an evenly-balanced Hybrid strain at 50% Sativa and 50% Indica with a THC level of about 17% to 19%. A cross between Kush Mints and Secret Cookies, this strain gives you a delectable mix of sugary sweet, creamy, and earthy flavour and aroma with hints of herbs, spices, and citrus fruits.
You'll also get a delicious whiff of cookies to boot!
Hidden Pastry is perfect for those who want a balanced mental and physical high. It delivers full-bodied effects that taper to deep relaxation and blissful euphoria.
Purple Silver Surfer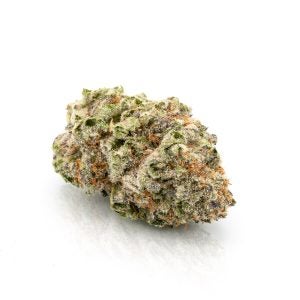 Another one of the evenly-balanced Hybrids, Purple Silver Surfer is a 50% Indica and 50% Sativa strain with a whopping 26% THC (definitely not for the faint of heart!). This was created by crossing two famous parent strains – Super Silver Haze and Blue Dream. The strain is organically grown in British Columbian soil as well.
You can bet that this strain possesses the best qualities of its parent strains – a slowly building mental high that explodes to blissful peace and euphoria and a physical high that leaves you feeling relaxed yet fully energized. But as the effects wear off though, its Indica roots will kick in and gently pull you back from your energized high.
Its flavours and aroma are equally tantalizing as well. You'll enjoy its earthy and woody aroma and flavour with hints of pine as well as sweet berry and citrus fruits.
Mandarin Cookies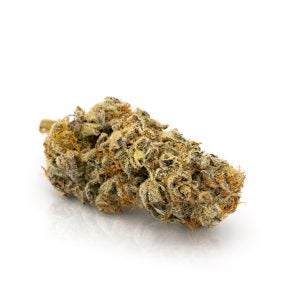 A rare Hybrid, Mandarin Cookies is a Sativa-dominant strain at 70% Sativa and 30% Indica. It's made by crossing Mandarin Sunset with Cookies and has a THC level that ranges between a low of 19% and a high of 26%. The reason why this strain is so rare is because of the time and effort it takes to produce in a certain British Columbian area.
One deep toke of this delicious strain immediately gives you a tingling euphoric and energizing high that sparks creativity. As the mental high spreads, its physical effects kick in, leaving you feeling calm and relaxed. Although it's not known to cause sedation, Mandarin Cookies will make you want to find a nice couch to curl up in for a light nap.
Mandarin Cookies gives you a citrusy and earthy aroma with trace hints of herbs. It tastes just as delicious as well with its juicy orange, herbs, and nutty almond flavours.
Do-Si-Pie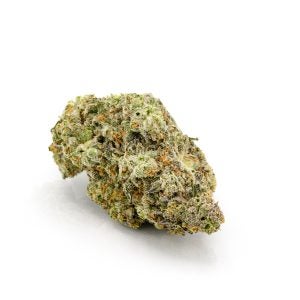 One of the most unique strains, Do-Si-Pie is an Indica-dominant Hybrid strain that's said to be 90% Indica and 10% Sativa. Do-Si-Pie was created by crossing Velvet Pie with Do-Si-Dos, creating a strain with a very interesting flavour and aroma of sweet, tangy, and buttery blackcurrant pie with robust traces of cedar, pine, and diesel. Laboratory tests showed that it has a THC level that plays between 22% and 28.5%.
Do-Si-Pie is a potent relaxant that washes away your pain, stress, and anxiety. At first toke, you'll feel euphoric, blissful, and even spacey. As its mental effects progress, its smooth body high will soon follow, putting you in a mellow state of soothing relaxation.
Strawberry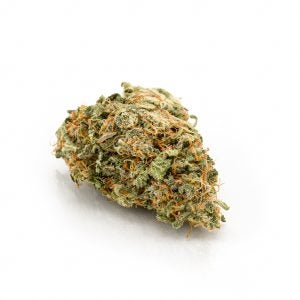 Strawberry is a strain shrouded in mystery. No one knows its exact genetics since its creators kept its true lineage a secret. But what is known about the Strawberry strain though is that it is an evenly-balanced Hybrid at 50% Sativa and 50% Indica with a THC value that ranges from 15% to 18%.
This strain has everything a sweet tooth will love – strong strawberry and grape aroma and sweet flavour with just enough spiciness and earthiness. You'll also get some traces of chemical flavour to it (a hint of one of its parent strains, perhaps?).
Upon inhalation, you'll immediately get a tingling head buzz that leaves you feeling uplifted, focused, and euphoric. Its body buzz will soon follow, enveloping you in warm relaxation that can leave you feeling a little sedated.
Tuna Kush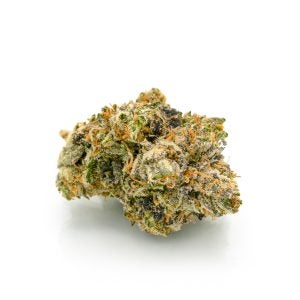 One of the rarest Hybrids, Tuna Kush is an Indica-dominant strain at 70% Indica and 30% Sativa with a modest THC level of 16% to 18%. This, too, has an unknown origin, and no one knows who created it.
Tuna Kush originated from inner British Columbia and is a phenotype of Hindu Kush, a pure Indica strain that came from the Hindu Kush Mountain Range.
This strain has an extremely pungent, fishy, skunky, and Kushy aroma with strong traces of diesel and spicy flavours.
Many beginners find Tuna Kush hard to stomach at first. In fact, many find themselves gagging at its strong scent and equally potent flavours. But go past this and you'll soon enjoy its rich Indica high. It leaves you in a dreamy, peaceful, and euphoric state, with your body completely relaxed. Some users report feeling very sleepy or falling into a slight couch-lock after smoking Tuna Kush – it is kush after all 😉
Ghost Train Haze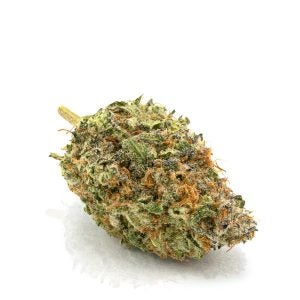 Ghost Train Haze is a Sativa-dominant strain at 80% Sativa and 20% Indica with a very potent THC level of 27%. Made by crossing Ghost OG as well as Neville's Wreck, Ghost Train Haze won High Times' Most Potent Strain on Earth in 2012. So, really, this strain is not for the novices.
Ghost Train Haze has a delicious blending of pungent, earthy, and sweet aroma and flavour with strong traces of citrus fruits like lemon and oranges. There's also a floral and sharp piney aroma to it.
A low dose of Ghost Train Haze can trigger creativity and give you a bad case of the giggles. But take too much and you'll feel a heady euphoria that's bordering on psychedelic. Its Indica roots will also kick in, putting you into a heavy body high.
DayDream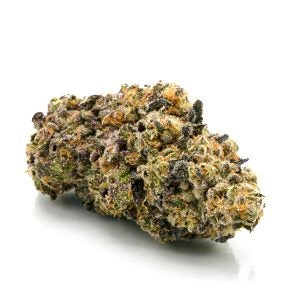 Some say DayDream is a cross between three powerful strains – Jack Herer, Nebula, and Shiatsu Kush. Others also say DayDream is simply a phenotype of Chemdawg, a classic Hybrid strain known for its perfectly balanced mental and physical effects.
Whatever its exact lineage is, this Sativa-dominant Hybrid, which has a THC level between 15% and 20%, is quickly becoming a favorite for its potent head and body high.
DayDream has an invigorating sweet and citrusy aroma with traces of mint and diesel. It tastes just as fantastic as well with undertones of pine and herbs.
One puff uplifts your mood and leaves you feeling calmer, happier, and more relaxed. It also tickles your creativity, so you feel more ready to tackle your day. So if you're after a strain that can boost your day, then DayDream is perfect for you.
Some of the strains in our list are pretty potent. So if you're a beginner, you might want to start with strains that have lower THC levels like Hidden Pastry, Strawberry, Tuna Kush, and DayDream. But if you're a pro, then you'll definitely enjoy our high-THC ones like Purple Silver Surfer, Mandarin Cookies, Do-Si-Pie, and, of course, Ghost Train Haze.
How To Order The Best Weed In Vancouver
Is your mouth watering now from these delicious treats? I bet it is!
Go ahead and add any of the strains above to your checkout card.
For some extra guidance, here are the quick steps of ordering the best weed in Vancouver from us:
Select the number of grams you want
Checkout
Tell us the postal code where we can deliver to you
Provide proof of your age (must be 19 years or older)
Order Now, Get Same-Day Delivery
We ship products nationwide, but if you live in the lower mainland area, you can take advantage of our same-day delivery in Vancouver (yes, we're like Amazon!)
Just click on "Same-Day Delivery" as your shipping option when you checkout.
Of note, to get this service, be sure to pay for the items before 12 pm noon PST.
If not, your package will be sent to you on the next business day.
There's more to celebrate when ordering the best weed in Vancouver from us. Not only do you get to enjoy premium-grade weed and other cannabis-derived products, but you also get to enjoy our freebies if you join our email list too.
So, what are you waiting for? Choose your favorite weed from our list and place your order now!