Weed and music, music and weed. These two sometimes go hand in hand very well together that their histories have been entwined since the early 1900s.
It would be easy to find a musician whose music has been influenced by weed. Similarly, you'd also find many people who can say that music's way better when you've had some green delights.
But why does weed affect music this way? Does it really enhance the way we listen to, enjoy, or even create music?
Do all types of weed strains produce this effect? Or are there just certain strains only that have this huge impact on the way we perceive music?
In this article, we'll talk about the effects of weed on music and the weed strains that are best suited for music.
More importantly, we'll help you find these premium-quality weed strains.
Is Music Better With Weed?
For many years, weed has had a big influence on the music industry. In fact, you can say its presence can be felt in all types of music styles — from rock and reggae to even jazz and classical music.
When you ask some of the greatest musicians who use weed, they all have a similar answer — that it opens up the mind and makes them feel as if they're one with the music they're creating.
Weed doesn't just affect the way musicians create their songs though. It also affects the way we listen to them. If you're fond of going to concerts, you'll even notice that its smell permeates the air.
As music lovers, weed also makes us feel as if we're living in the song. The melody becomes richer, and the notes feel as if they're alive.
So, how exactly does weed do this?
Why Does Weed Make Music Sound Better?
Creating songs or even listening to music is vastly different when you're high. The sounds seem richer and fuller. The low frequencies seem even lower, while the high pitch and tones seem to have much grander frequencies.
When you're listening to music when stoned, your ears become more sensitive to the nuances of the song, and everything about it sounds even more pleasurable.
Because weed also affects our sense of time, it makes us focus more on the present. So when you're listening to a good song, it seems like the moment is stretching. You're feeling each note hitting your ears, their vibrations going around and through you. You even hear the notes between the notes.
This deeply personal experience makes you feel as if you're inside the music.
These differences are not hearsay, mind you, or just "stoned thoughts." Weed does affect the way we process the music we hear.
When you're listening to good music, it triggers the brain's reward and pleasure centers. Once stimulated, these areas release feel-good neurotransmitters such as dopamine, and their release makes you feel happier and more relaxed.
Because of our brain's ability to "remember" the pleasurable experience, we feel more primed and ready to anticipate the rush of dopamine when listening to the same song. Its opening notes alone could already trigger a rush of emotions!
Now, weed has a big impact on this brain region. As soon as the cannabinoids hit the receptors found in the reward and pleasure centers, the brain activities in that region increase, releasing more dopamine.
In addition to these brain centers, weed also stimulates the right hemisphere. This is the area that controls our imagination, creativity, emotions, attention, and intuitive thoughts — areas that are also triggered by music.
Weed relaxes the mind and the body, making us more receptive to the music we're listening to.
With all these effects of weed on our brain, it's no wonder why listening to music becomes a much more intense and personal experience.
How Does Cannabis Help With Music Creativity?
According to many artists, weed boosts music creativity.
Just ask Snoop Dogg, Madonna, Rihanna, Miley Cyrus, Lady Gaga — they can all tell you a thing or two about weed's influence on their creativity.
Weed makes them see and hear more details, details that aren't that clear when they're sober. It also helps them connect to some deeper part of their brain, allowing them to write lyrics from another part of their heart and soul.
In some cases, making music while high also increases motivation and productivity. Getting people into flow state and making it easier to create and complete more songs.
In a way, smoking weed tickles the creative juices to flow.
But not all strains produce this type of effect though.
If you're after a good strain that helps you enjoy music better or a strain that boosts your creativity, then don't just focus on its cannabinoid content.
Instead, take a look at its terpene profile as well.
Terpenes such as myrcene, limonene, pinene, and caryophyllene are known to spark creativity and productivity. They also enhance focus and attention, boost motivation, and stimulate your imaginative thinking process.
These terpenes also help relax the mind and boost mood, allowing you to "see" more details and explore your work from many angles.
What Are The Best Strains For Music?
Now that we've explained a little science behind music and weed, let's explore the best weed strains for music.
These strains are known to unlock the mind and unleash creativity.
Blue Dream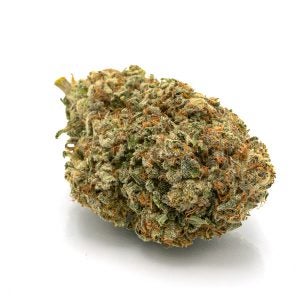 Type: Sativa-dominant at 60% Sativa and 40% Indica
Origin: Haze x Blueberry
THC Content: 17% to 24%
Terpenes: Myrcene, pinene, caryophyllene, limonene, linalool, and humulene
Flavours and Aroma: Sweet, earthy, and fruity with delicious notes of vanilla, blueberry, and herbs
Effects: This strain hits you just right. The onset of effects is pretty immediate, inducing a potent uplifting cerebral high. It's as if it's unlocking all your brain's potential, allowing you to take in everything at once before it centers your mind.
You'll find yourself focusing on your work, feeling more motivated as creative waves of energy wash through you. The euphoric effects also open up your imagination, making you more in tune with yourself and everything around you.
Pretty soon, a well-balanced physical high will hit you, washing over you from your head to your feet. This leaves you feeling as if you're cocooned inside a warm blanket, stress-free, pain-free, and ready to face all obstacles.
The high is just enough that it relaxes you and takes away your pain but still allows you to be very functional.
Blue Dream isn't just a good strain for music, but it's also perfect for people with chronic pain and stress. It also works wonders for those with chronic fatigue, depression, anxiety problems, and migraine headaches.
Best for daytime use, Blue Dream gives you that extra energy boost to get you through the day.
Super Lemon Haze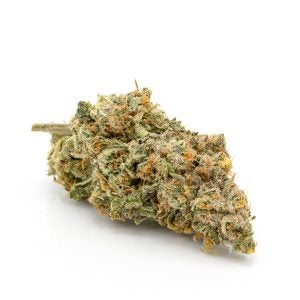 Type: Sativa-dominant at 80% Sativa and 20% Indica
Origin: Super Silver Haze x Lemon Skunk
THC Content: 20% to 25%
Terpenes: Myrcene, humulene, pinene, linalool, limonene, caryophyllene, and terpinolene
Flavours and Aroma: Tangy and sweet, earthy and spicy with notes of candy, spices, and citrus fruits like lemon and orange
Effects: Now, this is one powerful strain loaded with terpenes that stimulate the brain! Zesty Super Lemon Haze immediately induces mood-elevating effects. Its cerebral high leaves you feeling elated, euphoric, and blissfully happy as it kicks all your blues away.
As happiness washes over you, you'll feel your creativity, focus, concentration, and productivity improving. You feel more social and energetic to start the day, and you also feel more motivated to complete all your tasks.
The mellow physical high follows soon after. You'll feel all your pain and stress melting away, completely relaxing your body. This effect boosts your energy and makes you feel more alive and rejuvenated.
Super Lemon Haze is perfect not only for music lovers and artists but for patients as well. Excellent for daytime use, this strain may be used by people with chronic pain and migraine headaches. It's also a good strain for those with chronic fatigue, mood problems, depression, and high stress.
Amnesia Haze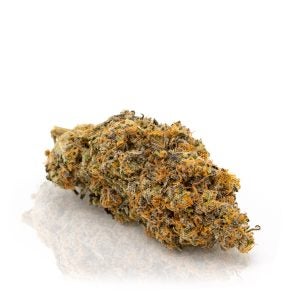 Type: Sativa-dominant at 80% Sativa and 20% Indica
Origin: Jamaican Sativa x Laotian Sativa x Afghan Hawaiian strain
THC Content: 20% to 22%
Terpenes: Limonene, linalool, pinene, caryophyllene, myrcene, humulene, and terpinolene
Flavours and Aroma: Sweet, tangy, and earthy with robust notes of lemon, lime, and citrus fruits
Effects: Don't be fooled by its name! This strain won't make you lose your memory, but it can definitely help you forget your worries and troubles.
Amnesia Haze is an award-winning strain that hits you fast and hard. Its energetic buzz washes over you in euphoric waves, uplifting your soul and taking away all your problems. Pretty soon, you'll be feeling your creative juices flow as it sparks your creativity and boosts your focus and mood. This effect helps center your mind, making you more focused on the now.
Its body high hits you next, draining away your pain, relaxing your tired muscles, and boosting your energy. The boost in energy helps you jumpstart your day and makes you feel more motivated to complete everything.
A favorite of many cannabis connoisseurs, Amnesia Haze produces a well-balanced, "inspired" high that improves cerebral thinking and makes you more aware and in tune with your surroundings. It also delivers just the right contemplativeness to get you in a mood.
This strain may also be used not just for music but also for chronic pain, fatigue, mood swings, depression, and stress.
Choosing The Best Strain For Your Music Needs
The strains we've listed here may be excellent for music, but if you want a more pleasurable experience, then mind these tips.
Things To Consider In Choosing A Worthy Strain
Consider these factors before buying weed online or in-store:
Choose flowers that contain high levels of creative and focus-boosting terpenes such as pinene, myrcene, caryophyllene, and limonene.
If there are reviews available for the strains, make sure to review them since all the reviews on our website are collected from verified customers of that product.
Check the flower's potency (cannabinoid and terpene contents) and also the purity and safety. All producers we work with must provide products free from pesticides, harmful residues, and dangerous pathogens.
Of note, weed enhances what you're feeling at the moment, so the effects are pretty dependent on your state of mind. If you're feeling creative and in the mood for a good song, then smoking weed will enhance these feelings for you.
But if you're feeling uninterested and deeply lazy, then don't expect the same results.
Tips And Tricks In Buying Weed Online
Buying in-store already gives you many options, but if you're after better deals, then buy weed online.
Below are some tips and tricks for getting the best deal possible:
We offer bulk pricing for higher quantities
We typically offer free delivery when you reach a certain amount
If you order and pay for the items before the cutoff time, you get to enjoy same-day delivery (provided you live in the Vancouver area for now).
Loyal customers get to earn free points, which can be redeemed for freebies or discounts.
Final Thoughts
Weed has influenced the music industry in many ways. Not only does it allow us to enjoy music more, but it also inspires many artists to create the songs we now enjoy and love.
The list we created for you contains some of the best strains we've found for making and listening to music. They're popular for a well-balanced high that sparks creativity, improves focus, and boosts mood and energy. They're also famous for their therapeutic effects.
Have you tried any of these strains yourself?
If so, then comment below. We'd love to hear about your experience!
If you haven't tried them yet, then try them out and we'd love to serve you our craft cannabis!