Cooking is a relaxing activity that helps relieve stress and anxiety, and one of the most enjoyable moments obviously takes place when you taste the end result. As for cooking with cannabis, it is an even more fun activity, especially when tasting your expertly prepared dishes.
Nobody said that cooking with hemp flower was an easy task. As many of you know, it is not as simple as adding buds to a mixture and stirring. Normally, patience and dexterity are required for optimal results. However, whether you are interested in improving your classic recipe for CBD brownies or cannabis butter, you will need to have a top-quality main ingredient: Hemp Flower.
Much of cooking with CBD consists of constantly testing and discovering what works best for what you have in your kitchen.
Using CBD Oil
Although cooking with CDB is not a new thing, using CBD oil is relatively new so caution must be taken while doing this. There are lots of recipes, like for a chocolate bar, that can be prepared using CBD oil. For starters, you can learn to make weed brownies or cannabis firecrackers.
High CBD Strains
A very important CBD strain to consider is CB Dream.
CB Dream is a very popular strain among recreational marijuana users. This is because it has great Cannabis indica ratios. Usually at 80%.
This strain brings euphoria and satisfaction for those who consume it, as well as being a powerful painkiller for ailments such as arthritis, a disease that is treatable with marijuana. That is why we want to recommend this seed, which also has a complex and very special flavor. It has high levels of CBD with a very low level of THC taken from Blue Dream.
This Skookum Cannabis is organically grown in living soil by a collective of highly experienced farmers. Dried in a temperature and humidity controlled environment, cold curing takes place for a minimum of 14 days. For all our CBD products, click here.
How to Make CBD Coconut Oil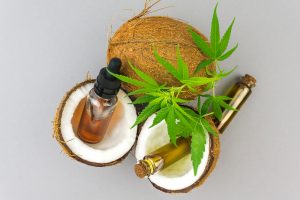 Making cannabis coconut oil is relatively straightforward and is a good alternative to CBD butter. Although they are very similar, coconut oil has the advantage of having a higher percentage of saturated fats, so it can absorb more THC than butter.
There are many uses for coconut oil with CBD. You can use it as a replacement for cannabis butter in recipes or find a whole new purpose for it.
Coconut oil with CBD is an easy alternative to preparing cannabis tea. Having this oil on hand allows you to add a tablespoon to any cup of tea you are drinking, making it a much easier method than preparing cannabis tea step by step. Also, a little extra preparation can go a long way, especially in the morning, when you want a boost with your morning tea or coffee, but don't want to prepare too much.
This oil is incredibly versatile, allowing you to easily change any recipe that requires coconut oil with its cannabis-infused counterpart. Of course, note that this oil is not neutral in flavor and will definitely have an earthy flavor. Therefore, you can adjust your recipes accordingly, and if the taste of cannabis is strong for the type of dish you are using it in, you can reduce the ratio of cannabis to coconut oil.
Salad dressings, groceries, pasta sauces, and more can be enhanced by adding cannabis-infused coconut oil.
What You'll Need
30 to 80 grams of Baked Hemp Flowers (this amount varies depending on the taste of each and the power of each variety)
CBD Cannabis Butter
1/2 liter of coconut oil, better if it is organic and unrefined
Water
slow cooker (those with 3 levels of heat already serve)
fine metal strainer
cheesecloth
Thermometer
The Process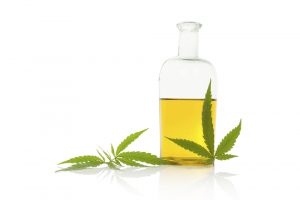 The amount of cannabis and coconut oil you use is also reduced to your personal preferences. Some people prefer an equal amount of cannabis and coconut oil, while others prefer a more or less powerful oil. The amount you use depends on the reason you are making the oil. If you're new to making your own cannabis-infused products, we suggest starting small and evaluating the effects before increasing the amount.
Before starting, keep in mind that this preparation will take about 40 minutes, but then, for the next 12 to 18 hours, you will have to keep an eye on it.
Special note: if you don't want it to have too much chlorophyll flavor, you should do the decarboxylation the night before.
Soak the buds overnight so that the chlorophyll, which has a somewhat unpleasant taste, is washed off a bit, and let them dry again.
Put the coconut oil and cannabis butter in the pot and add a little water to it. Put it on high temperature until the oil is smooth and liquid.
Add the baked hemp flower little by little while stirring until the mixture is saturated. If necessary, add a little more water.
Place the thermometer in the covered pot, and when it is close to 120ºC, lower the temperature and stir. Don't let it get hotter than that because coconut oil continues to heat up even for a while after being removed from the heat.
Keep stirring every so often, always checking that the temperature stays between 120 and 130ºC. At some point, you may need to turn up the heat, but watch the preparation closely since if it reaches 160ºC the active elements are ruined and the entire preparation is damaged. The water serves to prevent the preparation from heating up so much. As it evaporates, we must add more water so that Cannabis is always submerged and safe.
After 12 to 18 hours turn off the pot and let the preparation cool down.
Wrap the strainer in a double layer of cheesecloth, place it on top of a container, and slowly pour the preparation. Let the last drop of oil fall and drain the vegetable remains.
In the container, you will have left cannabis oil mixed with remains of water. Leave them overnight in the fridge so that the oil hardens and separates from the water and any residue that may have strained.
The next day you just have to throw the water and what you will be left with will be a solid piece of cannabis coconut oil, ready to use in any recipe. Meanwhile, you can keep it in the fridge without spoiling it.
This coconut oil can be used in countless cannabis recipes and many people use it as a substitute for butter. It can also be used in hot drinks.
The Science Behind Decarboxylation
When we say that cannabis contains THC and CBD we are making an inaccurate statement. The truth is that the various species of cannabis contain potentially THC and CBD. In order to make these two cannabinoids active, it is necessary to subject the inflorescences to a process called "decarboxylation".
Perhaps those who have smoked or vaporized a genuine CBD will be ready to swear that they have instead enjoyed the full effects without undergoing any preventive treatment. But it will be enough to eat a small number of dried buds to get counterevidence. When you smoke Cannabis, the carboxylation process is activated.
Decarboxylation: How It Is Done
The premise is that it is good to start with a good hemp flower. This means not only the quality of the hemp flower (although it is true that decarboxylation does not make a poor hemp flower good) but also the care with which the preventive drying process in the open air has been carried out. With the same quality of the starting plant, a well cared for and preserved harvest ensures a higher yield of THCA and CBDA and thus a better basis for decarbing.
The buds must be free of mold, and the drying must be uniform and not excessive. The amount of cannabis is at your discretion, although it is essential that the inflorescences are evenly distributed in the oven, without overlapping.
For effective decarbing you will need a drip pan, tin foil and ordinary baking paper, and a grinder.
The grinder, for those who do not know it, is a round grinder, rudimentary but effective, formed by two interlocking halves with small teeth inside arranged so as not to collide during the rotation of the two halves, the rotation that allows the grinding. The grinder is designed to shred vegetables, but we don't know anyone who has ground something other than hemp in it. In fact, the first thing to do is to finely crumble our buds. Meanwhile, preheat the oven to 110 degrees Celsius. The latter is not indisputable: some prefer to decarboxylation at 120 degrees, others at 90 degrees.
Obviously, a lower temperature will lead to longer "cooking" times and vice versa: about 75 minutes for 90 degrees, 50 – 60 minutes for 110 degrees, and just 30 minutes with the oven at 120 degrees.
But it is good to put aside the temptation to be quick: by letting our buds cook at lower temperatures, as well as not running the risk of burning the hemp flower we will have better conservation of the aromas and terpenes of cannabis.
The latter, although rarely mentioned, are essential components of the plants of cannabis, and their contribution is appreciated and sought after. It is at least worth remembering here that terpenes are a group of unsaturated volatile hydrocarbons present in the essential oils of many species of plants, and hemp is no exception.
Although not psychoactive, they bind to CBD and are responsible for many of the plant's most beneficial effects: they have anti-inflammatory, antiseptic, expectorant, analgesic, antifungal properties and we stop here. Although the list would be long.
So, we repeat: the options on oven temperature are various, but we recommend calm and patience. In any case: it is good to remember to put a timer on, as times play an essential role.
After shredding the tops you have to take the baking tray and cover it with baking paper. Then lay the tops on them, taking care to spread them well and not to pile them up, so that all the hemp is exposed to the action of the oven.
Then you have to cover the pan with aluminum as if to make a lid. The latter operation must be carried out with care not only because it is important to retain the aroma offered by the terpenes, but above all so as not to disperse the steam released by the heat immediately.
In fact, steam plays a fundamental role in proper drying, which must be quick but not abrupt.
And now: bake.
When the timer sounds, the kitchen is likely to be invaded by an unmistakable bitter-sweet aroma. You have to take the pan out and let it cool. Finally, you can remove the foil.
If everything went as it should, the tops will look slightly "toasty", but absolutely not burnt.
For small quantities you can replace the pan with a pyrex, always to be closed carefully with tinfoil. In which case baking paper is superfluous.
Congratulations, you have decarboxylated your cannabis! Allow it to cool before continuing. This step is basic and you will not get any results with your infused oil if you do not decarboxylate first.
Alternative Methods
There are also other ways of decarboxylation, although less widespread.
One of these, although perhaps less practical than baking, involves cooking in a bain-marie! The chopped inflorescences must be placed in a bag suitable for cooking, and well sealed. Then boil the bag in water for about ninety minutes, making sure that the amount of water is always sufficient to cover the bag completely.
Finally, you have to take out the bag and let it cool down completely.
Hopefully we've equipped you with enough knowledge to start cooking with your hemp flower, if you need any additional help, let us know or visit our store for additional "ingredients!"