In recent years, genetically modifying different weed strains have created potent strains with very high THC levels. Crossbreeding different strains has also allowed us to strengthen certain appealing characteristics, especially when it comes to their unique effects and flavours.
In this article, we'll talk about the most refreshing, aromatic, and flavourful strains — the cannabis strains with strong lemon and citrusy flavour and aroma.
These buds will not only make your mouth water for more, but they'll also steal first place in your heart!
Lemon Weed Strains: It's All About That Zest
So, just how lemony are these lemon weed strains?
Lemon weed strains captivated the hearts of cannabis connoisseurs when, in 2008, Super Lemon Haze earned the top spot in the Cannabis Cup.
People naturally got curious and wanted to get their hands on the award-winning strain… and Super Lemon Haze did not disappoint!
When you break the bud open, its enticing and refreshing citrusy scent hits your nose. It's like a smorgasbord of tangy and citrusy fruits with its oranges, limes, and lemons. You'll also get a whiff of sweet grapefruits and spices.
And the flavour was simply divine! It tastes just as good as it smells.
These features, coupled with Super Lemon Haze's high THC level at 20%, skyrocketed strains with similar characteristics into popularity.
Today, lemon weed strains are one of the most sought-after and easily sold out strains in the industry.
But what gives lemon weed strains their distinctive aroma and flavour?
All plants including cannabis produce terpenes, and these terpenes give them their unique features — appearance, colour, texture, aroma, and even flavour.
Lemon weed strains contain a very high level of limonene and linalool, terpenes also found in citrus fruits. They give these fruits their refreshing scent and tangy flavour.
But more than just their refreshing aroma though, limonene and linalool also produce therapeutic effects. They're known to relieve pain, uplift mood, ease stress and tension, stimulate the brain, and boost the immune system.
Things To Consider With Lemon Weed Strains
There are over 250 types of lemon weed strains, and that number is growing as we become more creative with crossbreeding different strains.
But not all of them are created equal though. So when choosing the best lemon weed strains, consider these factors:
THC level — The THC level of these different lemon weed strains vary. It can go from as low as 8% to as high as 25%. If you're new to cannabis, you might want to start with a low-THC strain.
Effects — Are you after a more energizing effect? Then get something that leans more on the Sativa side. For a more relaxing strain, you might want to consider Indica-dominant ones. There are many Hybrid strains, too, whose effects are a good balance between their Sativa and Indica roots.
Reviews — If you want to know just how good the lemon weed strain is, then read our reviews. They're always at the bottom of every page!
Knowing how to choose a good lemon weed strain gives you a good idea of what to expect. It also helps you avoid an unpleasant experience.
Tips To Get More Lemony Tastes And Smells
In the growing process, there are ways to enhance their lemony taste and smells. You need to stress your plants out a little bit. This forces the plants to adapt to the stressful situation, making them stronger to survive.
The cannabinoids and terpenes serve as the plant's immune system, protecting them from the environment and the sun. The addition of stress pushes their levels to increase so the plant could adapt and survive. This change results in higher levels of cannabinoids and terpenes, so you have more flavourful and aromatic flowers.
Below are a few low-stress training tips in boosting your weed's lemony flavour and aroma:
Producers will trim the leaves especially around the flowers. Not only does this stress the plant, but it also trims down the canopy, allowing more light to reach the plant, especially its flowers.
You can also reduce the amount of nutrients plants receive, especially during the last two weeks before you harvest the flowers.
Decreasing the temperature of the grow room to below 80 degrees during the flowering stage also stresses them out.
We make sure we don't stress them out too much though, or we'll end up with dead plants.
The Best Lemon Weed Strains In The Market
If you're not a green thumb and want a vast selection of strains, check out our online store.
You'll find tons of premium-grade lemon weed strains and we've organized our top sellers here.
Super Lemon Haze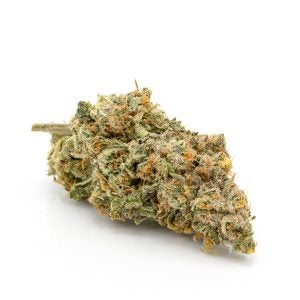 Type: Sativa-dominant at 80% Sativa and 20% Indica
Origin: Super Silver Haze x Lemon Skunk
THC Content: 20% to 25%
Terpenes: Limonene, linalool, humulene, caryophyllene, terpinolene, pinene, myrcene
Flavours and Aroma: Earthy, tangy, and sweet with robust notes of citrus fruits, lemon, lime, and candy
Effects: The award-winning strain that put lemon weed strains in the spotlight, Super Lemon Haze gives you that kick you need to start the day right. You'll immediately feel a sudden head rush that sparks intense euphoria and happiness. You'll also notice your energy improving, making you feel oh-so-ready to tackle the day.
Super Lemon Haze also has potent effects on creativity and focus. This zesty strain centers your mind and makes all your creative juices flow. It also makes you feel more motivated to finish your tasks.
Here's a little trivia for you. Super Lemon Haze boosts arousal and is the perfect weed if you feel a little frisky. So if you're planning to have a romantic evening with your special someone, you might want to invest in some Super Lemon Haze.
This strain is perfect for daytime use too, especially when you're feeling a little down and need a boost in mood and energy. Super Lemon Haze works wonders for chronic pain, migraine headaches, stress, chronic fatigue, and depression.
Purple Lemon Haze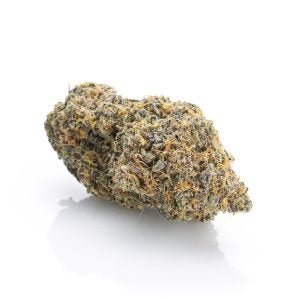 Type: Sativa-dominant at 70% Sativa and 30% Indica
Origin: Lemon Haze x Purple Kush
THC Content: 19% to 22%
Terpenes: Linalool, pinene, caryophyllene, myrcene, limonene, humulene
Flavours and Aroma: Earthy and fruity with strong traces of lemon, citrus fruits, and grapefruit. There's also a detectable note of Kush aroma.
Effects: This is one potent strain whose effects can immediately be felt. Its head high hits you soon after your first toke, producing an energetic boost that washes away any discomfort you may have. You'll also feel your mood improving as your mind relaxes into a peaceful euphoria, the happiness draining any sadness in your body. The euphoria grows and expands that, pretty soon, you'll also feel your body relaxing.
The physical high is perfectly balanced. You feel energetic and more capable to overcome the day's stress. You also feel more relaxed but still stay fully functional.
Many users also report feeling more sociable after using Purple Lemon Haze, making them feel more open to conversation. So if you're more on the introvert side, then this bud is for you.
Purple Lemon Haze is a good wake-and-bake strain too. Perfect for daytime use, it gives you just the right push to get your day started. You can use this strain for chronic pain, migraine headaches, depression, mood swings, and fatigue.
Blue Jagger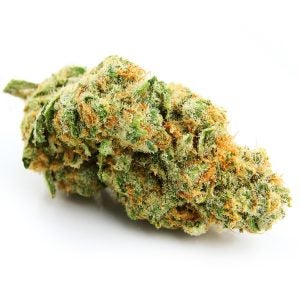 Type: Indica-dominant
Origin: Blue Dream x LA Confidential x Unknown Strain
THC Content: 18% to 25%
Flavours and Aroma: Sweet, piney, and citrusy with hints of licorice
Effects: This zesty, delicious strain may be Indica-dominant but it won't leave you struggling with a couch-lock. The body high is well-balanced. You'll feel your muscles relaxing and your discomfort and pain subsiding as its physical effects wash over you. The relaxing sensation first starts from your head then quickly spreads to the rest of the body.
Pretty soon, its mental high will hit you. You'll literally feel all your worries and stress fade away, leaving you in a euphoric and mentally-relaxed state. This perfect bliss kicks the blues to the curb, making you feel mentally ready to face any problems.
Blue Jagger is a good choice to use in the afternoon. It helps you calm down, prepping you for a relaxing night. This strain works very well for chronic pain, headaches, migraine, mood swings, depression, sleep loss, and fatigue.
Mendo Breath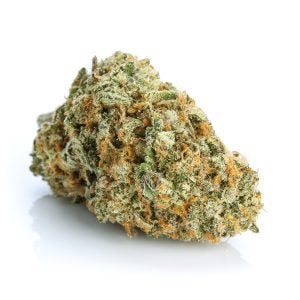 Type: Indica-dominant at 70% Indica and 30% Sativa
Origin: OG Kush Breath x rare Mendo Montage
THC Content: 19% to 20%
Terpenes: Limonene, caryophyllene, myrcene, linalool, pinene, terpinolene, humulene
Flavours and Aroma: Sweet, pungent, and earthy with hints of lemon, caramel, vanilla, candy, and pine
Effects: This super rare bud is truly a feast for the senses, delighting you with its complex aroma and flavour. The mental high comes on pretty strong. After a few tokes, a tingling sensation washes over your mind, pushing away your bad mood and stress. The tingling sensation soon gives way to blissful euphoria, leaving you calm and happy.
The sensation then turns into a full-body buzz, the warmth washing over you from your head down to your toes. It's as if it's pulling you down into a pool of warm water. Your limbs feel heavy, and you also feel a little sleepy. Take a few more hits and you'll fall into a heavy body high, the couch-lock pulling you to deep sleep.
You'll probably wake up with a raging hunger though. This little bud is known to induce a strong munchies effect, so be sure to have some snacks ready to appease your appetite.
Mendo Breath is the best weed for nighttime use. The mental high is just enough to kick your blues and worries away, while its physical high completely relaxes and lulls you to sleep. This strain is perfect for insomnia, headaches, appetite loss, chronic pain, and muscle cramps and spasms.
The Gas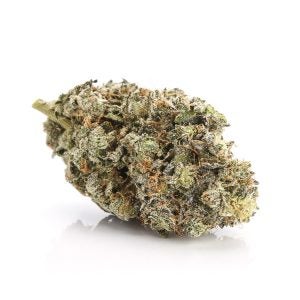 Type: Pure Indica
Origin: OG Kush phenotype
THC Content: 16% to 19%
Flavours and Aroma: Citrusy, sweet, earthy, dank, and pungent with hints of lemon, lime, pine, and diesel
Effects: If you're having some trouble sleeping, then this pure Indica strain is for you. The Gas immediately sparks a heavy body high, the soothing, relaxing warmth flowing from the back of your head and then spreading down to your spine and limbs. The sensation makes you feel as if you're floating in space, and all your limbs are in a pain-free, relaxed state.
As the body high spreads, you'll also feed your mood improving. You'll feel calmer and more peaceful, with all your worries and stress gone. You'll also feel a little spacey, as if time is moving very slowly. Some even report that it sparks introspective daydreaming.
When you come down from the high, you'll feel yourself starting to breathe deeply as its relaxing effects continue. Pretty soon, you'll find yourself sinking into a deep, peaceful, and restful sleep. Users often report that they've slept for hours on end after using this potent strain.
The Gas is a good choice for nighttime use. Before it lulls you to deep sleep, it washes away your pain and mood problems first. You can use The Gas for problems with chronic pain, insomnia, muscle spasms, muscle cramps, stress, mood swings, and depression.
Where To Buy The Best Lemon Weed Strains
Did our list make you crave these lemony treats? Want to give these mouthwatering treats a try?
Then get these premium-grade lemon weed strains near you and have them delivered right to your doorstep.
Select one of the strains above and if you're in Vancouver and buy before our cutoff time of 12 PM (noon), you get your weed delivered today.