Research shows that about 60% of adults worldwide experience spasms or cramps at some point in their lives.
Moreover, the chances to have muscle spasms increases with age.
In many cases, traditional prescription drugs fail to alleviate or reduce muscle spasticity. That's especially true with patients suffering from neurological diseases.
Fortunately, coping with cramping muscles is reaching new, green solutions.
Medical cannabis is progressively embraced as the most natural and effective alternative to opioids.
In this article, you'll access helpful information about marijuana's benefits in reducing muscle spasms. But first and foremost, let's discuss what causes spasms.
What Are Muscle Spasms And What Causes Them?
The medical definition of muscle spasms and cramps is:
"The contraction of a muscle or muscle group that is unintentional."
"Involuntarily and forcibly contracted muscle that does not relax."
Muscle spasms are often painful and tend to happen all of a sudden. They may occur in the legs (most frequently). However, they may also occur in other areas of the body.
When we are engaged in movement, muscles alternate between contracting and relaxing.
A healthy person can control his muscles voluntarily. This process happens all naturally and "automatically" as we move.
But when a muscle contracts without our conscious will to do so, it's in a spasm.
What's more, the spasm becomes a cramp if it's sustained and forceful.
Oftentimes, a palpable hardening of the muscles involved in the spasms tends to occur, too.
A muscle cramp can last from just a few seconds to an hour or longer in severe cases.
Also, spasms and cramps commonly recur multiple times before finally resolved.
The entire muscle may be involved in the spasm. Sometimes, it may be a part of the muscle to cramp or several muscles may cramp together.
Ultimately, spasms are triggered by different factors that greatly vary from one individual to another.
Below are some of the most common causes of muscle spasms.
Dehydration
Stress
Poor blood circulation
Hormone imbalance (such as thyroid-related issues)
Prescription drugs side effects
Anxiety
Muscle pain
Muscle overuse
Muscle fatigue (over exercising-related)
Insufficient warming up or stretching before exercise
Exercising in hot conditions
Overweight/obesity
Pregnancy
Age
Nerve disorders
Trapped nerves
Nervous system disease like multiple sclerosis.
Electrolyte imbalances in calcium, potassium, and magnesium.
Can Cannabis Help With Spasms?
It was back in 2001 when a publication by the National Academy of Sciences entitled "Marijuana and Muscle Spasticity," revealed various research suggesting that cannabis does calm muscle spasms.
How is that possible? 
Spasms originate in areas of the brain (most commonly in the cerebral cortex) that have to do with controlling movement.
These areas include several sites where cannabinoid receptors are abundant.
The active cannabinoids found in marijuana can bind freely with the cannabinoid receptors within the body, aka the endocannabinoid system.
Thus, the green medication can successfully treat the very symptoms which cause pain and limit people's movement.
Nonetheless, cannabis helps promote good sleep. This is vital to spasm and cramp sufferers who are often robbed of the much needed deep sleep relaxation.
Furthermore, cannabis is an all-natural alternative to conventional medications.
Prescription drugs often cause negative side effects, such as drowsiness and weakness. Plus, these drugs do not provide complete relief.
On the other hand, changes to diet can work great in alleviating and treating spasms in the long-run.
However, it takes time for homeopathic treatments to reduce patients' discomfort.
Yes, cannabis is progressively embraced as one of the best options for muscle spasms treatment.
But why is that so? 
Because marijuana can offer quick, reliable, and well-working relief.
Best of all, cannabis treatment does not involve any of the negative side effects related to synthetic compounds found in opioids.
How To Choose The Best Strain For You
Different cannabis strains provide different benefits for the users.
Check out the neat cheat sheet below.
It will help you pick the most suitable strain for your needs and preferences.
Things To Consider
#1 – THC vs. CBD, Indica vs. Sativa
Each marijuana strain has a different amount of THC and CBD.
THC and CBD alike possess anti-inflammatory, as well as pain-relieving properties.
However, higher levels of CBD are not the best choice to eliminate severe pains quickly. CBD rich strains can work wonders in long-term muscle spasms management.
Also, CBD use is not related to the typical psychoactive effects associated with THC. So, it is the better option for ongoing, daytime muscle spasms treatment.
Meanwhile, strains high in THC offer reliable and fast muscle relaxation which eliminates strong pains and discomforts. These strains are best suited to use when there are no urgent tasks or daily activities to handle.
But what about Indicas and Sativas? We'd suggest Indicas because:
Indica varieties provide full-body effects rather than the head-centered, energising type of high induced by Sativas.
Indicas increase deep relaxation and promote good sleep due to their sedative properties.
Indica or Indica dominant cannabis strains are highly recommended in treating muscle spasticity.
Both pure Indicas, as well as hybrid strains that feature a combination of Sativa and Indica-leaning genetics can work great.
#2 – Terpenes Levels
The flavour of each cannabis variety depends on the unique combination of aromatic molecules known as terpenes.
Terpenes also work together with active cannabinoids like THC and CBD to promote the entourage effect of cannabis.
The entourage effect refers to active cannabinoids and terpenes working together in synergy to increase each other's qualities and benefits.
Several different terpenes are believed to help with pain management thanks to their analgesic and anti-inflammatory effects.
These include but are not limited to:
Linalool
Alpha-Pinene
Limonene
Caryophyllene
Myrcene
High-quality cannabis varieties are naturally rich in terpenes. The more flavoursome the aromas of the herb, the higher the levels of terpenes.
Heads Up
One of the most important things to consider is to source your weed from reputable producers and retailers.
High-quality cannabis is grown with a mind to increasing and preserving terpenes.
Also, you can introduce additional terpenes to your cannabis routine by opting for commercially available "terp sauces" (liquid terpene extracts).
Or consider trying some of the awesome tips and tricks below!
Tips & Tricks
1 – Say Yes to More Terpenes!
Apart from opting for readily available terp sauces, it's possible to take advantage of terpenes rich with herbs and fruits.
For example, Linalool is naturally present in Lavender. Adding some lavender flowers while rolling your marijuana can increase the anti-inflammatory effects of the green medication.
Also, you may simply combine your cannabis intake with a cup of warm tea, such as Peppermint, Lemongrass, Lavender, or other herbs high in terpenes.
Using more spices like cinnamon or pepper in your food is also a great way to introduce more terpenes.
Meanwhile, Rosemary is rich in both Caryophyllene and Myrcene
Consuming citrus fruits or mangoes shortly before or after your cannabis routine is yet another wonderful option.
2 – Diversify Your Cannabis Routine
Both ingesting and smoking cannabis delivers the active cannabinoids into the body's endocannabinoid system.
But the effects do differ.
Smoking cannabis provides a faster onset of the high, while the effects of edibles take more time to hit in.
However, edibles deliver a more lasting and deeper in-the-body relief.
The smartest move is to try diversifying your cannabis routine and see what works best for you.
For instance, you can use high-quality cannabis flowers for smoking and also to prepare a batch of homemade cannabutter.
Right Dosage
Cannabis is an invaluable gift from Mother Nature that influences every individual in unique ways.
With this in mind, finding the right dosage for you is a strictly personal right and responsibility.
Think of factors like:
the food you consume
body weight
your current mental and emotional state of being
All of these have their corresponding effects on the way cannabis is processed by the body of the individual.
Thus, your best move is to start with a small dose in a comfortable setting. This way, you can get to know your personal limits to avoid ending up overwhelmed.
You can then gradually increase the dosage as needed until you find your sweet spot.
Recommended Weed Strains For Muscle Spasms & Relaxation
Honey Pot Kush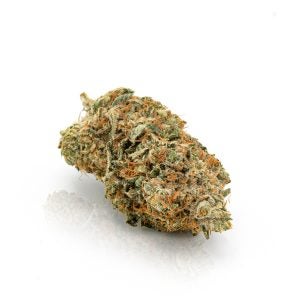 Honey Pot Kush is a beautiful representative of the Kush strain family.
As such, it is naturally high in Myrcene, Limonene, and Caryophyllene. These terpenes greatly contribute to the muscle spasms relief effects.
Being an Indica dominant hybrid, Honey Pot Kush provides quick and especially deep, full-body relaxation.
Mendo Breath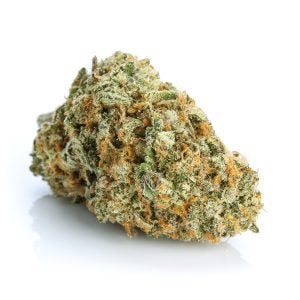 Best suited to patients who suffer from severe muscle spasm pains, Mendo Breath is a quick and strong hitting strain.
This cannabis variety also belongs to the Kush family, combining the genetics of OG Kush Breath, and Mendo Montage.
Blue Magoo Cookies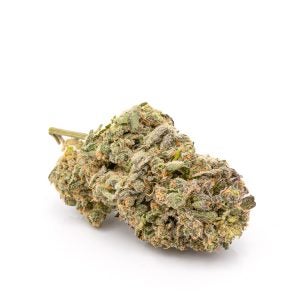 Rich in Alpha-Pinene and Linalool, Blue Magoo Cookies is a descendent of one of the most beloved strains: Platinum Girl Scout Cookies.
Combined with Blue Heron strain genetics, Blue Magoo Cookies is a wonderful Indica dominant strain for evening use.
Its sedative properties provide a full-body-melt relief.
El Jefe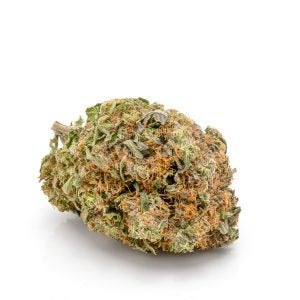 El Jefe is a pure Indica strain with a multilayered flavour.
Naturally high in Myrcene, Limonene and Alpha-Pinene, this strain is a go-to for those who want to erase tension from the body but without the deep sedation effects.
Pre-98 Bubba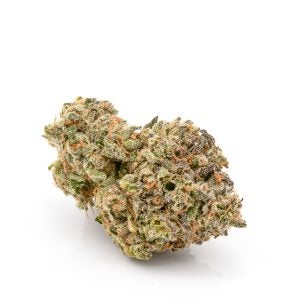 Pre-98 Bubba is the Indica landrace gemstone on the menu of muscle spasm relieving strains.
Landrace strains are cannabis varieties that have been adapted to the environment of their native land, without modifications to their genetics.
A powerful Indica high in Limonene and Myrcene, Pre-98 Bubba is a great choice for nighttime use due to its deeply relaxing properties.
Ultra Pink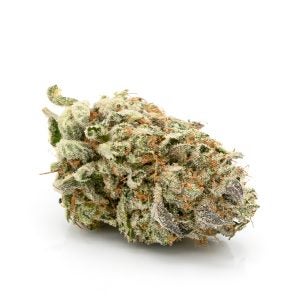 Ultra Pink's towering THC levels hit 24%, making it one of the most potent strains on this list.
Along with the carefully sourced genetics mix of Pink Kush and Ultra MK, users can now enjoy an extra special selection of organically grown cannabis.
With high levels of Myrcene, Linalool, and Caryophyllene, Ultra Pink's effects unfold into calming and relaxing waves that ultimately lead to pain-free sedation.
Commonly Asked Questions
What Impact Does CBD Have On Muscle Spasms?
Due to its anti-inflammatory and pain-management properties, CBD can relieve levels of muscle spasms.
However, if a person is faced with strong and almost constantly painful spasms, CBD may fail to deliver the desired results.
While a reduction in pain can occur, the immediate impact of CBD on muscle spasms is more modest as compared with THC.
CBD can be especially beneficial in long-term muscle spasticity treatment, as well as an additional anti-pain weapon to pair with high THC strains.
What Strains Make You Relax In General?
Indica and Indica-dominant cannabis strains are the best choices when it comes to promoting deep relaxation.
The effects of Sativa varieties are more energising and experienced more in the head rather than relaxing the body.
Take The Next Step In Your Muscle Spasm Treatment
Did you know that 93% of patients prefer medical marijuana over opioids for pain management?
This was confirmed by a 2017 study published in the journal Cannabis and Cannabinoid Research, conducted by a team of experts from the University of California Berkeley and Kent State University.
Typically, doctors prescribe physical therapy or flexibility and stretching exercises for muscle spasms and cramps sufferers. This helps to strengthen a particular set of muscles.
Oftentimes, changes in diet or lifestyle routines, in general, are also recommended.
However, it does take time before the associated pains wash away.
If spasms are prolonged and painful, cannabis can offer much needed relief while being an all-natural alternative to prescription drugs.
Have you tried any of the best strains for muscle spasms that made it into our list? Which one is your favourite?
Try one or better yet, experiment with more of these amazing marijuana varieties. Health is wealth, and Mother Nature's wisdom is timeless and invaluable.
"There's a herb for every system, every organ, every gland, and every tissue of our body. Mother nature has put medicine in our food."
– Bob Marley