Table of Contents
Did you know Canadians spent $908 million on legal cannabis in only the first year of legalization? Ever since marijuana became legal in Canada, the industry has exploded in growth. Consumers can buy all different types of marijuana products as well as strains, from the most potent concentrates to CBD oil.
It's no surprise that Canadians love cannabis and are willing to spend good money on the best marijuana strains. But with so many strains available, it can be difficult to know the top cannabis strains of all time.
This is why we created this list. Here are our marijuana strain recommendations.
What Really Are "Strains" of Cannabis?
What do we mean by cannabis "strains?" No two weed names and strains are the same. All cannabis strains contain a mix of cannabinoids, notably psychoactive THC and health-boosting CBD. In addition, cannabis has a complex phytochemical structure that gives each strain its own individual properties.
Cannabis is cultivated to contain different amounts of these cannabinoids. That's why certain strains are ideal for patients with specific conditions while others are better for an evening of fun with friends.
Another notable difference is the different strain types, specifically Indica and Sativa. While most marijuana strains on the market are technically a hybrid of both, certain strains contain specific properties that cause a different experience.
For example, Indicas are shorter and bushier plants that have specific terpene profiles, such as myrcene and linalool. Indica cannabis strains induce relaxation while relieving pain and inflammation.
Sativas are lanky plants with narrow leaves. They also contain certain terpenes such as pinene and limonene. Sativa strains also offer medical benefits such as pain relief but make the user feel more energized.
How We Rated Our Choices
These cannabis recommendations aren't chosen by us — they're chosen by you, our customers! We compiled data from:
Email requests
The most popular purchases
Since we deliver cannabis across the nation, this information is compiled from buyers all over Canada.
Top Cannabis Strains of All Time
Here are the weed strain names that our customers love the most!
Banana Haze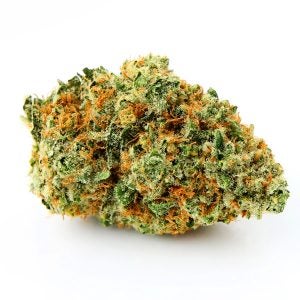 Banana Haze is a Sativa hybrid with unique notes of tropical citrus and even creamy meringue. The whole bud is covered in frost, resulting in a flavourful and delicious smelling bud. The taste is a combination of earthy, citrusy, and sweet flavour.
Banana Haze offers an uplifting and cerebral high. It also relieves certain types of pain, such as headaches. At a little over 20% THC, it's a very potent and long-lasting strain. Its CBD content is at 0.7%, so it's also ideal for medical marijuana users who need to relieve pain and inflammation.
White Sumo Strain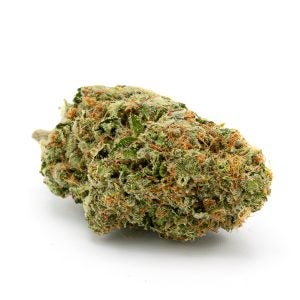 White Sumo Strain is a rare strain. It's a combination of White OG and Sumo Tangie, making this hybrid strain lean slightly more to the Sativa side.
You'll not only feel euphoric but also energetic when taking this strain. However, you'll also experience relaxation without the "body melting" effects. In addition, many users reported experiencing immense creativity when taking this strain.
It smells like earth, citrus, and pine. While it's a fresh-tasting strain, the citrus notes make it slightly sweet.
Dosi Pop Strain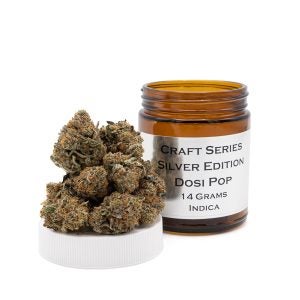 If you're more of an Indica user, you'll likely enjoy the Dosi Pop Strain. This strain is a combination of Triangle Kush and Do Si Dos. It has a very unique scent — you'll smell a combination of earthy and spicy when you first light this strain.
This strain is ideal for those who want ultimate relaxing effects with a body high. For medical marijuana users, those who struggle with insomnia report Dosi Pop helps with sleep. Be sure to not use this strain before operating a vehicle or machinery.
Divine Banana Strain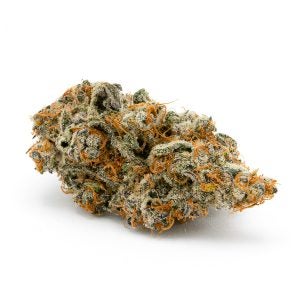 Divine Banana is another rare strain that's a combination of Banana and Divine Gelato #3. This strain has unique terpenes; users will smell a combination of banana, cream, and even melon. This strain hosts vivid trichomes and vibrant orange pistils, making it an attractive strain.
Divine Banana is an intense Sativa, making it the perfect daytime strain. It's a stimulating strain, helping in social situations and even inspiring creativity. This is also an ideal strain for those who struggle with anxiety and depression.
Zombie Kush Strain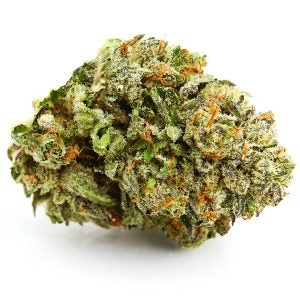 Zombie Kush is by far one of the most exotic strains we offer. It's a mix of Lavender Kush, Amnesia, and Bubba Kush. As an Indica, it's a relaxing strain but won't leave you couch-locked; you'll feel giggly and happy when using this strain.
Zombie Kush is also ideal for certain symptoms, such as lack of appetite. This strain will give you the munchies. Make sure you have plenty of snacks available! This strain has a complex terpene profile — you'll smell fuel and pine but will taste citrus.
Purple God Strain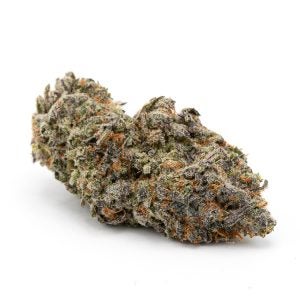 Purple God is an Indica-dominant strain that's a combination of God, Purple Skunk, and Hawaiian. It's not the strongest smelling strain, but you may smell whiffs of cream, earth, and a little bit of fuel. Because of its lineage, this strain boosts purple buds with intense trichomes.
Purple God is one of the best weed strains for insomnia sufferers. At 26% THC, only a little bit of this strain will bring you to sleep. You'll also feel extremely relaxed. Keep in mind, you may get the munchies after your well-deserved nap!
Widow Cheese Strain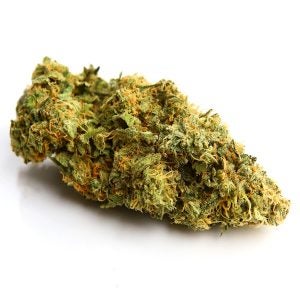 Widow Cheese has a funny name — that's because it's a cross between Cheesus and White Widow. The smell is a combination of earthy and cheesy. The taste is a combination of cheesy and skunky.
This strain is popular because of its uplifting effects, but also offers a sense of relaxation. It's a hybrid strain but leans more toward Sativa (60% Sativa and 40% Indica). This hybrid offers the best of a relaxing body high with a euphoric head high.
Chocolate Samurai Strain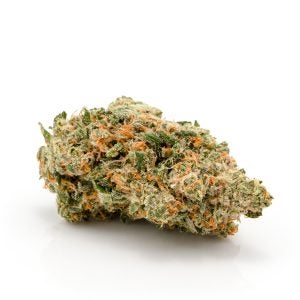 Chocolate Samurai is one of the most unique strains on the market. It's a combination of Chocolope, Shiatsu Kush, Jack Herer, and Nebula.
It's a great strain for both recreational and medical users. As a recreational strain, you'll feel uplifted and euphoric. As a medical strain, you'll feel sedated and relaxed. Chocolate Samurai also has a high CBN content — at around 1% — relaxing users and inducing sleep.
Dutch Hawaiian Strain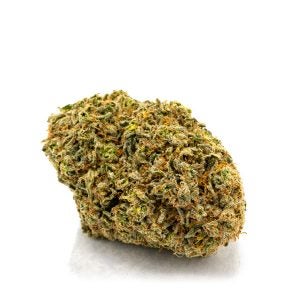 Dutch Hawaiian a Sativa-dominant strain that's a cross between Dutch Treat and Hawaiian.
The terpene profile is complex — you'll smell a combination of floral, earth, and citrus as you burn this strain. This is an attractive strain. It's a bright green bud with yellow-orange pistils and brilliant trichomes.
Dutch Hawaiian is 17.5% THC and 1% CGB. Users feel uplifted with heavy relaxation. The effects build slowly — beginning users should take caution when using this strain. Take a few tokes, wait a few minutes, and take a few more.
Blue Jagger Strain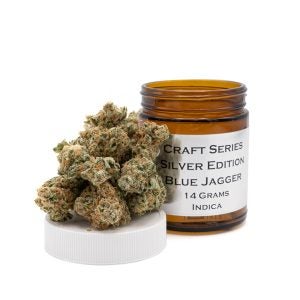 Blue Jagger is an Indica-dominant strain with a unique terpene profile. The strain smells like pine, licorice, and lemon.
When taking Blue Jagger, you'll feel happy and relaxed. Our customers love taking this strain after a long day of work. This strain is ideal for those who want a relaxing Indica without the couch-lock effects.
As a medical strain, Blue Jagger can reduce anxiety, stress, and depression. The THC content is between 18% – 25% and CBD content is 0.5%.
Purple Chemdawg Strain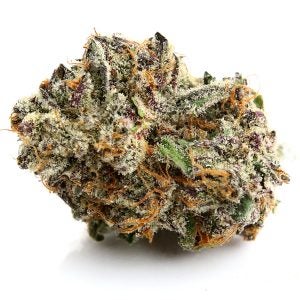 Purple Chemdawg (called Purple Chem for short) is a powerful Indica strain, boasting relaxing effects. It's the best Indica for those who still want a creative streak and productivity. As a medical strain, it can combat anxiety and pain.
It's a cross of Chemdawg and Granddaddy Purps. The scent is a combination of funk, gas, and grape. The strain itself is lime-green in colour with purple accents and thick trichomes.
Cali Skunk Strain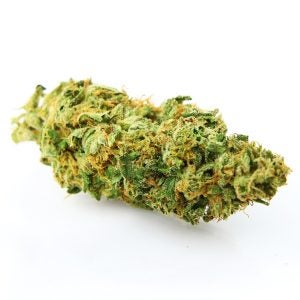 Cali Skunk is a Sativa-hybrid strain but is also ideal for those who prefer Indicas. It's an old-school strain that's perfect for those of all tolerances. It boasts a fun and happy but clear-headed high, perfect for social situations.
Cali Skunk boasts a THC level of 5% – 15%. It's easy enough for new users but potent enough for seasoned users. Users also love the delicious citrus taste.
Death Bubba Strain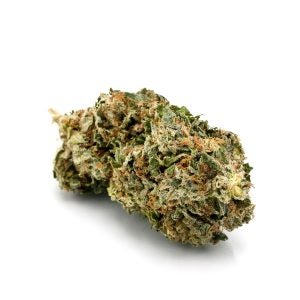 Death Bubba is a relative of Bubba Kush. It's a fragrant strain — it smells like a unique floral and musk combination. The smoke has an earthy and sweet taste. It's a beautiful strain with a brilliant purple hue and loads of trichomes.
Death Bubba is another great strain for insomnia sufferers — it has serious sedative effects. In small doses, Death Bubba is very calming with a potent body high. Our customers love this strain for sleep and for a lazy evening.
Sour Tangie Strain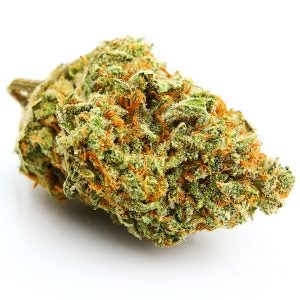 Sour Tangie is a hybrid that's a mix between Tangie and East Coast Sour Diesel. Our customers love the taste – gas blends with citrus perfectly. It has a pungent fragrance, a mix of earth and musk.
As a hybrid, Sour Tangie is the best of both worlds. It offers an energetic head buzz that gives you lots of focus. At the same time, you'll feel a relaxing body buzz without the couch-lock effects.
Lime OG Strain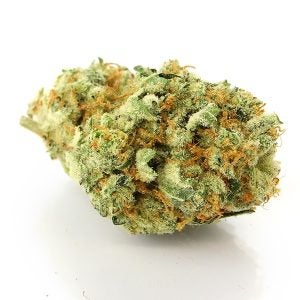 Lime OG is also known as Lime Kush. It gets its name from the unique lime scent mixed with pine.
It's an Indica-dominant hybrid that offers relaxing and calming effects while still offering uplifting benefits. Users will also feel creative with a mental buzz.
Lime OG is very potent. At 15% – 20% THC, it packs a powerful punch and offers an intense high. But be careful with this strain — the effects usually build over time.
Watermelon Haze Strain
Our customers have said Watermelon Haze is the best strains of weed for a wake-and-bake. It's one of our most energetic strains and keeps users up and moving. It also offers a clear-headed high, making it perfect for social situations.
Dark Angel Strain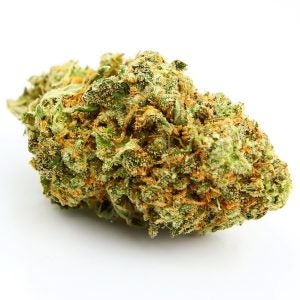 Dark Angel is a hybrid strain that's the product of Jack Herer and Cheese. With a THC level that can reach up to 20% – 22%, this is no strain for beginners. But it also boasts high CBD levels thanks to its Jack Herer lineage, making it a popular medical strain.
Citrus Skunk Strain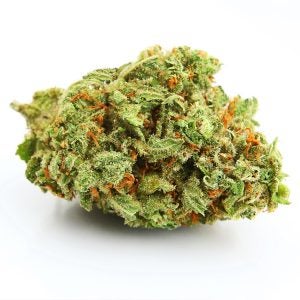 Citrus Skunk is the product of California Orange and Skunk #1. Our users love this strain because of the happy and stimulating high it offers. However, it also offers a calming and slight body high. It's the perfect social strain and is also great for the daytime.
How to Choose the Best Cannabis Strain for Yourself
Just because these are the strains we recommend doesn't mean they are ideal for all Cannabis smokers. There are certain factors that users should determine when choosing the best cannabis strains.
Know Your Needs
Are you using cannabis for medical or recreational reasons? Do you want to feel more energized or relaxed when using cannabis? Are you a first-timer or a seasoned user? Discovering the answers to these questions will help you choose the best cannabis strain for you.
Your Favourite Taste and Smell
As stated previously, all cannabis strains have terpenes that impact the taste and smell of cannabis. That's why all cannabis strains taste and smell differently. This is especially important when you smoke cannabis — terpenes are often not included in concentrates and edibles.
For example, many strains smell sweet while others smell "skunky." While most cannabis strains have an earthy taste, some may taste more citrusy or even minty.
If you're interested in some fruity tasting weed, check out our new article on just that!
Your Tolerance Level
If you're a beginning cannabis user or took a long tolerance break, you'll want to avoid high-THC strains. These strains have 20% THC and more. You can also opt for high-CBD strains. CBD is not only ideal for patients but CBD counteracts the effects of THC.
There are also considerations when you're an experienced cannabis user. For example, if you're using medical marijuana, you'll want to discuss your conditions and symptoms with your doctor or budtender.
Experienced cannabis users also know if they prefer a "mental" or "body" high. These preferences depend on the strain you buy.
Shop Our Strains Today
Where can you find the top cannabis strains of all time? We sell all these strains and more! We can deliver cannabis throughout Canada as well so shop with us today!
We also offer marijuana delivery services in Vancouver, BC.